Elon Musk's SpaceX To Launch World's Most Powerful Rocket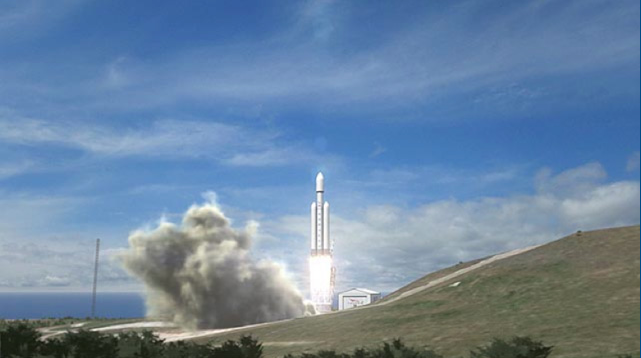 Elon Musk isn't just about building sporty electric cars; his company SpaceX, of which Musk is CEO and chief rocket designer, has announced a launch date (more of a range of dates, from what we gather from the press release) for the world's most powerful rocket, called Falcon Heavy.
Being the world's current largest rocket, only the decommissioned Saturn V moon rocket could carry more payload than the Falcon Heavy's 117,000 pounds (more than 39 Tesla Roadsters). The company plans to launch Falcon Heavy from Cape Canaveral, Florida in late 2013 or 2014.
Scroll down for more information in the press release, or visit the
SpaceX website
for more details.
SpaceX Announces Launch Date for the World's Most Powerful Rocket
Falcon Heavy will lift more than twice as much as any other launch vehicle
WASHINGTON – Today, Elon Musk, CEO and chief rocket designer of Space Exploration Technologies (SpaceX) unveiled the dramatic final specifications and launch date for the Falcon Heavy, the world's largest rocket.
"Falcon Heavy will carry more payload to orbit or escape velocity than any vehicle in history, apart from the Saturn V moon rocket, which was decommissioned after the Apollo program. This opens a new world of capability for both government and commercial space missions," Musk told a press conference at the National Press Club in Washington, DC.
"Falcon Heavy will arrive at our Vandenberg, California, launch complex by the end of next year, with liftoff to follow soon thereafter. First launch from our Cape Canaveral launch complex is planned for late 2013 or 2014."
Musk added that with the ability to carry satellites or interplanetary spacecraft weighing over 53 metric tons or 117,000 pounds to orbit, Falcon Heavy will have more than twice the performance of the Space Shuttle or Delta IV Heavy, the next most powerful vehicle, which is operated by United Launch Alliance, a Boeing-Lockheed Martin joint venture.
Just for perspective, 53 metric tons is more than the maximum take-off weight of a fully-loaded Boeing 737-200 with 136 passengers. In other words, Falcon Heavy can deliver the equivalent of an entire airline flight full of passengers, crew, luggage and fuel all the way to orbit.