Trends: Make Your Own Series (MYOS)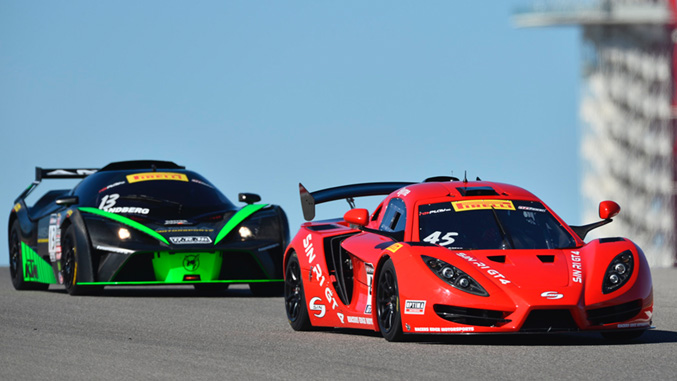 BYOB is an acronym dating to the 1970s that formalized a long-standing practice for impoverished friends who wanted to party: Bring Your Own Bottle. The host provided a space, and possibly some food; the guests provided the libations. Note that the use of robust design principles allowed BYOB to accommodate other useful terms like booze or beer. Everyone was welcome to play.
Fast forward to the present, and similar partnerships between hosts and guests are evolving in some parts of the road racing world. The SCCA and NASA are happy to rent tracks and provide infrastructure for events, but they really don't want to organize new classes or at-the-track activities. That's too much work and too much risk. In some areas, an emerging practice in response to this is something we'll call MYOS, for Make Your Own Series. The idea is simple: the sanctioning body rents the track and establishes some run groups; you get a group of cars together, declare rules that fit within the sanctioning body's system, give out awards and run social events for your crowd.
This sort of thing is starting to take off at the pro level as well. Trans Am is partnering with SVRA at some tracks. MX-5 Cup is partnered with Indycar. There are other examples of small regional series doing similar.
As with BYOB, the idea isn't new, but it is growing. That's because there are very few successful classes (e.g. SM and SRF and CMC) leaving a lot of glorified track days masquerading as racing. Some racers want reasonable car counts and more excitement.
There are many variations on this theme.
We covered on small example last year
. Another example comes from the Formula Vee Challenge Cup Series in the northeast. They've done an international partnership that we thought was interesting:
At the end of November 2016, the Challenge Cup Series will be sending four of our drivers to race at the South African Formula Vee 50th Anniversary. Ray Carmody of Horseheads, NY and Dean Curtis of East Stroudsburg, PA will represent the United States. Johan Wasserman of Binbrook, Ontario and Robert Murray from Lindsay, Ontario will be waving the Canadian flag for this international celebration.
Challenge Cup Series drivers will be racing South African Formula Vees, first at Killarney in Capetown, then traveling to Zwartkops in Johannesburg where they will take part in a two-hour endurance race, pairing up with a South African teammate. The endurance race will include drivers from South Africa, Australia, and European countries. The races will be broadcast live on South African TV. Dedicated member and series competitor, Johan Wasserman, who worked out the deal to race in South Africa, is also working out the details to yet another international race in Holland in 2017.
After the North American drivers visit South Africa, the series will be bringing drivers from around the world to compete in the
Challenge Cup series in 2017 in North America. The drivers will drive Challenge Cup cars at two historic Formula One tracks: first at Canadian Tire Motorsport Park, and later in the year at Watkins Glen International, in upstate New York. The series will also travel to Mid Ohio and Pittsburgh International. With the addition of this new program the series aims to raise the excitement level – creating a true international series where drivers from around the world can race at first class tracks and experience some of the best racing ever.
For the last five years, the Challenge Cup Series has been igniting interest in auto racing in both the United States and Canada. The program has grown surprisingly fast, attracting enthusiastic support from a new generation of drivers, and garnering the attention of national sponsors like Penske Racing Shocks, Carbotech Performance Brakes, Performance Racing Oils, Autowerks Engines, Castle Products, and others. The prizes offered by sponsors have also helped to spark a dramatic increase in driver participation and spectator interest. The Challenge Cup Series is generating real buzz in the auto racing community.
The Formula Vee open-wheel race class was formed in the 1960s to offset the rising costs of the Formula Junior class of that time. Auto racing, like horse racing, had become something only the rich or well-sponsored could afford. Formula Vee uses the basic components of the Volkswagen Beetle. The class has remained basically the same since its inception and still provides affordable open-wheel racing. The Challenge Cup Series has taken that FV survival spirit and adopted the proven Canadian wheel and radial tire package to effectively cut the costs of racing. Many of the big names in racing got their start in Formula Vee.
For more information on the Challenge Cup Series including photographs and video of Formula Vee racing, go to www.challengecupseries.com