The Guide to Road Racing, Part 2: Getting Started – Safety Gear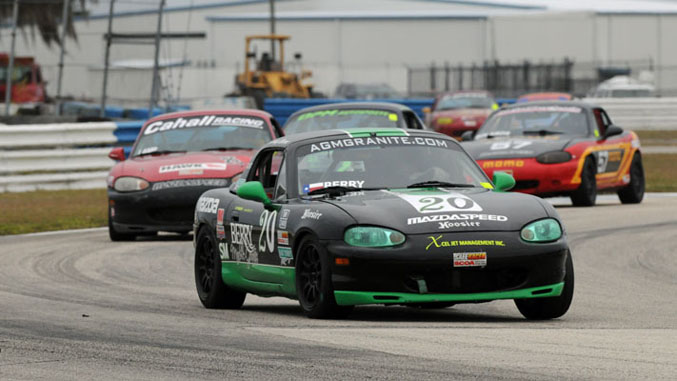 With the Novice Permit secured and some light reading of the
2019 SCCA rulebook
to tide us over until Buttonwillow, we set our sights on procuring the necessary safety gear we'd need for
Cal Club SCCA
Super School. We're starting from scratch here, so we needed a helmet, a balaclava (since we're sporting some facial hair), a head and neck restraint system, a racing suit, gloves, shoes and Nomex socks. It's also worth noting that if our suit did not have a SFI 3.2A or FIA 8856-2000 or higher certification, we would need fire resistant
underwear
as well. Here's a look at what we got and why we got it.
Helmet
Bell Racing BR.1 – We chose the BR.1 for a number of reasons. Perhaps most importantly, the Snell SA2015 rating means we're compliant with the SCCA's safety regulations and should continue to be for some time. The BR.1 is also a very versatile and feature-rich helmet for the money. The attention to aerodynamics in its design means this helmet is also a solid choice for kart and open-wheel racing, along with the closed-cockpit Spec Miata class we're currently pursuing. At less than three pounds it's also lightweight. Additionally, the Bell features pre-drilled fitment for head and neck restraint devices like the HANS, as well as a choice of cheek pads which allowed us to create a custom fit for your author's sizable noggin. As we mentioned previously, we're also using balaclava for added fire protection since your author has enough facial hair to warrant its use.
Check out our Helmet Buyer's Guide here for more information about the different questions you might have when making your next helmet purchase.
Head and Neck Restraint System
The use of a head and neck restraint system is also required by the SCCA. We've chosen a Necksgen REV unit due to the excellent protection it provides, and the added comfort and maneuverability of its low profile design is an added bonus.
Check out the head and neck restraint systems available in the Winding Road Racing Store.
Racing Suit
OMP First Evo – Much like the helmet selection, one of the primary concerns with our racing suit selection was making sure it was compliant with SCCA rules – otherwise it would essentially be useless. With FIA 8856-2000 and SFI 3-2A/5 approvals, the OMP Dart covers all the SCCA bases and more, and much like the BR1 helmet, those certifications offer us flexibility in terms of the types of racing we can pursue later without the need to buy different gear in order to meet safety standards. The Nomex construction of the First Evo keeps things comfortable, and ease of movement is very good in the OMP suit. The black and white design of the version we picked also looks pretty cool, so that's an added bonus.
If you're looking for a new racing suit, be sure to take a look at our Racing Suit Buyer's Guide for an in-depth look at the features you should keep an eye out for in your next purchase.
Gloves
OMP OS 60: Simple Nomex construction with grippy leather palm treatment, these OMP gloves fit the bill as a solid choice for rookie track duty. They're also FIA 8856-2000 homologated and SFI 3.3/5 rated, so the OS 60s also carry all the certifications we need and more. The fit is snug and comfortable, and these minimal-frill gloves are also perfectly matched to the OMP Dart racing suit in terms of aesthetics.
If you're looking to get some racing gloves, you may want to peruse our Racing Glove Buyer's Guide for some tips on how to make sure you get the right pair with the right fit for you.
Shoes
Alpinestars SP Shoes: The last piece of our required safety gear is our racing shoes. The Aplinestars SPs ended up being a fairly easy decision. Wth FIA 8856 – 2000 and SFI 3.3 certifications, we knew they'd fit the bill in terms of safety requirements. Their availability in larger sizes also meant your author's size 13 foot could be accommodated. Additionally, the SPs have a great lightweight construction and comfortable fit, and the remarkably grippy rubber soul compound translates to excellent pedal feel and added confidence behind the wheel. We also added Alpinestars Nomex socks to the mix for a bit more safety.
Have a look at our Racing Shoes Buyer's Guide for more details on the wide range of features you'll come across when researching in this vital piece of racing gear.
TOTALS
| | |
| --- | --- |
| Bell Racing BR.1 | $499.95 |
| Alpinestars Balaclava | $64.95 |
| Necksgen REV | $399.00 |
| OMP First Evo Racing Suit | $699.00 |
| OMP OS 60 Racing Gloves | $79.00 |
| Alpinestars Nomex Socks | $34.95 |
| Alpinestars SP Racing Shoes | $199.95 |
| TOTAL | $1976.80 |