The Decadence: a Futuristic 80m Art Deco Yacht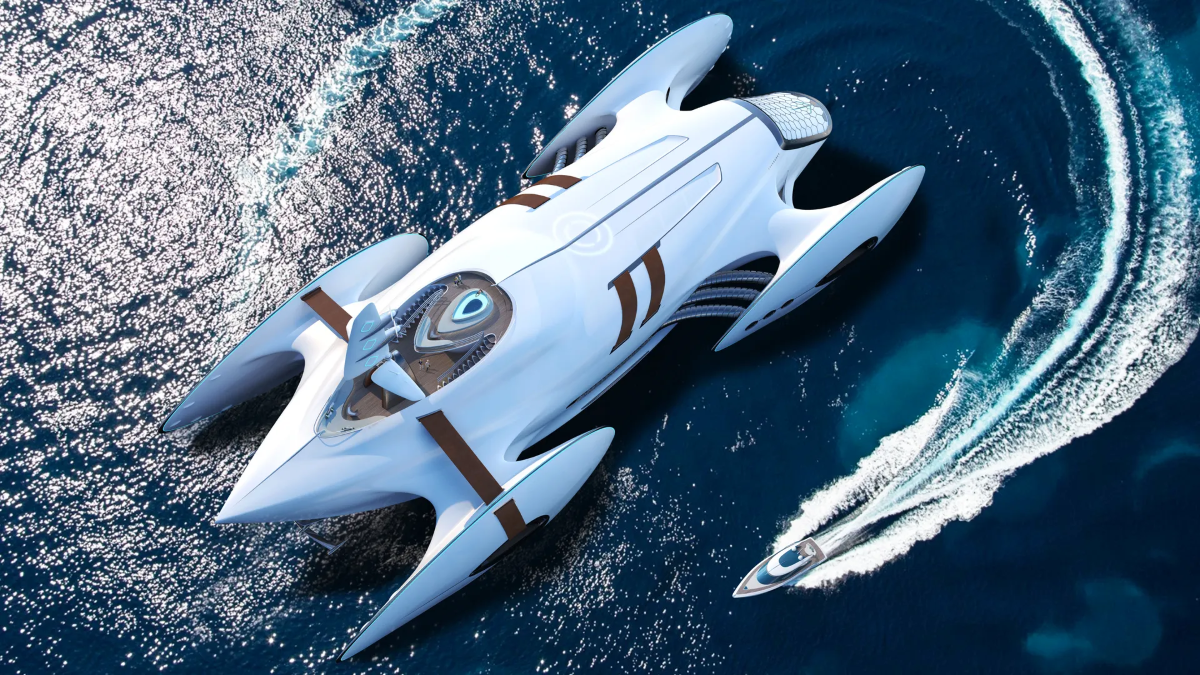 Andy Waugh Yacht Design has unveiled its latest innovative creation, the Decadence, an 80-meter catamaran concept that pushes the boundaries of design and engineering. Drawing inspiration from the advancements in the automotive and aeronautical industries of the 1920s, the Decadence aims to capture the spirit of that era while introducing new and exciting possibilities to the luxury superyacht sector.
One of the standout features of the Decadence is its employment of the SWATH hull form, which stands for "small-waterplane-area-twin-hull." This design incorporates submerged cylindrical hulls connected to a central body by stilts, offering unique aesthetic possibilities that have yet to be fully explored in the superyacht industry. In addition to its striking appearance, the futuristic hull design brings several technical benefits, including an estimated 70 percent reduction in pitch and roll movements compared to traditional monohull superyachts. This advancement enhances comfort and safety for passengers while at sea.
With a beam measuring 30 meters, the Decadence boasts expansive interior spaces. The owner's suite alone could span an impressive 20 meters in width, 30 meters in length, and 3 meters in height. Each deck will feature fully enclosable exterior areas, providing privacy and protection from adverse weather conditions. The ingenious placement of crew and technical areas in the sponsons and outer hulls creates additional space in the main superstructure for guests to enjoy.
However, the increased beam of the yacht does present challenges when it comes to finding suitable marina berths. To address this concern, Andy Waugh Yacht Design has implemented multiple solutions. The enhanced stability of the hull design eliminates the need for seeking shelter from inclement weather conditions, reducing the reliance on specific marinas. Furthermore, the Decadence includes space for two 14-meter chase-boat tenders from Skyline Yachts, which can serve as transfer shuttles to shore, providing added convenience and flexibility.
Renderings of the Decadence also reveal retractable inflatable sails, indicating the potential integration of wind power into the yacht's propulsion system. Moreover, the design studio has promised a "radical new propulsion system" that is anticipated to reduce energy consumption by approximately 30 percent, showcasing their commitment to sustainable yachting.
Andy Waugh Yacht Design has gained a reputation for pushing boundaries with its visionary yacht concepts. The studio's portfolio includes remarkable projects like the 70-meter Serafina, 175-meter Acionna, 45-meter Revolution, and 90-meter Nouveau. In addition to the Decadence, the design firm is currently working on a 100-meter-plus project for an American tech mogul, which is currently in the engineering phase at Dorries Yachts in Bremen, Germany.
The Decadence concept represents a bold step forward in yacht design, blending the elegance of the past with cutting-edge innovations. Andy Waugh Yacht Design's commitment to pushing the limits of what is possible in the luxury superyacht sector is evident in this visionary concept, showcasing their dedication to creating exceptional and forward-thinking vessels for the future.