Speed Secrets: The Future of Performance Driving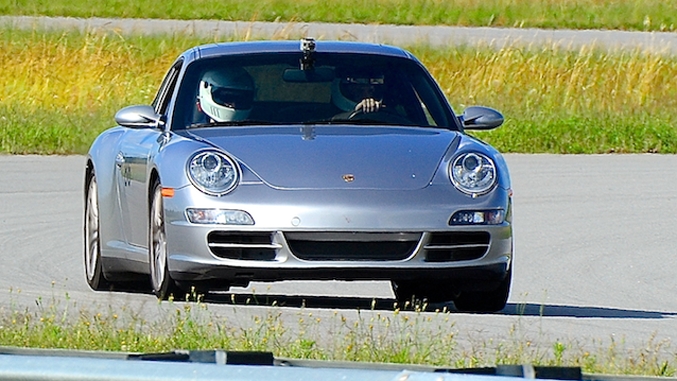 My favorite racing number has always been 3, so with this being the third anniversary of Speed Secrets Weekly, I'm feeling pretty good. ​​​​​​​As has been customary for the anniversary issues, I'm taking the wheel and writing the feature article – not super-educational, but meant to make you think about the future of our sport. – Ross
The publisher of my Speed Secrets books, MBI Publishing, recently asked me to write another book. Because it fit with much of what I've been thinking about lately anyway, I agreed. While my deadline is just a few months from now, it won't be completed and released for about a year. The title (for now) is The Lost Art of High Performance Driving.
​ ​​​​​​I suspect everyone reading this can identify with the title and see where I'll be heading with the content: with so many driver aides and safety systems on modern cars, is the act of driving a car – controlling it rather than it controlling the driver – a thing of the past? Will skills and techniques like shifting a manual transmission matter anymore? Is heel and toe downshifting something that the dinosaurs of driving (Fangiosaurus?!) only care about? Is there even a need for knowing how to control a skid, or a car at or near its limits – or is that something to be left for stability control to manage for us?
And what about autonomous vehicles? If we're all being transported around in self-driving cars, who cares whether you know how to drive the line through a corner? Let Google drive it for you.
If some of these thoughts and questions saddens you, or scares you, let me share another way of looking at this situation.
I had been thinking that high performance driving, and particularly the kind done on a race track, will actually become more popular as driving on the street becomes more automated and removed from our own control.
As I was writing some thoughts about this, I read the March/April issue of Road & Track magazine, and specifically Bob Lutz's column that referred to this very topic. And I couldn't have said it better than he did when we wrote,"The automobile will remain a gigantic industry, now as a sports instrument or as a vehicle for enjoyment. Consider the horse. With the advent of the car, horses were essentially banned from streets. But they made a very nice comeback on private property. Dude ranches, farms, riding stables, racing. I think the same thing can happen to the automobile. Independent driving will become the equivalent of going to an upmarket horse event on a weekend."
I can see the day when we use an app on our phone to order a Uber-like self-driving vehicle to show up at our home or shop, hook up to our trailer with our track car inside, and tow it to our "driving dude ranch" while we sit in the backseat reviewing data and video from our last time there. At the track, we unload, drive all day or weekend, load back up, and have the autonomous-Uber-tow-vehicle take us home again.
​​​​​​​High performance driving won't go away, at least on the track. In fact, that may be the only place we do it, much like horses are no longer ridden on the roadway.
In the meantime, notice that I identified high performance as something done on a track, but left the door open for it being done on the street, as well. At least, for now. See, the way I look at high performance driving, you don't have to be driving at high speed to do it. All you need to do is do it at a high level. You have to perform it at its highest level. And that doesn't necessarily require high speed. In fact, by my definition, you can be high performance driving while slowing moving in rush hour traffic, as long as you're performing what driving you're doing at the highest level possible.
I'm going to go so far as to say that the manual transmission is going to make a comeback – slightly. No, it's never going to be as predominant as it once was before automatic and semi-automatic transmissions became so good (even superior in so many ways). But shifting a manual transmission provides a level of connection with the car that can't be re-produced without it. Obviously, it's just one piece of the connection, but it's a strong one.
​ ​​​​​​Consider how many things in our world have been developed to make our lives easier, and yet people go back to the basics, even if it's more difficult. Why do people go camping when there are resorts to stay in? Why go fishing when you can buy all the fish you could ever want at the local grocery store? Why make a pizza when you can have one delivered in twenty minutes or less?
Because we enjoy connecting with the spirit of the doing, with roughing it in the woods, catching and making our food, and the act of driving. It gives meaning to who we are.
Call me a dinosaur, but there's a place for heel and toe downshifting. There's a place for knowing when the stability control on your car is saving your butt. There's a place for knowing how to identify and drive the line through a corner.
Even if you never drive a car with a manual transmission, understanding the why behind matching revs on a downshift will make you a better driver, just as knowing why one line through a corner is better than another.
That is, if you want to be the best driver that you can be. Not everyone does. Just look at those you share the road with on a daily basis. There's no doubt most care very little about how well they drive, nor do they care about improving. But that's what separates a high performance driver from all the rest: the desire to be the best they can be, a passion for learning and improving.
I know I'm preaching to the choir here. But I'm asking for your support, too. Don't let the bastards get us down. Don't let them do away with everything that matters to us drivers. Don't give in. Make you next purchase a car with a manual transmission, even!
As I write my latest book, I love hearing thoughts, concerns, ideas, and suggestions from folks like you. If have anything you'd like to share, please email me. Maybe I'll quote you in the book.
And don't get me wrong. The book is not going to be all about how it once was "back in the day." No, it's going to focus a lot on how to use the latest and greatest technology to your advantage, when and where to use it and/or turn it off, and how one can still be a high performance driver, even when the car is trying to take control from you.
​
– Ross Bentley