Speed Secrets: For The Kid In All Of Us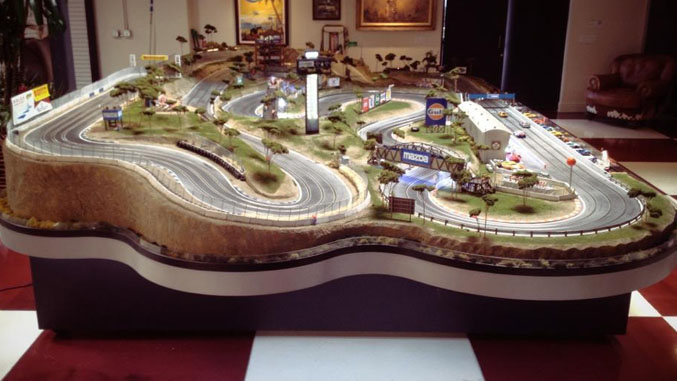 Never grow up! For many readers of Speed Secrets Weekly, that phrase is more than advice. It's a lifelong theme. :)
The second I came across
David Beattie's Slot Mod USA
Facebook page, then his website, then his YouTube videos (check out
this video
)… well, I was transported back in time. See, I was one of those kids who took multiple slot car tracks, connected them, and turned them into my own version of the 14-mile Nurburgring, stretching down the hallway of our house, around the living room, through a portion of the kitchen, and back down the hallway near my bedroom (The Flugplatz was near the coffee table). This required wiring in two transformers, and ultimately switching the set from 6 to 12 volts. By this point, I was building my own chassis, rewinding the motor armatures with thicker wire, and soaking the tires in a special concoction to make them stickier.
There was always a battle between my Ford GT-40 and Chaparral, the Trans-Am Mustang and Camaro, but nothing could touch my Lola T-260.
Needless to say, interviewing David was a thrill. While I never had anything like the custom-built tracks that he creates, I could relate. But oh, the incredible tracks that he builds… well, I now have another toy to work towards. Like some of his well-known clients, I NEED one of David's tracks in my garage.
If you've never gotten into slot car racing, give it a try. It's a different experience from simulator and computer game racing. And if you once played… err, raced slot cars like I did, enjoy driving back down memory lane while reading the following interview. And then give David a call to have him build you your very own custom track.
Enjoy!
RB: How did you get into building custom slot car tracks?
DB: I was racing slot cars as a hobby in my basement. After one year of racing on out-of-the-box plastic tracks, I decided to build a custom track made of wood for my personal enjoyment. Upon losing my job in 2008, I decided to start Slot Mods, based on my belief that there were other enthusiasts who would want to experience slot car racing at a whole new level.
RB: For many of us, slot cars were a big part of what got us interested in racing when we were kids. How has that changed over the years? For example, have video games and simulators helped or hurt the sport of slot car racing?
DB: That's a tricky question. The hobby was already off the radar of the general public before the new electronic age took over. I love Grand Turismo, but nothing compares to the head-to-head racing action of a competitive group of guys having a great time. Slot car racing offers the kind of back-slapping social interaction that you just can't get out of a game console. It brings friends and families together.
RB: How often do you get to drive your own slot cars, if you're building tracks for other people all the time?
DB: Not as much as I would like. Most of my racing comes towards the end of the build, late in the day, when everyone is gone. I'll usually run a dozen or so cars out of my collection of over 500, to feel how the cars are responding to the track.
RB: How long, on average, does it take you to build a custom track?
DB: Anywhere from 4-6 months based on size, and the number of scenic elements the client is requesting.
RB: What has been the favorite track you've built so far?
DB: I don't know if I have a favorite, but Bobby Rahal's Road America, Zak Brown's The Slag, and the Lemay Museum Raceway in Tacoma WA are all running neck and neck.
RB: Can you give us a range of cost for a custom slot car track?
DB: $75k to $250k
RB: Can you share with us who some of your big name customers are?
DB: I have been fortunate to have some really great clients, such as Jim Farley, Bobby Rahal, Zak Brown, Jerry Forsythe, Tony George, Audi, Samsung, Ford Motor, TD Bank, Progressive Insurance, and quite a few gentlemen who wish to remain anonymous.
RB: What are your favorite slot cars to drive?
DB: Porsche 917, BMW M1, McLaren M20, Porsche 911's, just to name a few.
RB: Do you typically modify the slot cars themselves? If so, how?
DB: No, not really. I'll swap out the rubber tires for silicones, add a little weight, and make some tweaks to the chassis.
RB: Have you created any public customized slot car tracks, and if so, where are they (so I can go test one!)?
DB: The LeMay Museum in Tacoma WA has one of our tracks on permanent display. It's a beautiful 12'x20′ four lane design. It features track sections from Laguna Seca, Watkins Glen, Daytona, and Road Atlanta.
RB: Are there things someone can learn from racing slot cars that apply to driving on a real race track?
DB: Yes. Don't drive in your mirrors, and always focus on what lies ahead. Oh, and you can't go into a turn at full speed. It doesn't work on my tracks, and I've yet to see it work in real life.
RB: What question do you get asked about slot car racing that you never want to hear again?!
DB: "Do you remember those places they use to have where you could go and pay to race slot cars?"