Spec MX-5 SimRacing Challenge Driver Profile: Brian Szabelski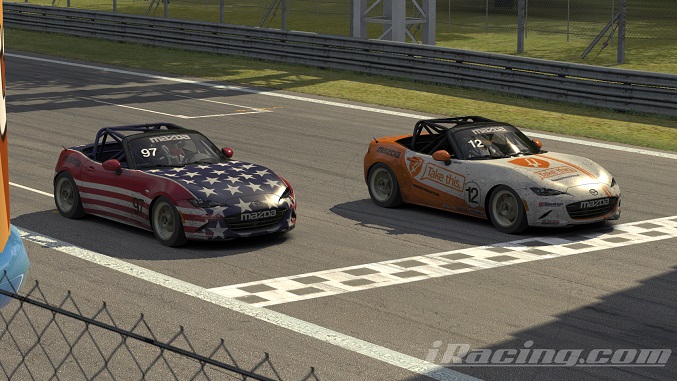 Brian is a nice guy, very active in this and other iRacing leagues, and a clean mid-packer. Follow along as he tells us all about his background in sim racing!
What's your name and where are you from?
My name is Brian Szabelski, and I currently live in Longmont, Colorado, having moved halfway across the country this summer from Findlay, Ohio.
What line of work are you in?
I work in communications at a major university, having just recently transitioned out of journalism and working in the newspaper industry for over a decade.
How old are you?
I'm a fairly energetic 33 years old, though I still get mistaken for being younger. Even with the beard.
What was your motivation for participating in the Spec MX-5 SimRacing Challenge?
As a driver, I'm always looking to challenge myself, broaden my horizons and keep sharpening my skills. Driving a car against the field entered in this series was something I thought would help me improve as a driver, and I think it has.
Do you have any previous non-virtual motorsports history?
My prior work as a journalist often meant my schedule was in flux, so I didn't have the time or funds to really consider non-virtual motorsports. Coming from a middle-class family of engineers meant that there was always a deep interest (especially growing up in Michigan), but the opportunities never presented themselves for me to get much into karting or club level racing.
Do you feel virtual motorsports is becoming a valid starting point for participation in actual motorsports?
Absolutely so! I think it's been that way for a while now; not only are drivers gaining additional experience from their time in the sim world, but you have stories like William Byron on the oval side of things and GT Academy helping bring drivers like Lucas Ordonez and Jann Mardenborough into the pro ranks. Not to mention going back to the NASCAR 2003 days, and those early leagues had drivers like Denny Hamlin in them before they made it to the top level of their fields.
Simulation tech is also improving in a lot of areas, and it's giving folks who might not have had the means to showcase their talent or learn how to improve their technique the ability to do so. I think that only can benefit the health of motorsport in the long run, having more people be able to go hands-on with the machinery and technology, and hopefully get them interested in the sport.
Are you a 'gamer' or do you mostly only sim-race?
I'm very much a gamer and have been since I was playing on my dad's Apple IIe back in the early 1990s. When I'm not behind the wheel, I like to play a wide variety of games, but a large number of them tend to be roguelikes or indie platformers now a days. Minecraft, surprisingly, is still something I find enjoyment in after years of playing it, and I'm getting back into racing in The Legend of Zelda: A Link to the Past Randomizer community (where the game swaps around the item locations and essentially creates a logic puzzle that you need to solve to beat it properly). Pre-sim-racing and Minecraft, I was big into Team Fortress 2 and console gaming.
Do you consider sim-racing a game?
I know there's a big "simulation vs game" debate that likes to break out, but I see it as both. It's a tool for improvement and a game to enjoy, depending on how you want to take things. Simulation technology keeps improving, and while it can't fully replicate lapping in a real car, the advances that are being made in modern tech allow for a much more realistic feeling. I try to treat as seriously as I can while also still enjoying racing, because if you're not having fun with what you're doing, then you're not going to stick around long enough to make the time investment worth it.
How long have you been sim-racing?
If you consider it to be playing a simulation-style racing game, it's been a while. My early gaming years included a healthy dose of Paul Page's introduction for Papyrus' IndyCar Racing II, so perhaps it's all come full circle that I'm now on iRacing as well! In the in-between, I found myself relegated to a lot of console gaming (mostly through the Forza series) and a lot of single player racing (due to having a satellite internet connection for my teenage years that made it impossible to race online), to drifting away from racing games for a while before I found my way back to PC sim racing and the multiplayer environment.
If you consider it to be part of an environment where you race against other drivers, then only 3 or 4 years, jumping back in to sim-racing with a friend's Assetto Corsa and Dirt Rally leagues and then finding iRacing through some of the friends I'd made there.
Are you very active in sim-racing?
I've grown increasingly active in sim-racing over the years, moving from just running one race a week to actively participating in several leagues and official series.
I also help admin a community, Phoenix Racing Club (PRC), that participates both in iRacing and Assetto Corsa.
Do you run in many leagues?
Yes, and almost to the point that I've had to put limitations on myself to make sure I don't overbook the free time I've got! My primary series outside of Spec MX-5 are the A:SRC Road 101 endurance series, where I run in the Jetta class and am a 5-time (and defending) class champion; Big C's MX-5 Challenge; and the SCRS Ferrari Challenge, which I'm entering my third year in and second as part of Can-Am Racing; I've won twice so far this season, which are my first wins in that series! A couple of other series have my attention (and people keep inviting me to more of them), but again, I just need to be mindful that I can't be driving ALL the time, as I still need to keep the lights on and the fridge stocked!
Outside of iRacing, I usually run in whatever main series PRC hosts in Assetto Corsa (currently centered around DTM), as well as a member of their endurance event teams within iRacing. We just came off a hard-fought 10th place finish at the 24 Hours of Spa and have had at least one of our teams finish in the top 10 in every major event so far this calendar year, including wins at Daytona and Sebring … for the PRC team I wasn't on, sadly!
What's your favorite car or series to compete in?
On the car side, the VW Jetta TDI is my pride and joy in iRacing. I drive a Jetta in real life (albeit both a newer model and not a diesel-engine version), and I've found that the physics pretty well match what I experience out on the road. What I really enjoy about the car is that while the Jetta community isn't particularly massive like, say, the Skippy or GT3/GTE, it's very close-knit, respectful and competitive racing.
I also enjoy both MX5s, as well as the Ferrari 488 GT3 and GTE; and on the oval side of things, the Legends car, Street Stock, and Chevy Silverado truck. I've added the Audi TCR to the list this season, as I've been looking forward to having another FWD car to hustle around the track for some time. It's been a handful so far and my practice results aren't quite showing up in races yet, but I'm still working at it.
On the favorite series side, I've found that I enjoy running in Advanced Mazda Cup, Grand Touring Cup (in the Jetta primarily), and the Advanced Legends series, in addition to my league series that I run. Since Grand Touring Cup has been retired/merged into Production Car Challenge, I'll be spending some time in that series next season along with IMSA Michelin Pilot Challenge because … well, because TCR.
As an aside, I do have an affinity for what I call "weird race cars," those one-offs like the Delta Wing or something like the old Morgan Aero 8 GT3 that makes you wonder why someone chose to race it. My dream club-level racer would be a station wagon (like a VW Golf SportWagen or Audi A4 Allroad) kitted out to race against other cars because if people are going to say I love running "grocery getters" on the virtual track, why not do the same in real life?
How much time would you say you put into sim-racing?
It depends on the week, what races are going on, etc., but it could easily be about 12-18 hours a week depending on schedules and whatnot. The majority of that tends to be on weekends when I have the most time.
How do you rate your chances of winning the driver development test at the end of the season?
Let's just say I've been researching the geology of Braselton, Georgia, to see if there's any fault lines running under Road Atlanta that might, you know … open up and swallow the other 19 cars on the track. In other words, I'm probably more of a longshot, given that I know how strong some of my competition is — but you've always got a chance to win if you're running. I usually finish out seasons strong after rough starts, and going from a dead last finish in Race 1 to my best results of the season at Watkins Glen might just be more evidence to that.
Anything else of interest you'd like to share?
Yes, three things in particular:
Since last year, I've worked as a streaming ambassador with Take This, a nonprofit organization working to raise awareness of mental health issues within the gaming industry and community. That work has been incredibly fun and meaningful to me, and I'm looking forward to continuing it into 2020.
Driven is an awful movie and my love of IndyCar will never change that.
If I can give any advice to up and coming drivers, it's "have patience." That's a super-simplified version of the full advice I'd give, but too many drivers are impatient, both on and off the track. They make desperate divebombs on Lap 2 of a 15 lap race because there's a need to get to the front right away, they don't work in the draft to catch cars ahead despite there being 20 minutes of racing left, and they immediately decide to launch into GT3/GTE right after they get out of rookie races. Have the patience to make the right pass at the right time; the patience to work toward competing for the win; the patience to take your time to learn a car, learn a track, to keep learning in every race no matter how great or poorly it goes. It'll take a while, but you will not only get to where you want to be, you'll have the tools you need as a driver to be able to stay at that level and move beyond it to even greater things.