Spec 986 And Spec Boxster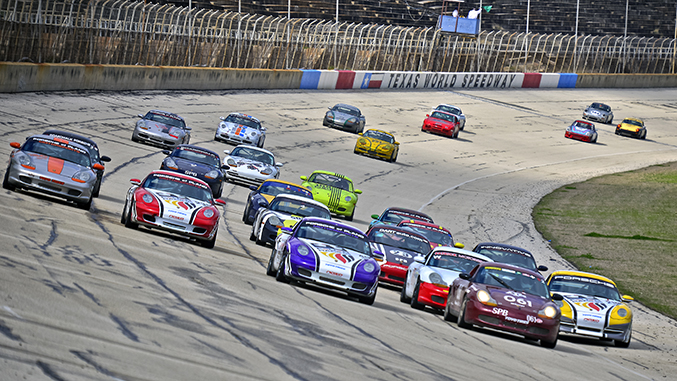 Image: Café Photo
If you are thinking about what classes are a step up from Spec Miata, but still affordable, running a class based on Porsche Boxsters has some intuitive appeal. You get a sexier car, with a mid-engine layout and more power. You retain a spec class, with the advantages that has for car counts and close racing. Let's take a closer look at the results
.
Specified Specifications
Boxsters in spec form can be run with Porsche Owners Club, Porsche Club of America, or NASA. As far as we can tell, the rulemakers got their acts together on this one, meaning that NASA and POC/PCA Spec Boxster run with essentially the same rules. This is huge for some racers because it makes it easy to run your car at events hosted by two sanctioning bodies, giving you more dates and more tracks to choose from.
Donor car: 1997-1999 Porsche Boxster
Engine: 2.5L (M96.20) only, with OEM components, exhaust manifold and ECU
Engine modifications allowed: underdrive pulley, alternative flywheels, removal of air injection, new IMS bearing, Accusump/windage tray, Boxster S oil cooler, additional center radiator
Power output: approximately 180 whp
Weight: minimum 2650 lb. with driver
Transmission: OEM G86/00 with stock ratios, OEM or Sachs clutch and pressure plate, may add transmission cooler and short shift kit
Suspension: Modifications include GT3 A-arms, Bilstein PSS9 shocks, increased spring rates, alternative bars and links
Brakes: Rotors of OEM size and material, but otherwise free
Tires and Wheels: Rear wheels are 17 x 8.5 inch with 255/40-17 Toyo RR tires; fronts can be 17 x 7 or 17 x 8.5 with either 235/40-17 or 255/40-17 tires. Spring rates may be adjusted for these different setups.
Of course there are other details and of course you have to modify the car to meet club racing safety requirements (roll cage, fire, electrical cutoff etc.)
The Cost
You can, of course, build a car or buy a used car. Used cars are generally less expensive, although you often find that they need substantial work to become track-ready. Estimating used prices is tough, so let's focus on the cost to build a Spec Boxster.
A donor '97-'99 Boxster is going to cost anywhere between $5,000 – $8,000. It could cost more if you really want a low-mileage car (they are out there) and it might be a little less if you find one that has some damage or wear (e.g. interior) you don't care about. You will want a hardtop, which adds another $900 or so, painted and installed.
Image: Café Photo
We figure the cost of safety equipment based on what it will cost to have the work done for you. If you can do all or some of this, your cash cost will be less, of course. But, based on experience, we think it costs about $12,000, or maybe a bit more depending on labor rates, to take a street car, strip it and put in the basic safety gear (cage, seat, wheel, harness, fire, transponder etc.).
You now have to modify the car to be in race trim. There are some options here as you can see in our specifications section, but if we assume a basic but not minimal approach, you'll spend about $6000 getting the suspension, brakes and transmission sorted. Allow $2000 for wheels and tires, if you just want one set.
Almost everyone finds a few damaged or worn mechanical bits on their donor car (IMS, hubs, hoses, bushings etc.). And almost everyone has a few items they'd like to have that aren't on our basic list. For example, we don't like race cars that break down, so we would add the transmission, oil and water coolers allowed under the rules. We would also build data into the car. This is an often overlooked expense, but we'd allow at least $8000 for finding the parts, buying the replacements and installing them. You'll probably spend more.
So, to summarize, we think $40,000 is a reasonable base budget for having a Spec Boxster built for you. You can spend less or more, and some people would, but this gives you a ballpark idea of where this car fits in with the other cars we're discussing in this series. And, as is the case with all these cars, the front of the field probably spends more developing their cars, but most of us don't need to spend that money — we would all do well first to be sure our driving skills are high enough to make that investment worthwhile. SPB is an old enough class that you can find used cars, which is sometimes a great way to save money if you find the right car.
Pace And Driving Experience
If you just look at numbers you may, quite possibly, find the rub. A Spec Boxster is only going to be a few seconds (1-3 seconds) faster than a Spec Miata on most tracks which have lap times in the 1:30 to 2:00 minute range. Using our Laguna Seca reference, for example, the SPB is perhaps a 1:45 car, where an SM is a 1:47. Now from one perspective, that's significantly faster. But from another, it really isn't a huge move. Of course, some would say the cost isn't that much higher either.
Image: Café Photo
For a sense of how fun the cars are, we talked to Stan Wegner, a new SPB racer in Texas who is coming out of a 911 that he ran in PCA GT-3R class. He says the Spec Boxster is "a brilliant-handling, nimble car [with] a mid -engine design and near 50/50 weight distribution. They just go where you point them! With rules based on vintage racing (where bumping into each other is a no-no), most everyone drives safely and leaves room to co-exist." Thinking back to his GT-3 car he said "I miss the power and acceleration. But not the costs and risks." Wegner notes that an important factor with Spec Boxster is that "there [are] always cars around you to race with, and close car specs make for close racing! I have great fun with my friends – which is why I go race in the first place."
Car Counts
As a spec class with a reasonable build cost, car counts can be solid in some regions. In Texas and California for example, some fields have over 30 cars, which is pushing up into Spec Miata territory. As with every type of car, it is worth checking whether Spec Boxster has caught on in your area with the sanctioning bodies you like.
Need a race car built for you? We can do that.