Mazda Global MX-5 Cup Adds New Class-Within-Class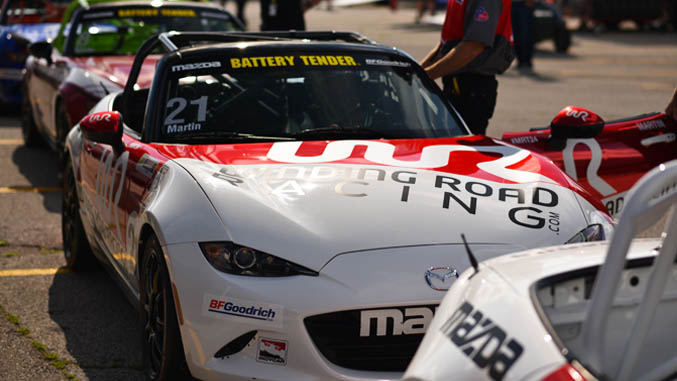 The Battery Tender Global MX-5 Cup Series presented by BF Goodrich has added a new class of competition to its already updated and expanded system of competition. Mazda has always had an overall champion, who can earn a $200,000 scholarship for the next step in the Mazda pro racing ladder. The series also offers a significant prize to the rookie-of-the year. For 2018, Mazda added a Master's Class for drivers over the age of 40. And Mazda has just announced a new Challenger Class, which allows slower drivers to compete for a $20,000 prize while gaining from the tremendous driver development environment of Global MX-5 Cup.
If you are interested in competing in Global MX-5 Cup, or the Spec MX-5 feeder series offering a $100,000 scholarship for Global MX-5 Cup, contact Jeff Sexton: [email protected].
More details on the Challenger class:
Palmetto, FL (5 February, 2018) –With just 4.1 seconds as the total margin of victory from a full twelve-race schedule, the 2017 Battery Tender Global Mazda MX-5 Cup presented by BFGoodrich Tires season was one of the most hotly contested championships in the sport. The Mazda vision of taking a production-based Mazda MX-5 Cup car to the track produced incredible parity of competition once again, as evidenced by the nearly 2,000 on-track passes that were completed during the 2017 season.
Series officials have announced that the 2018 Global Mazda MX-5 Cup season will now include two classes of competition with integration of the "Challenger Class presented by Monticello Motor Club."
Mazda has long been known for its Challenger Spirit, and the creation of a new Challenger Class will create a new opportunity for competition within the INDYCAR-sanctioned series.
Drivers in the Challenger Class will be self-selected, and approved by the series, with competitors that are within 103% of the quickest time in final practice not being able to continue in the class without express permission from the INDYCAR race director. The Challenger Class will be open to anyone who qualifies for an INDYCAR license, which includes members from all race series, track days, country clubs, and more.
"We have some fantastic parity and competition in our races, and we would anticipate that establishing the Challenger Class will create another avenue for racers to come out and join us," said John Doonan, Director of Mazda Motorsports. "Teaming with Monticello Motor Club for the Challenger Class will help us make the connection between using the Global Mazda MX-5 as a track day car, and taking it to the track to go racing. We are excited about the potential that this partnership has for series growth."
Based on the car counts, the Challenger Class will also include their own separate race starts when the fields take the green flag for the 45-minute sprint events and their own podium ceremonies.
The winner of the Challenger Class will be eligible for a prize package worth $20,000 that will feature a one-of-a-kind Mazda experience. This experience would be an all-expense paid trip mutually agreed upon between Mazda and the Challenger Class champion such as a behind-the-scenes trip to Hiroshima or Le Mans.
The Global Mazda MX-5 Cup utilizes the SKYACTIV-powered production Mazda MX-5 as the starting point, transformed by Long Road Racing into the Global MX-5 Cup machine with a range of safety and track-oriented modifications including welding and paint of a full roll cage and interior, and assembly of the race car, adding more than 250 motorsports-specific parts. The SKYACTIV 2.0 liter engines are sealed to ensure even competition and a cost-effective platform. The current price of the car is $58,900.
With over 160 machines sold, the Global MX-5 Cup platform has already gained a considerable following including many examples that have not been deployed in competition.
Monticello Motor Club ("MMC"), recognized as the World's Premier Premier Automotive Playground, has the largest collection of MX-5 Cup racecars. Owned by its members and the club, the MX-5 Cup is used in a dozen private "MMC Mazda Classic" races each season, utilizing MMC's 4.1-mile road course and 450 feet of elevation changes in various configurations.
"The Global MX-5 Cup car has been a track day favorite among members, and the Challenger Class will be a great opportunity for members eligible and ready to compete at the next level in a pro-series," said Ari Straus, MMC's Managing Partner. "The Challenger Class will appeal to our MMC members – and all racers with similar skills who consider racing their hobby, not career – who are qualified and excited about competing in a pro-series, and who prefer to compete side-by-side with fellow gentleman drivers."
The Challenger Class will be included in all six Global Mazda MX-5 Cup events (https://mx-5cup.com/news/mazda-announces-2018-battery-tender-global-mazda-mx-5-cup-schedule), with the season set to open at the Circuit of the Americas March 23-25.
Series officials also have confirmed based on ongoing feedback from the paddock, that there will be a Masters status for drivers 40 years old and over starting in 2018. The Masters champion will score their own one-of-a-kind Mazda experience worth $15,000 following the season-finale event at Monticello Motor Club on September 28-30.
Details and ordering information for the Global MX-5 Cup machine can be found online at www.mazdamotorsports.com.
Information about Monticello Motor Club can be found at www.monticellomotorclub.com or by emailing [email protected].