Honda Takes the Wraps Off 2014 WTCC Civic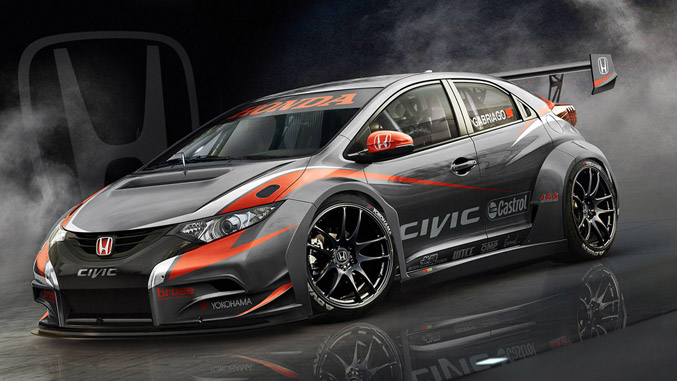 Honda has just released the first visual offering of its 2014 World Touring Car Championship contender, the WTCC Civic. Althought it's only a rendering at this point, the new five-door represents Honda's newest configuration for the series in response to the new regulations coming in the 2014 WTCC season.
Set to defend Honda's title in the series, the new Civic will be fitted with revised aero and more pronounced wheel arch extensions to facilitate the wider track, as well as larger wheels and a more substantial rear spoiler. Power from the 1.6 liter four cylinder is expected to receive a bump into the 380hp range, while weight will reduced to around 1100kg.
Two examples of the new car will be run by JAS Motorsport with Gabriele Tarquini and Tiago Monteiro taking care of the driving duties. Additionally, two more cars will be entered by privateer teams Zengo Motorsport and Proteam Racing as well.
We look forward to seeing how this new Civic will fare, as competition from the likes of Citroen's Sebastien Loeb in the upcoming WTCC season should be quite fierce indeed.
Check out the press release below for additional details.
Honda's 2014 WTCC Civic Takes Shape
December 3, 2013 – Honda has released the first visual of its 2014 World Touring Car Championship challenger reflecting the all new technical regulations for the FIA WTCC which will come into force for 2014.
The Honda Civic WTCC render shows the subtle style of the wheel arch extensions, larger diameter wheels, sleeker aero package and extended rear spoiler. Add all this to increased engine power and the 2014 Honda WTCC racer is clearly ambitious to retain Honda's Manufacturers World Championship crown and enable the drivers to challenge for the World Champion title.
Two works cars will be run by JAS Motorsport for Gabriele Tarquini and Tiago Monteiro with further Civics to be entered by private outfits Zengo Motorsport and Proteam Racing for Hungary's Norbert Michelisz and Moroccan Mehdi Bennani respectively.