History: Jim Clark And Getting From The Farm To Formula 1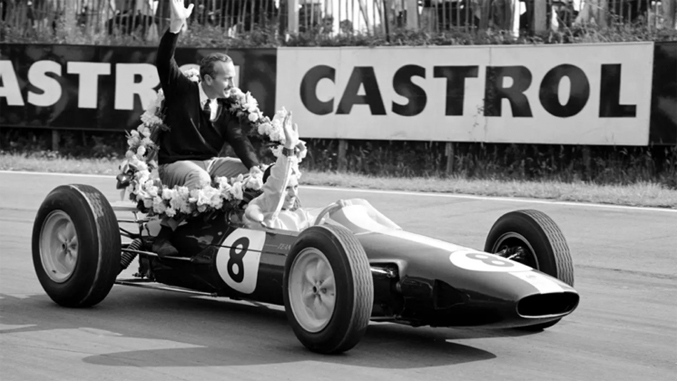 We recently read a brief history of Jim Clark nicely written by Jay Bowden, and it brought a blind spot in our sport's story-telling to mind. For context, Clark was the Scottish F1 driver who during the 1960s became F1 champion (twice) and won the Indianapolis 500 when it was perhaps the most important race in the world.
Now, to that blind spot, before we continue with Clark. When we tell stories about great drivers the focus is often on the standard part of the story as they reach an international stage and record successes. We may also tell about their early days as children to try to discern what pixie dust was thrown their way. But we tend to leave out the crucial "hard work, good network and a bit of luck" part of the story. This is the phase where the driver is trying to get track time, learn his/her craft and get noticed. For example, in the Clark story below, notice that Clark "followed his passion and soon was racing Jaguar D-Types and Porsches". Wait a second, there mister! That's like saying about some unknown 16-year-old today "he had a passion for cars as a boy and now is running LMP2 cars at Sebring and Daytona." It ain't that simple, and the complex part of it could be usefully re-told for the benefit of racers. So could the part about hooking up with, say, Colin Chapman, though one suspects that once Clark was running D-Types competitively it was Chapman's business to notice as much as Clark's business to get the news to Chapman. Anyway, with Clark and Chapman gone, we can't really get the detail from them. But we'd love to see more recent heroes tell their, from SCCA to WEC and from quarter midgets to IndyCar stories, at length. If you're aware of any of these, post them in comments, please.
Now back to Jimmy Clark:
Over 50 years since his death, Jim Clark is still hailed as one of the greatest Formula 1 drivers of all time. Indeed, he's often hailed as the best ever by those who knew him as well as those who hope to replicate his success. Challenging the old-time stereotype of the F1 driver who comes from family money and prestige, Jim Clark moved his way through the world and through the ranks of racing by sheer ability, along with his close association with Colin Chapman and Lotus Racing. Prior to his untimely death at the age of just 32, Clark had won two World Championships and had even received an OBE from the Queen. These mere accolades barely begin to represent Jim Clark's success as both a driver and a man.
As the youngest of five children born to a humble sheep farmer, reaching god status in the world of racing was theoretically far beyond the reach of the young James Clark Jr. However, he did not let the position he was born in dictate his future. Instead, Jim Clark followed his passion and soon he was racing Jaguar D-types and Porsches in local events. This caught the attention of fellow enthusiast and Lotus founder Colin Chapman. The duo formed a fast friendship, leading to equally swift success.
If you'd like to read more about Jim Clark, check out this article from The Versatile Gent by Jay Bowden.