Highlighted Podcast Episode: IMSA Porsche Special 2019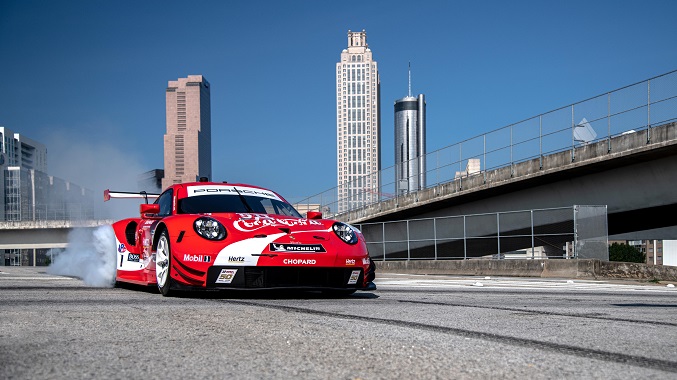 In this episode, John Hindhaugh reports from Coca Cola World in Atlanta where he sits down with various industry folks, including GTLM driver Earl Bamber, to discuss the history of Porsche Motorsport and its relationship with the iconic soft drink brand.
With the Pettit Le Mans coming up on October 9th, the 991.2 911 RSR will sport a throwback livery to celebrate their history together, as well as be a final farewell to the 991.2 before the 992 RSR debuts next year.
Here's a little background from newsroom.porsche.com:
Porsche racing cars flying the Coca Cola design have an illustrious history in the North American motor racing scene. In the 1980s, the Bob Akin Motor Racing squad first fielded the Porsche 935. The team claimed podium results with the vehicle decked out in the red and white livery, including at the 24 Hours of Daytona (USA), and scored first place in the GTP class in 1983. The following year, the team switched to the spectacular Porsche 962. The No. 5 vehicle sporting the Coca Cola livery quickly became a favourite amongst fans.
The 1986 season yielded the greatest success, when the American team boss and driver Bob Akin joined forces with the racing legends Hans-Joachim Stuck and Jo Gartner at the Sebring 12-hour race and won. Petit Le Mans represents a home race for Coca Cola. The corporation has its headquarters in Atlanta in the US state of Georgia. Porsche North America is also based in the metropolis. The construction of the famous Road Atlanta racetrack, which opened in 1970 and has since hosted many spectacular endurance races, was financed by Coca Cola, amongst others. Porsche tackles the season finale as the leader of the manufacturers', team and drivers' classifications.
Have a listen here at RadioLemans.Co