Blog: Aston Martin Performance Driving Course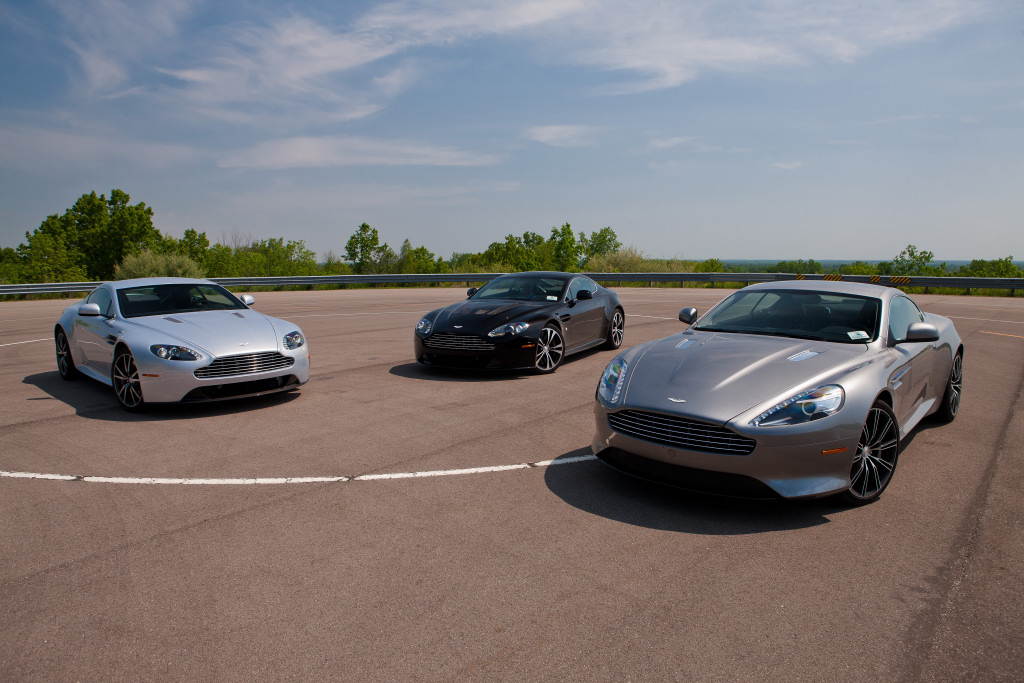 —Romeo, Michigan
As automotive writers, we sometimes get to drive cars we'd previously only dreamed of. Still, we're bound by law (and in many cases by wives/girlfriends) to follow the rules of the road. That means, even if we have a Nissan GT-R or some super example of a Porsche 911 at our disposal, we can't drive them they way we do in our automotive fantasies. The elation of getting behind the wheel of a favorite car, thanks to that fun governor called "reality," is often tinged with a bit of sadness when we think about the driving experience that could have been.
Aston Martin provides an antidote to the bitter part of this bittersweet feeling:
The Aston Martin Performance Driving Course
. Of course, when the famed British automaker invited us to join them for their class not too far from our Michigan office, we politely and eagerly accepted.
Customers of the program can choose from attending at Millbrook, UK, Lommel, Belgium, or at the Ford proving grounds in Romeo, Michigan, the latter being where we spent our day. The facility is large and impressive—a place we could have easily become lost in if it weren't for our knowledgeable instructors. (That's not to say we wouldn't mind finding ourselves lost and alone in such an automotive playground.) Our guides for the day did mention that these Michigan proving grounds were some of the largest anywhere in the world.
The wonderful thing is, you don't have to be an Aston Martin owner to take the course. That said, most people are Aston customers of some sort, either already owning a car, or in the market to buy one, or both. For many, it's a great way to test drive the model you're thinking of buying before making such a large automotive investment. You choose the model you want to drive, and Aston provides the car for you to use throughout the day.
First, we met our instructors, got the rundown on what our day would be like, then, without much further ado, we headed out to the facility's 2.5-mile straightaway. On this long, flat stretch of road, we had the chance to familiarize ourselves with each car's transmission. In this case, it was the V12 Vantage's six-speed manual, the seven-speed Sportshift II automated manual gearbox of the V8 Vantage S, and the Virage's six-speed Touchtronic II automatic. (Yes, being a small group of journalists rather than a single customer, we swapped around three vehicles, where a customer would be in one car, with one instructor, for the whole event).
At the straightaway, we quickly got used to accelerating to and braking from triple-digit speeds in the cars. We also got a chance to sample the sport settings, and see how they differed from the defaults. For a customer, this area lets them become familiar with their transmission, how it reacts to input, and how to use it smoothly (especially important with the automated manual gearbox).
It also offers a chance to test the brakes. While approaching the end of the runway at speeds between 120 and 140 miles per hour (we practiced this multiple times), our instructor cued us to brake as hard as we could. While the anticipation—and the fact that the far wall was rapidly approaching—had our adrenaline pumping and our heart thumping, the result of standing on the brakes of any of the cars we tested was much less dramatic than expected. There was no spinning, no wiggling, no screaming, just a bit of chatter from the ABS and a fast stop, the chassis of each car remaining impressively flat throughout the ordeal. On subsequent superbraking episodes, our grip on the steering wheel loosened, and it took zero effort to keep the car stable and straight throughout the procedure. Still digesting breakfast, our driving confidence was already greatly elevated. It was time to move on to some more dynamic driving.
We moved to the "Lommel" track, which is a recreation of the handling course at the proving grounds in Belgium. It is a narrow, undulating track full of tight corners and only the shortest of straights. Here, our focus was not so much on tracking speed as it was practicing driving the car smoothly and picking the most efficient racing line. Here, having the instructor in the passenger seat is extremely useful, and customers have the opportunity to learn a lot about how to drive well.
We practiced "straightening out" the bends in the track, and keeping our eyes looking "painfully far ahead," as the Instructor put it. Customers will learn more about, and get better at, timing turn-in and hitting the apex with little to no steering adjustments through the corners. Aston Martin's vehicles make the whole not-requiring-adjustments thing a lot easier to achieve, as the vehicles felt so stable and precise when responding to all inputs.
After many laps, we found ourselves getting into a good rhythm, and driving considerably smoother, and faster, than we had when we first arrived. Having a voice in our ear reminding us about managing grip in the corners, to "set it and forget it" when taking aim at a late apex, and to basically overcome any bad habits ingrained into our muscle memory, our confidence was in a really good place to move on to more challenging driving.
Before the really advanced stuff, though, customers drive to another part of the proving grounds that is essentially several acres of open pavement, consisting of different surface material with varying degrees of grip. For the purposes of this program, a large chunk of this playground is sealed with Jennite, and covered in a layer of water pumped in from a nearby pond. Here, we got the opportunity to test the limits of the traction control and stability systems. Also, this is the only part of the day where we were able to turn those electronic nannies off.
First, we practiced turning in low-grip situations, and were able to experience how the systems work to reduce power and wheelspin to keep the car pointed where you want it to go. We also got to see just how screwed we would be without this technology. The instructors humored us, and we were able to spend some time spinning the car through the water, spraying liquid up into the air and all over the car. We even got in a brief drifting lesson while we waited for some of the rest of the group to catch up. In a 490-horsepower, rear-wheel-drive Aston Martin Virage on especially slippery surfaces that also happen to be quite wet, catching that fleeting balance between countersteer and throttle is extremely difficult, but nonetheless totally addictive. There wasn't a journalist or instructor on hand that wasn't smiling by the end of this exercise.
At this point in the program, customers get a chance to drive the "hill track," a fast course offering large changes in elevation, and opportunities to build up great speeds. On this beautiful, wooded track, drivers get the chance to combine the knowledge and experiences gained from the Lommel track and the straightaway. Again, an instructor is there to help you become a better driver as you get to know the track, and comfortably expand your limitations as a driver. You also are able to see how the cars behave as you push them closer to their own limits.
For the very brave, particularly those who don't mind not being in control, there is an opportunity to then ride along at the hill track with one of the instructors at the wheel. As you could imagine, a professional driver armed with a V-12-powered supercar on their home track is able to do things most ordinary humans couldn't. The thrill is unmatched, and it gives normal drivers a chance to peer into the very frightening, fleeting, and fascinating world of a fast car being driven at its limits.
(Later, that evening, after giving our mind a chance to digest all that we had experienced that day, we described the prowess of these professional drivers thusly: "It's like doing kung fu with 99th percentile robot legs, these guys.")
Still reeling from witnessing the barely possible, we headed over to the final part of the program: a banked, five-mile, high-speed oval track.
There, in the middle of a corner, in the fourth of five lanes, driving 100 miles per hour, at the instruction of the professional in the seat next to us, we took our hands off the wheel. We can report, dear reader, that we not only survived this maneuver, we even stayed squarely in the center of our lane, for probably about a mile, without touching the steering wheel. At that speed at that angle of banking, the cars stays completely neutral, and needs no steering input as long as one maintains proper speed.
On the last turn (hands back on the wheel), we downshifted and accelerated out of it, and didn't let up. We won't tell exactly how fast we ended up driving—we don't want to get anybody in trouble—but we will say that your author achieved a new lifetime land speed record. During this exercise, our instructor calmly explained to us how the physics of driving are different above 150 mph, and that a wild turkey (which have been hit on this very oval in the past) would travel through the windshield, taking off a person's head.
Despite horror stories about wildlife on the track, when we regrouped back at a lot with the other drivers, everybody was in high spirits, and reluctant to give up the keys and call it a day. We had all just spent a good amount of time behind the wheel of incredibly capable supercars, doing things we had never done before. These are the sorts of driving experiences we all fantasize about, but would never be able to do on a public road. We pushed our own limits higher, learning a thing or two in the process, and stared into the surreal alternate universe of some of the world's most revered luxury supercars operating at their threshold.