BaT Find: Unbelievable Porsche Race Car Collection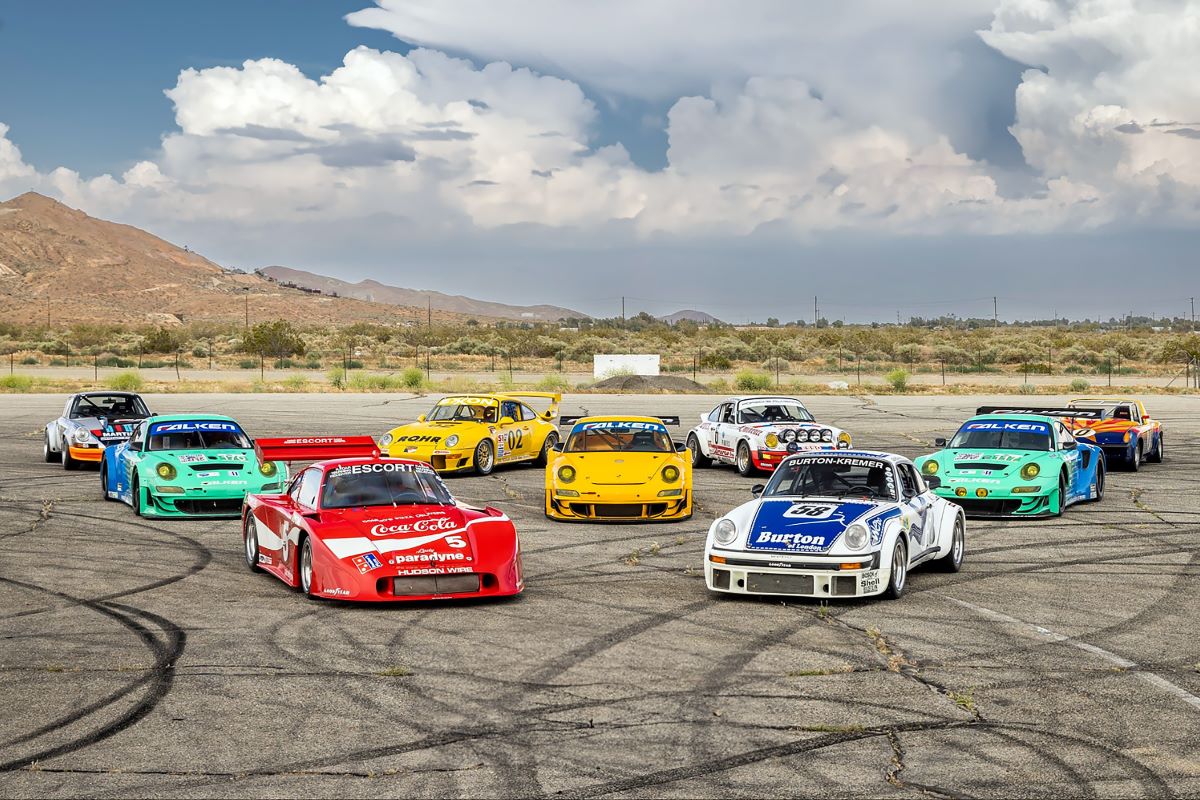 A Porsche race car is certainly on the most-coveted list of many Porsche and racing enthusiasts, alike. And rarely does a collection like this 75th Anniversary Porsche Race Car Collection become available at the same time. Now live on Bring a Trailer, the collection of not only one Porsche race car, but nine race-ready cars spanning three decades of Porsche motorsport history and includes significant competition pedigree with victories at Le Mans, Daytona and Sebring. All have been blessed by the hands of accomplished Porsche race car drivers like Derek Bell, Hurley Haywood, Jörg Bergmeister, Kevin Estre and Patrick Long, among others.
The nine Porsche race car auctions close on Aug. 11, which is Friday in case you're interested!
The esteemed collection includes the following iconic Porsche race cars:
First up is Porsche 935/84, initially built as an L-1 variant by Chuck Gaa of GAACO for IMSA competition with Bob Akin Motor Racing. The car was driven by Derek Bell, and after a crash at the end of the 1982 season was rebuilt by Fabcar as 935/84, going on to achieve a second-place finish in its debut at the Daytona Three Hour Finale in 1983. It was refurbished in 2007 and has since participated in vintage racing events as well as the 2015 Rennsport Reunion V, where it was piloted by Mr. Long.
Next is this Kremer Porsche 934 in Burton of London livery, which won the Group 4 GT class and finished seventh overall in the 1977 24 Hours of Le Mans at the hands of Bob Wollek, Philippe Gurdjian, and the shadowy "Steve," played by Belgian Jean-Pierre Wielemans. After decades in private ownership, the car was reacquired by Kremer Racing of Cologne and refurbished. It has since participated in Rennsport Reunion events as well as the 2009 Monterey Historic Automobile Races.
The lone longhood in the collection is this 1972 911T, which was converted to an RSR-style track car prior to being imported into the US in 2022. The car comes with FIA Historic and CSAI technical passports, and despite its full suite of racing equipment carries a clean Pennsylvania title. Its bright Martini livery and high level of finish drew a lot of attention when it was last listed on BaT in April 2023, and watching it lap the Streets of Willow with Patrick Long at the wheel is a real treat…trust us, you'll see.
French privateers Equipe Alméras Frères began racing Porsche 911s in the early 1970s, competing in hillclimbs and rallies all over Europe and even going to Le Mans. The 911SC pictured above is a tribute to the Alméras/Eminence car piloted by Björn Waldegård in the 1982 Rallye Monte Carlo, and was built by EVO Motorsport in Italy. Power is from a 930/60 engine displacing 3.0 liters and fed by an RSR-style Bosch fuel injection system. Other equipment includes an extensive array of Marchal auxiliary lighting, a 934-style front valance, multi-piece wheels over Brembo four-piston calipers, Bilstein shocks, and track preparations such as a roll cage, a fire suppression system, and OMP racing seats with Sparco harnesses. An FIA Historical Technical Passport accompanies the car.
Rounding out the vintage offerings is this 1971 914, a dedicated race car powered by a 2.0-liter flat-six and wrapped in the livery borrowed from the Arizona state flag. The car has been prepared for track duty with Bilstein adjustable coilovers, dual PMO carburetors, a roll cage, a Kirkey racing seat, a fire suppression system, and a MOMO steering wheel among other modifications, and has competed in club racing and Historic Sportscar Racing with its current and previous owners.
Sports car racing was in a sorry state after the 1992 demise of the World Sportscar Championship. The short-lived BPR Global GT series can be credited with its resurrection, and its rulebook gifted the racing world with, among other things, the production-derived GT2 class that inaugurated 28 years of hairy turbocharged, rear-wheel-drive Porsche 911 specials. This 1995 911 is said to be the first example prepared for competition by Porsche's racing department, and was driven by Jochen Rohr, David Murry, Bernd Mayländer, and Hurley Haywood to a fourth-overall finish at the 1995 24 Hours of Daytona.
Another car with Rohr racing provenance, this 911 GT3 RSR is one of 41 built for the 2008 model year. It was sold to the Falken Tire team for the 2009 season and driven by Bryan Sellers and Dominic Cicero, after which it was used as a tire development car by Falken. This is a purpose-built racer with equipment such as onboard air jacks, a six-speed sequential gearbox, polycarbonate windows, an adjustable rear wing, and extensive carbon fiber bodywork. Power comes from a naturally-aspirated 3.8-liter Mezger flat-six that was rebuilt by PCNA in 2015, while more recent service was conducted by Road Scholars of North Carolina in August 2022.
The final cars in the collection are this pair of 911 GT3 RSR racers from 2010 and 2012. Both were prepared by Derek Walker Racing for the Falken Tire team and campaigned in the American Le Mans Series. They retain competition equipment such as front dive planes and diffusers, BBS centerlock wheels shod with Falken slicks, air jacks, integrated roll cages, onboard fire suppression systems, MoTec data loggers, paddle shifters, and more.