BaT Find: Checkpoint Pinball Machine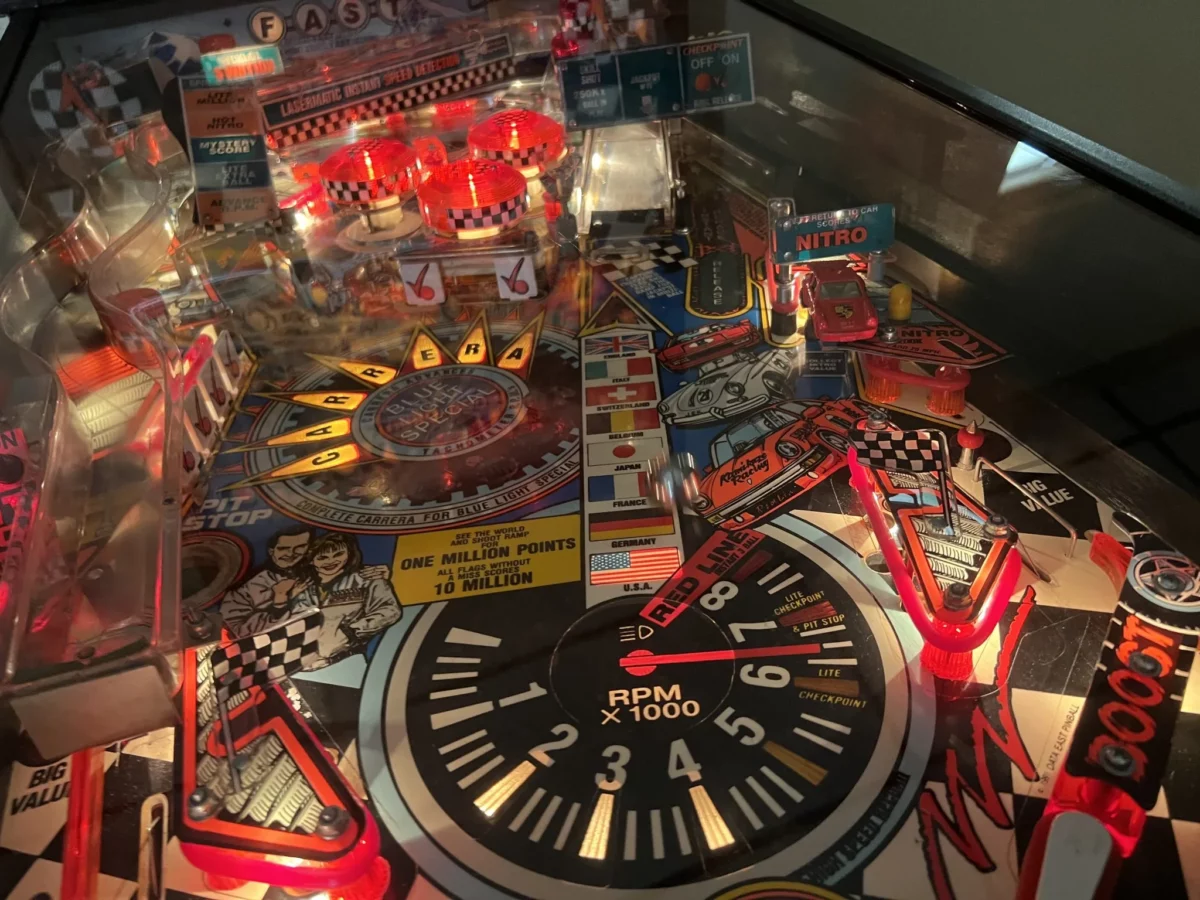 Hot off the heals of our BaT Find last week, the Porsche 917 Slot Car Raceway which sold for over $200k, we found this awesome Checkpoint Pinball Machine auction which ends at the end of this week.  If you're a fan of arcade games or vintage pinball machines, the 1991 Checkpoint pinball machine by Data East is one piece of nostalgia that you don't want to miss. This auto racing-themed game is a classic example of the kind of arcade machines that were popular in the late 80s and early 90s, and it has many unique features that set it apart from other pinball machines of its era.
One of the most striking things about the Checkpoint pinball machine is its design. The game features a glass-covered playfield that is adorned with colorful graphics of Porsche and Ferrari vehicles, as well as various racing-themed elements like checkered flags and speedometers. The backglass is also illuminated and displays racetrack imagery and high-speed records.
The gameplay is just as exciting as the design, with players using flippers, bumpers, drop targets, and slingshots to keep up to three balls in play simultaneously. The game also includes a "Lasermatic" speed ramp challenge that translates ball movement into notional vehicle speed, allowing players to advance the playfield tachometer and earn points. Each player can select accompanying music from genres like country, rock, jazz, rap, classical, and soul.
Another unique feature of the Checkpoint pinball machine is the ignition key that is used to start gameplay. This adds an extra layer of realism to the game, and the shaker motor integrated into the cabinet even simulates engine rumble. The circuitry is designed to work with a 120-volt power source, and the playfield can be pivoted upward to access the components mounted underneath.
Data East was a Japanese company that produced a variety of pinball machines between 1987 and 1994. The Checkpoint pinball machine was introduced in 1991 and was the first pinball machine to include a dot-matrix display. Only around 3,500 examples of this particular machine were produced, making it a rare find for collectors.
If you're interested in owning a piece of arcade game history, the Checkpoint pinball machine is currently available for auction on Bring a Trailer. The seller has recently serviced the machine and is including manufacturer's literature with the purchase. Located in Knoxville, Tennessee, this vintage pinball machine is a perfect addition to any game room or collection. Don't miss your chance to own a classic piece of arcade game history!