WR TV: Lingenfelter LTA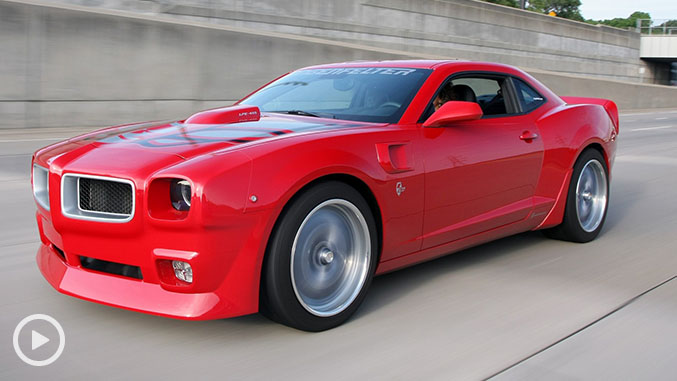 For many, the biggest loss taken when GM's restructuring called for Pontiac to close its doors was the revelation that we'd never see a Firebird based on the fifth generation Camaro. Since the new Camaro's introduction for the 2010 model year numerous builders have offered their own approach to what Pontiac's pony car might have looked like, with varying degrees of aesthetic and performance success. The Lingenfelter LTA, however, might be the final word on the subject.
Using a 2010-2013 Camaro SS as their canvas, Lingenfelter turned to the legendary 1974 Pontiac Firebird SD-455 for inspiration, not only for the front and rear fascias, body kit and wheel design, but also for the heavily modified 455 cubic inch V8 that lurks beneath the hood as well.
Starting with a custom LSX block, the V8 receives ported and polished LS7 cylinder heads, a custom Lingenfelter camshaft, an Edelebrock supercharger, Corsa performance exhaust, and a functional shaker hood scoop. All in, the LTA produces 655 horsepower and 610lb-ft of torque and a seriously wicked exhaust note. To cope with all the extra power, a Lingenfelter 6-bolt LS9 flywheel and clutch assembly has also been fitted.
Other cool features include interior upholstery cut from the original OEM material used on the 2nd generation Pontiacs, custom retro style 20-inch rally wheels and the assurance that you are almost certainly the only guy with a 650 horsepower fifth generation Firebird in town. But enough chit chat, let's see what this thing can do:
Have you subscribed to the Winding Road YouTube channel yet? We post new videos like these every week, so give a us click if you want to make sure you don't miss any of the latest clips.