WR TV: 2016 Ford Shelby GT350R Mustang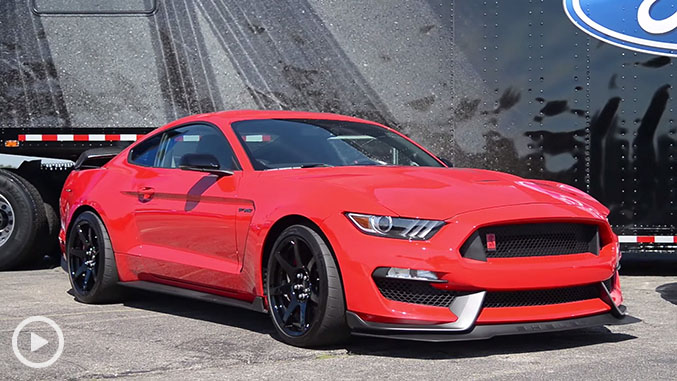 This week we take you behind the wheel of the new Shelby GT350R Mustang with Ford factory drivers Gene Martindale and Steve Thompson at the helm of the Blue Oval's newest track-focused pony car.
A clear response to Chevrolet's Camaro Z/28, the GT350R puts the track-focused GT350 on a 130 pound diet by way of deleting the rear seat, air conditioning, spare tire, and other non-essential items, along with the use of carbon fiber wheels which remove 13 pounds of unsprung weight from each corner. Bolstered aero bits include a large rear wing and rear diffuser and a unique hood vent which extracts heat and also reduces lift. The GT350R keeps the flat-crank 5.2-liter V8 from the standard GT350, which dishes out 526 horsepower and 429 pound-feet of torque.
In this first video, we bring you the sights and sounds of the 2016 Shelby GT350R. In the second half of the video, lead Ford test driver Gene Martindale takes us on some spirited laps around Grattan Raceway and demonstrates the different driving, suspension, and traction control modes of the GT350R:
And here Ford factory test driver Steve Thompson pilots the 2016 Shelby GT350R Mustang for a few hot laps around Grattan Raceway:
Have you subscribed to the
Winding Road YouTube channel
yet? We post new videos like these every week, so give us a click if you want to make sure you don't miss any of the latest clips.