WR TV: 2016 Dodge Viper GTC POV Lead/Follow Laps at Autobahn Country Club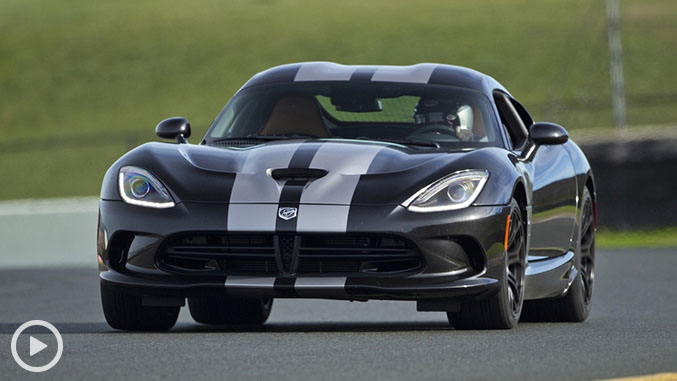 Ride along with us as we do some lead/follow laps in the Dodge Viper GTC at Autobahn Country Club during the 2015 Midwest Automotive Media Association Fall Rally. While the limited pace doesn't exploit the capabilities of Dodge's 645 horsepower sports car, it does give us a chance to see and hear the new GTC model in action.
Last year Dodge announced the 1 of 1 Exclusivity and Concierge Service for Viper customers. The program allows buyers who pony up $94,995 to purchase a Viper "GTC". Mechanically, the GTC is identical to a 2015 Viper GT right down to the 645-horsepower, 8.4-liter V10. Where the Viper GTC sets itself apart from the crowd is in the aesthetics – Dodge estimates there's over 25 million different possible customization combinations possible with the new program, which includes 8000 different body paint colors, two different styles of stripes that can be had in 24 different hues, two different hood styles and your choice of brake caliper paint shades to along with the six different aero packages on offer.
Perhaps the most surprising feature of the GTC package is the fact that it costs exactly zero dollars over the price of a standard GT model, though the GT itself is $10,000 above the base model's price. Interested in seeing what your perfect custom Viper would look like, or just want to create some total supercar abominations? Check out the
Viper GTC online configurator
to see the multitude of different combinations that are now possible when ordering up a Viper.
And if you're still itching to see the Viper attack a road course at a more lively pace, check out this clip from
our review
of the 2014 Viper TA:
Also be sure to check out this instructed lap with Winding Road Racing team driver Tom Martin III at the helm:
Have you subscribed to the 
Winding Road Magazine YouTube channel
 yet? We post new videos like these every week, so give us a click if you want to make sure you don't miss any of the latest clips.