WR TV: 2016 Dodge Viper ACR Hot Lap at Willow Springs International Raceway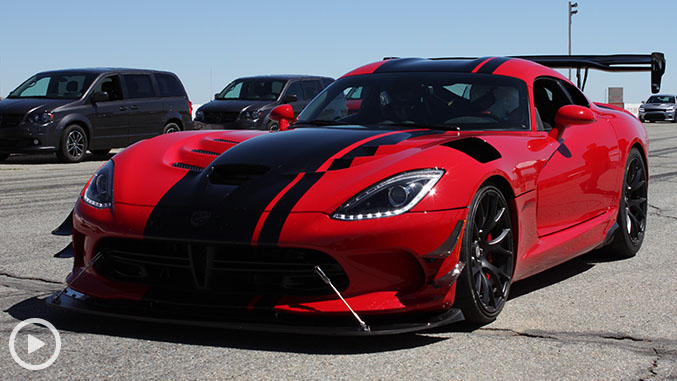 Ride along with us as Viper engineer Chris Winkler shows us what the newest hardcore track version of Dodge's sports car is capable of on a hot lap around Big Willow.
The ACR features an aggressive new aerodynamics package that boasts nearly one ton of downforce at 177 miles per hour – over three times the downforce offered in the current Viper TA, and more of any production car ever. It's achieved by way of a massive dual-element rear wing, rear carbon fiber diffuser, a unique SRT hood with removable louvers, a detachable extension for the front splitter and four dive planes.
The ACR also gets some serious stopping power from a new Brembo "Carbon Ceramic Matrix" system, which utilizes 15.4-inch two-piece front rotors (with six piston calipers) and 14.2-inch discs out back that are clamped by four-piston calipers. Along with the most brake pad area ever offered on a Viper, the ACR features specially tuned stability control and ABS systems to eek the most out of the new brake package.
In terms of handling, the new Viper ACR boasts race car-like levels of sustainable lateral grip of 1.5 g during cornering. That's accomplished by a ten-way adjustable Bilstein coilover suspension offering three inches of height adjustability and a set of Kumho Ecsta V720 high performance tires measuring 295/25/19 front and 355/30/19 rear that have been designed specifically for the
2016 Dodge Viper ACR
. Those tires make a big difference here – Winkler pointed out after our lap that we hit around 1.6 g around Turn 2's long sweeper: