WR TV: 2015 BMW M3 and M4 POV Track Tests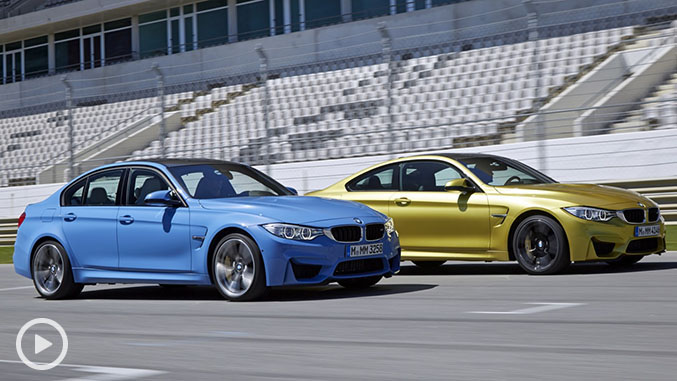 Back in June we headed out the Elkhart Lake, Wisconsin to give the new M3 sedan and M4 coupe a proper thrashing around the Wisconsin backroads and the Road America road course. While the weather proved somewhat uncooperative during our street testing, we were fortunate enough to see several hours of relatively dry pavement during our time on track, giving us a chance to properly push the new M cars on this particularly fast course.
The new M3 and M4 are powered by a direct injected, twin turbocharged 3.0-liter straight six cylinder engine that outputs 425 horsepower and 406lb-ft of torque, which sends power to either a six speed manual transmission or a seven speed dual clutch automatic, the latter of which is similar to the unit found in the current M5.
All test cars were fitted with the optional carbon ceramic brakes, which include fixed four-pot calipers up front and two piston units in the rear.
Be sure to check out
our full review
of the M3 and M4 for more detailed driving impressions both on and off track, but in the meantime, let's see what they're like from behind the wheel on course, where speeds reached in excess of 150 mph on the front straight:
Have you subscribed to the Winding Road YouTube channel yet? We post new videos like these every week, so give a us click if you want to make sure you don't miss any of the latest clips.