WR TV: 2014 Ford F-150 Tremor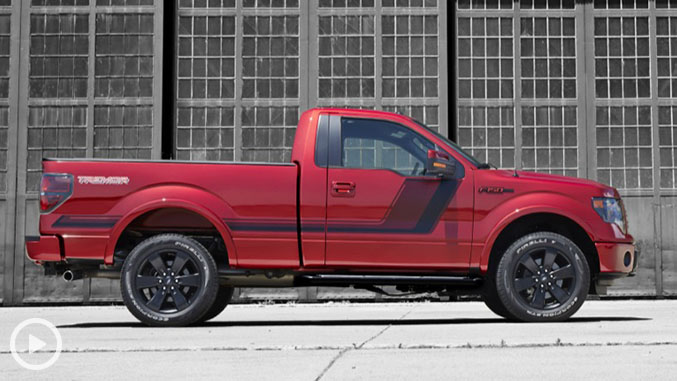 Earlier this summer we got a chance to get behind the wheel of Ford's latest performance-oriented pickup, the F-150 Tremor. With the new aluminum-bodied 2015 F-150 due to land in showrooms in just a few short months, we thought we'd give this hopped-up version of the outgoing model a thorough once-over before it goes the way of the dodo.
Truth be told, the F-150 Tremor is less of a bespoke performance model and more of a build sheet "best-of". It combines a regular cab, short wheelbase version of the F-150 with the potent 3.5-liter, biturbocharged Ecoboost V6 engine, which outputs 365 horsepower and 420 lb-ft of torque and, a 4.10 axle ratio for added pull off the line.
Available in two or four-wheel-drive flavors, this particular Tremor sports the FX Appearance Package, which includes 20-inch black wheels black exterior accents and the Tremor Plus Package, which adds navigation, remote start, rear view camera, bed extender, and other useful bits and pieces.
While a standard F-150 with the FX2 Sport package retails for $34,270, our tester clocked in at a rather lofty $42,210 all told. That got us wondering: With Ford's own F-150 SVT Raptor, and its 6.2-liter, 411 horsepower V8 few thousand dollars away at $44,995, does the Tremor shake things up enough to opt for one instead of an F-150 with the full SVT treatment? Sure, the Raptor is more off-road focused, but not so much so that it isn't still a capable performer on the pavement. Perhaps we'll find the answer to this conundrum on our test drive:
Have you subscribed to the
Winding Road YouTube channel
yet? We post new videos like these every week, so give a us click if you want to make sure you don't miss any of the latest clips.