WR TV: 1989 Pontiac Turbo Trans Am Indy Pace Car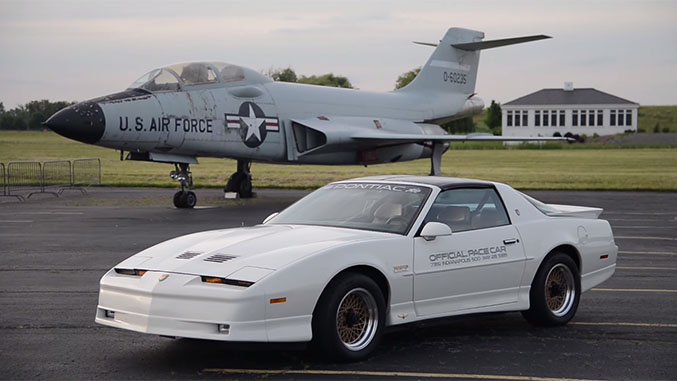 Today we're bringing you this spectacular 1989 Pontiac Firebird Turbo Trans-Am 20th Anniversary Indy 500 Pace Car. Pontiac only made this model in 1989 specifically to pace the 73rd Indy 500. Total production numbered 1,555 units. GM kept 5 of them and sold 1,550 to the public. This is #1,221, a highly original example with only consumables like the battery and tires being the only non-original components.
Under the hood is the original hi-po 231ci turbocharged V6 engine from the Buick GNX complete with the original intercooler, turbo, and electronic fuel injection. It is mated to the original Turbo-Hydramatic 200-4R four-speed automatic transmission. The car also features the WS6 performance suspension consisting of independent front suspension with MacPherson struts, coil springs and anti-roll bar, live rear axle with trailing links and torque arm, four-wheel hydraulic disc brakes from the 1LE, and 16"x8" aluminum wheels.
As equipped, the new Trans-Am pace car offer serious high performance for the era with 13-second quarter-mile times and top speeds exceeding 150 mph. Originally priced at $9,000 over the cost of the 5.7-liter GTA and with just 1,554 other examples produced, this 20th Anniversary Indy Pace-Car Trans-Am remains one of the rarest Pontiacs ever assembled. Let's check out the sights and sounds of this unique F-body and then take it for a spin:
Have you subscribed to the
Winding Road YouTube channel
yet? We post new videos like these every week, so give us a click if you want to make sure you don't miss any of the latest clips.