Winding Road Video: 2013 Dodge Challenger SRT8 392 — POV Test Drive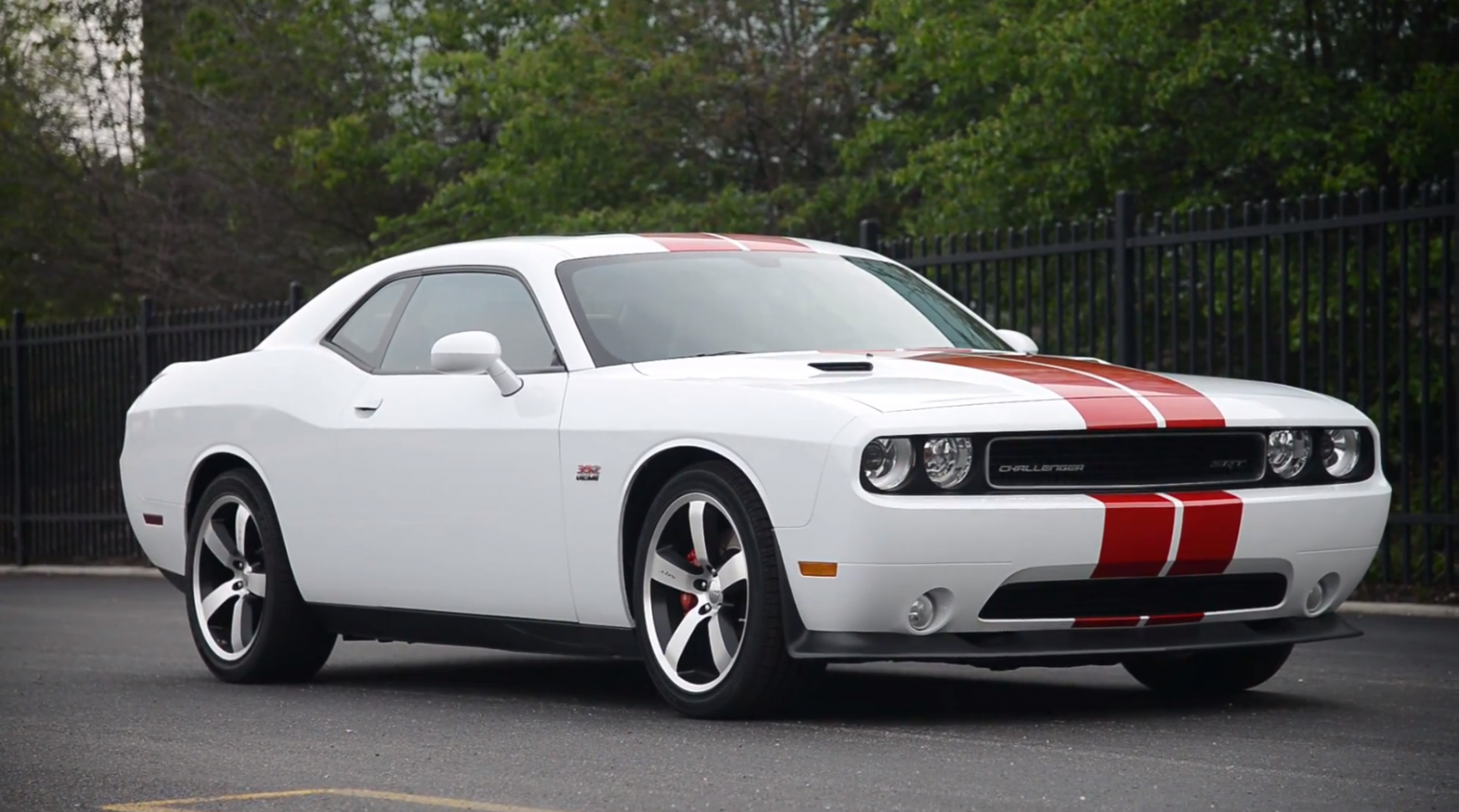 Even in this garish red-on-white color scheme, the Dodge Challenger is probably one of the coolest looking cars on America's roads. The shamelessly retro design still looks good after years on the market, but time hasn't been quite so kind to the interior.
The Challenger hasn't received the same level of attention as its four-door platform mates, and it shows in the interior material choices (largely plastic, of both the hard and soft variety) and infotainment choices.
Focusing too closely on those things kind of misses the point of the Challenger—it's still an uncompromised muscle car, with all the foibles that come along with that title.
Its 470-horsepower, 6.4-liter Hemi V-8 is just as good in the two-door Challenger as it is in every other SRT product. The sound is ever present, and there's more than enough power spread across the rev range to get the big coupe moving quickly.
Oddly, the Challenger's suspension felt softer and less poised than the
Chrysler 300 SRT8 we tested back in May
. Regardless of which of the three suspension modes we set the Dodge in, there was more vertical movement and roll than in the 300's equivalent mode. The sedan offered up a flatter, grippier handling experience that instilled more confidence as we pushed down the road.
Still, we suppose the floatier, unhinged handling is more in keeping with the Challenger's role as a traditional muscle car. It is brilliantly fast in a straight line, which is great if you're looking to live your life a quarter mile at a time. But if you want to eventually tackle some turns, you'll need to do the counterintuitive thing and buy a sedan (or pick up a sportier muscle car, like the
Mustang
and
Camaro
).
2013 Dodge Challenger SRT8 392
Engine: V-8, 6.4 liters, 16v
Output: 470 hp/470 lb-ft
0-60 MPH: 4.6 sec (est)
Weight: 4160 lb
Fuel Economy, City/Hwy: 14/23 mpg
Base Price: $43,775
As Tested: $50,800