Winding Road Racing Named AiM Preferred Installer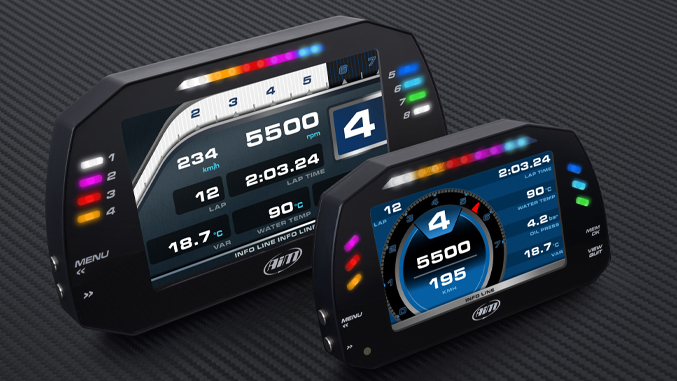 In addition to selling AiM data equipment, Winding Road Racing provides a variety of configuration, installation and setup services for AiM systems. In recognition of its expertise, Winding Road Racing has recently been named an AiM Preferred Installer.
Installing a data system can be somewhat complicated. Here are some examples of installation services WRR can provide
Coaching Sensor Integration. Typically, drivers want additional sensors to support learning from track sessions. Steering angle, brake pressure and TPS (throttle position sensor) are the most common sensor additions drivers want. Depending on the car, this may be a matter of integrating with the factory sensor package or it may require additional sensor installation and programming.
Car Health Sensor Integration: Typically, drivers want to monitor oil pressure, oil temperature, water temperature and possibly water pressure. Differential and transmissions fluid temperature are also key channels, especially for endurance cars. Cars with fuel cells or with production gauge clusters removed may also need fuel level sensors. Again, each of these may involve sourcing or designing 3rd party sensors and adapters.
Data System Setup: WRR can program the dash to set what information is on each page of the display and to control the format preferred by drivers. Additional services include programming the shift lights, programming alarm lights, programming alarm messages and integrating Smarty Cams (so you can have data channels on the logger displayed on smarty cam).
Mounting System Fabrication. WRR also can take care of sourcing, designing and fabricating brackets and mounting systems to integrate the AIM components with almost any car.
WRR frequently chooses AIM because once you have all the components installed the systems are user friendly. Part of this is driven by AiM's large installed base which means many other drivers and almost all coaches are familiar with AiM's analytical software. The result is that you can share data and get advice at just about any event.
Email Therk at [email protected] for more information on AiM installation and integration (or call: 512-436-8625).