Why Making A Street-Driven 991.1 Porsche GT3 More Cup Car-Like Is A Solid Decision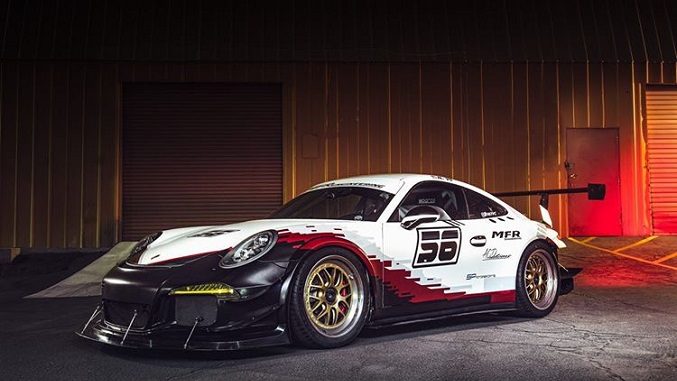 Photo: @renz.jpg
In the 20 years that it has existed, most enthusiasts would agree that the Porsche 911 GT3 is one of the best track-focused cars with outstanding handling, great power, and a driving experience that pleases all of the senses. From the driving position, to the way the naturally-aspirated flat-six revs up with tons of gusto and symphonic force, to its gear change with either three pedals or a lightning-fast PDK, it's some of the greatest fun we can have behind the wheel of a street-legal sports car. The GT3 is the closest one can get to a loud, stiff, purpose-built 911 GT3 Cup Car without having to put on a helmet, slither into a roll cage, and snap a 6-point harness together.
Or is it? What if one wanted to go a tad further and build something even closer to a Cup Car, to see how much they could tolerate before it became too much to bear for street driving? That's the inspiration Nguyen Vo had in mind with his thoroughly-prepped 911.1 911 GT3.
Vo wanted to build something that checked the majority of the boxes that a Cup Car possesses, but could still be driven on the street, including routinely traveling between Northern California and Southern California. Naturally, to and from all of the state's world-renowned racetracks as well. We were quite curious what he created would be like on SoCal streets, and one Summer afternoon he gleefully threw us the keys and suggested we go for a cruise.
Walking up to Vo's GT3 is a little intimidating at first; not because it's a very fast car that doesn't have our name on the title, but rather because it doesn't look very street-friendly with its low stance with portruding aero pieces. Though, once we unlocked it, opened the door, and sat inside, our concerns were quickly extinguished.
Photo: @renz.jpg
The experience of plopping down into any track-focused car is usually a far cry from just sliding in and getting underway like any average car. This experience is nicely split between street car and Cup Car with Vo's GT3. Climb down into the Sparco QRT-R fixed-back racing seat (which is mercifully not too deep), put on the street-legal belt, grab the alcantara Porsche GT4 Clubsport wheel, click it into the base, and just press the ignition button! No turning on fuel pumps, fishing around awkwardly for the sub belt, etc. – just sit, click, click, and fire.
When the engine fires to life, that's when one realizes that this GT3 dances quite close to the edge of street-ability. Bay Area Porsche tuning institution SP Motorsports bolted their Daytona straight pipe onto the 3.8-liter flat-six, which is essentially some lightweight tubing that comes straight off the headers to a single-exit pipe right in the middle below the rear bumper. The car does the State of California a kindness by retaining its catalytic converters, but everything else just quickly collects into a single megaphone… and it is glorious.
The car is loud, but not ridiculous. Cruising along keeping the revs low, it's quite easy to maintain a conversation with the radio on and not have to scream at the other passenger. The sound is always there and it drones a tad on the highway, but not like cars that are a bit more race-centric. Keeping the revs low in a 991.1 GT3 is not congruent to keeping the revs low in the majority of other vehicles, as there are as many as 9,000 available depending on the driver's courage and angle of their right-foot. Cruising along, letting the PDK shift itself, it's almost as if the car knows it's very loud, and shifts well below 2500 RPM to allow for conversation and Kiss FM as background music. Though, when the universe presents an empty, fairly-straight street with tall walls on each side, it is almost impossible to keep the revs low, because you know from the small preview at startup that there's quite a bit more volume to achieve.
Photo: @renz.jpg
People say one of the coolest parts about Porsche GT3s is that they sound a lot like un-corked Cup Cars. When the driver buries their right foot in a street GT3, it instantly sounds like its purpose-built siblings screaming down Shoreline Drive at Long Beach, or up the hill towards the finish line at Laguna Seca. Take away the road-going GT3's mufflers and it really sounds like an actual Cup Car, and man does it sound so good. The experience goes from zero to being absolutely enveloped in decibels incredibly quickly, thanks to the quick-revving 3.8-liter flat-six stuffed into the rear bumper.
The lightning-fast shifts provide no mercy either; as soon as the throttle opens back up another wave of decibels fills the cabin. The flat-six is an orchestra of beauty, creating one of the best mixes of induction and exhaust sound that has ever graced an automobile. Huge thumbs-up to Vo for allowing this combination to project freely. Naturally, it also grabs a lot of unwanted attention, either from the authorities or from normies who will quickly call the authorities, so unfortunately besides the track, Vo can't necessarily let the flat-six sing whenever he pleases. His suggestion that we downshift and stomp our right foot on an empty street with huge walls on either side was one of the nicest gestures we've received in 2019.
In addition to grabbing people's aural attention, we also got a lot of head-turning-attention just slowly cruising along quietly – the wanted and the un-wanted kind. Driving around Huntington Beach, a few people gave us a thumbs-up, other people giggled and gave us some quick commentary at stoplights along Pacific Coast Highway. "Let's hear the two-step, man!" exclaimed one pimply-faced teenager, to which we would've replied "wait, we didn't know it had a turbo!" or some other quip, had we thought of it in time. We were too busy listening to the big flat-six rumble at idle.
Photo: @renz.jpg
With various aero parts designed and produced by MFR Engineering populating much of the lower body work, a custom 80" APR wing mounted up in the back, and a very low stance, this GT3 certainly sticks out. Though, to keep up with the theme of a street-able GT3 track car, its not only functional on the track, but amazingly didn't have much trouble on some of the crappiest streets in Orange County. The exception however was scaling brutal SoCal driveways, thugh that's tough in any car that's been more-than-slightly-lowered, even a track-prepped, daily Mazda2 in our stable.
The suspension hadn't been significantly modified, because why mess with amazing engineering? Instead the factory springs were removed in favor of some aftermarket Swift springs with slightly-more aggressive rates that would accompany the factory dampers: 560 lbs. in the front and 670 lbs. in the rear. Again the car was lowered for aesthetics and aero, though it did very well over imperfections in the road. The wheel and tire combination was an exceptionally beautiful choice as well: BBS E07 wheels wrapped in 285/35/19 Michelin Pilot Sport Cup 2 tires in the front, 325/30/19 in the rear. They rode fine on the street with just an average amount of tram-lining which is to be expected, and frankly welcomed, as the steering wheel reminded us what we were driving, in case we went deaf from having too much fun with the loud pedal. Naturally, because performance is Vo's number-one priority, drop links, extended tie rods, upgraded bushings, and other mild suspension modifications were thrown into the mix by SP Motorsports to ensure it handled impeccably at its lower ride height.
Before Vo's GT3 received some significant upgrades. Photo: Peter Nelson
Recently, Vo's GT3 has undergone a heck of a transformation, as the photos in this article demonstrate. We drove it before it went under the knife for some significant upgrades to continue the goal of getting closer and closer to Cup Car territory. This meant more off-the-shelf Cup Car parts direct from PMNA: GT3 Cup engine frame, fenders, and decklid, and a very comprehensive rear half cage built by Studio RSR. The car also wears some finalized aero parts by MFR Engineering, as well as an absolutely gorgeous 991.2 RSR-homage wrap from ACD Customs. The updated beast was recently on display at SEMA as a great example of all this design and engineering coming together flawlessly.
Nguyen Vo's 991.1 Porsche GT3 might be over the top for some, but any enthusiast would definitely appreciate the intention behind it: get as close to a Cup Car as possible and still remain reasonably street-able. Despite the addition of some comprehensive aero and the half cage, Vo thinks the factory weight of 3,153 lbs. has dropped pretty significantly, though he hasn't had a chance to weigh it; he's been too busy having a blast behind the wheel. Combine the slight weight loss with factory creature comforts, one of the best-engineered dual clutch gearboxes ever, a beautiful exhaust note, and revised suspension, and any enthusiast would be hard-pressed to find a better way to savor 475 naturally-aspirated horsepower. Fingers crossed Vo tosses us the keys again, or lets us ride shotgun at Buttonwillow Raceway Park. We promise we'll record a video with binaural audio.
Huge thanks to Nguyen for letting us take his 991.1 GT3 for a spin, and major props to all the companies who had a hand in putting it all together.
Photo: @renz.jpg