Track Driven: Wolf GB08 Sports Racer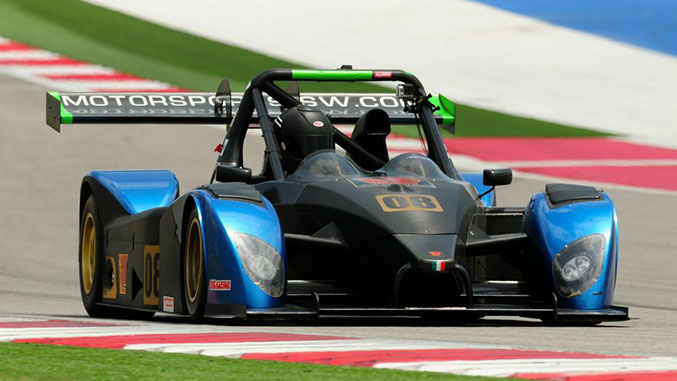 Perhaps you think you want a Radical. But really, you want this car or the
Elan NP01
.
We've talked to many racers who drive production-based cars, like cars in SM or T2/3/4 or GTS, and almost to a person, they say "I'd love to drive a Radical," or "When I can afford it, I want to get a Radical".
They are so right and they are so wrong. We know, because we race a Radical and now we've driven the Wolf GB08.
Drivers correctly intuit that modern sports racers are amazing to drive, especially if you are coming from low to medium power production-based cars. There are many reasons for this, which we'll get into, but a summary would start with weight (around 1400 lb. with driver) and downforce that yield braking and cornering on another level than what most of us are accustomed to.
The Radicals, and particularly the Radical SR3, have become poster children for this class of car, in part because they have been well publicized in a host of British magazines, web sites and TV shows. In addition, Radical in the US has done a good job, particularly in the west, of supporting the cars with service and racing events. There is also a well-developed used car market.
But, to summarize, the Radical is also problematic. It is motorcycle-based (i.e. fragile), somewhat difficult to work on due to its Byzantine packaging, and its power delivery and aero package make it relatively slow. What if there were cars priced about where the Radical is priced ($150,000 plus or minus) but that avoided some or all of these issues? The Wolf GB08 is one attempt to create such a car.
That idea is compelling to some drivers. While expensive, a car like the Wolf keeps you well below Prototype Challenge, GT3 Cup and Ferrari Challenge new entry prices. And if run costs were also lower, you might really have the most affordable approach to semi-pro race speeds and driving dynamics.
With this in mind, we were very interested when offered a chance to drive a Wolf GB08 at Circuit of the Americas (we'd do race laps in a golf cart at COTA, if offered, but that's another story – call us if you own a golf cart fleet that you need tested under race conditions). This was a
track day
, not a race, but that is a good way to learn a car, even if it does involve some frustration as you wait for point-bys (see video).
You can read our
profile of the GB08
to get the details, but a quick synopsis is that the GB08 was originally built for the European CN series, where it has been very successful. The car uses a carbon fiber tub and a Honda Mugen K20 2L engine, making about 250 hp. That is about half the power and half the weight of a Ferrari Challenge or Porsche Cup car. Those are fast cars, BTW. The Wolf idea is that what you give up on the straights because of a narrower power band, you get back under braking and in the corners.
We did four sessions in the GB08, and here are our notes formatted as an FAQ for your edification.
What Is It Like To Drive?
If you are coming from a medium or low powered car without real aero, you will notice several differences. First of all, the Wolf is faster so things happen more quickly. There is, for example, a lot more shifting going on than you are probably used to. Second the grip level is simply astounding. Even when you aren't using the aero very effectively, which you probably won't be at first, the car has gobs of mechanical grip. That is confidence-inspiring, at least up to a point. Third, the car is very well-behaved. You realize that your production racer moves around a lot, whereas the Wolf just seems planted. This extends to power application, where the relatively low torque of the Honda engine coupled with excellent grip means that the car doesn't want to get away from you coming off corners. Finally, the view is phenomenal to the front; to the rear, not so much. The forward visibility makes you more sensitive to placement of the car.
We should mention that if you have experience in shifter karts, the Wolf will feel quite familiar. Except that the braking is better and you won't use your arms and upper torso nearly as much.
What Did You Like About Driving It?
The big thing about the Wolf is driveability. It has forgiving handling, including excellent steering feel, good feedback through the chassis, and predictable high-speed understeer. The brakes are confidence-inspiring, in part due to downforce, but also because mechanically and hydraulically the pedal operation is sublime. That control excellence extends to the throttle, which has nearly ideal linearity.
Everything together allowed us to confidently push after only a lap or two. We had beaten our best Radical SR3 time (done under race qualifying conditions) by lap 4 of a track day.
Is It Fast?
Well, yes. But to put that in context, here are a few actual, representative Circuit Of The Americas lap times:
Spec Miata – 2:45
T2 Mustang – 2:30
T1 Corvette – 2:25
P2 Radical SR3 – 2:21
Ferrari 458 Challenge – 2:16
Porsche (997) GT3 Cup — 2:13 (pro driver)
P1 Wolf GB08 – 2:08 (pro driver)
Corvette Daytona Prototype – 2:00 (pro driver)
At this level, the driver is going to be a huge factor, but the data above position the Wolf in the context of some pretty heavy metal. That said, P1 cars are generally pretty fast. If you really need to know if the Wolf is fast enough, you may want to rent one to run the track of your choice.
What Could Be Improved?
The paddle shifters work well, although as with all such systems, it takes a while to learn the force and timing required to be sure a shift command is received and accepted by the electronics. We would swear that we asked for a few downshifts that we didn't get, something we might correct with time, but which may be a limitation of the design. The paddle shift will not let you downshift if you are going faster than the gear/car speed calculation allows, which is a good thing. But there are other subtleties. For example, if your foot is bumping the throttle and there is throttle position sensor input when you pull the paddle, it effectively says "sorry, but no."
What Is Special About It?
From a driver's standpoint, oddly enough the brakes are a Big Thing. The Wolf has probably the best pedal feel and stiffness of any car we've driven. More importantly, the overall braking performance was amazing, both in terms of total deceleration and excellent stability under hard braking (most cars seem to get a bit wiggly under threshold braking). Higher-powered cars will out-accelerate the Wolf on long straights, but you can often re-pass when they get on the brakes if they don't have big aero.
There is also some nice attention to detail in the design. For example, Wolf provides a backup mechanical shifter so that if the paddle shift system fails you still can drive the car. It seems like a small thing, but the main dash buttons are are all color-coded buttons and laid out in a simple grid on the dash. When the crew chief is telling you do to something on the radio, it is easiest to "flip the yellow switch".
The Wolf is a two-seat car, which leaves more than the normal amount of room in the cockpit. That is nice for ingress and egress and makes some drivers just feel more comfortable.
What About Run Costs?
Anyone with real race experience knows that purchase price is one thing, maintenance is another. With Porsche Cup car engine rebuilds at $40,000 every 50 or so hours, it is good to know what you are getting into before you get into it. Naturally, on a weekend test, we can't verify run costs. But there are a few things to like about the Wolf from this perspective:
1. Maturity of design: 30+ cars built for CN series, extensive running experience since 2008
2. Durable drivetrain: engine in relatively mild tune (125 hp/L), claimed 100-hour re-build cycle
3. Designed for service, with an open, accessible engine
4. Relatively affordable body parts
Who Is The Direct Competition?
The two most obvious competitors, beyond the Radical SR3, are:
Dauntless – Dauntless Stohr WF1
The DP02 can run IMSA Lights, which is a nice feature, but it is said to be a little slower than the Wolf, which could be a factor outside of that spec series. The Stohr is motorcycle-based, with the attendant thrills and issues of such cars.
You might also consider the
Caterham SP300/R
to be competition, though there are fewer race weekends where the cars could run head to head.
Who Can I Race With?
Drivers who enjoy spec series love the fact that there is always a decent car count. Therefore, there is usually a good race to be had, even if you're not at the sharp end of things.
Right now, in most amateur racing weekends, this is the weakness of the Wolf. Really it is the weakness of the P1 or Super Unlimited class. You simply don't know if 1 or 8 cars will show up. And at the present time, Wolf owners will almost certainly be in a category of one.
Ideally, there would be a one-make series for the Wolf as there is for the Elan DP02 and several Radicals. But that is a chicken and egg proposition that awaits a few more cars being sold. Motorsports Southwest is working with NARRA to start a prototype endurance series in late 2014, which sounds great and could be a bridge to larger car counts.
The good thing is that the GB08 in base form is legal for many sanctioning bodies. This is certainly not perfect, but there are a good number of places you can race it between NASA and SCCA and NARRA.
Still, ownership of these cars is for visionaries or those who simply love to drive fast cars. We can see it.
Motorsports Southwest
(512) 261-1462
Photo support: PhotoMotionOnline.com
Video support: Todd Archer