Third Look: Toyota FJ Cruiser—She's Got A Great Personality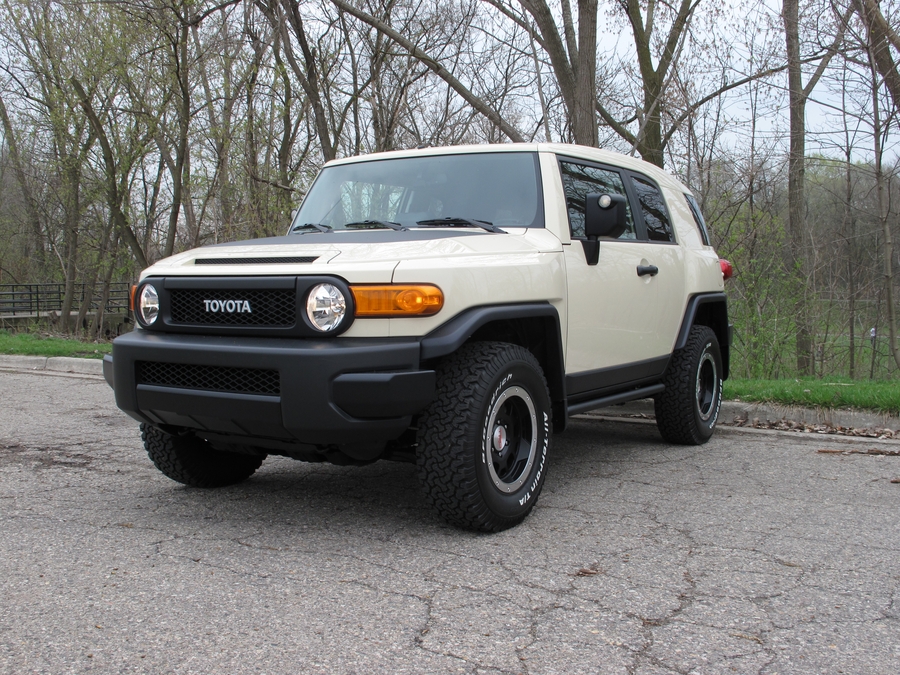 Flash back in time a few months, before Recall Hell descended upon the whole of the Toyota Empire, and we remember that some of the biggest criticisms levied against the Japanese automaker's products revolved mainly around a lack of character. Corolla, Sequoia, and, obviously, Camry, were heavily critiqued as being far too like appliances to charm, despite obliging reliability and resale scores.
The FJ Cruiser has always been a different kettle of fish—in this case a sort of sandy-taupe colored kettle. Even when it's borderline-bizarre, Hot Wheels styling is left out of the equation, the FJ has got far more personality than its Toyota badge would imply. (Actually, the FJ has "TOYOTA" spelled out across its grille in place of a badge, but you take our meaning.)
While we prefer to engage it with a manual transmission, the 4.0-liter V-6 feels willing in the FJ—not quick, by any stretch of the imagination, but perfectly adequate for a vehicle this size. A booming exhaust at higher revs help to keep us interested, too.
Our FJ was equipped with the BFGoodrich All-Terrain tires that come as part of the (spendy) Trail Teams Special Edition package. The beefy off-road tires help to give the SUV a bit of a rough-around-the-edges ride quality that is actually sort of fun in this segment. The rubber rumble and high ride height made the FJ feel a lot more like a Jeep Wrangler than we would have expected. We mean that as a compliment, too.
We were also pleasantly surprised that the steering wheel, though devoid of nuance, was well weighted and quick to respond. There was some floatiness here, especially at highway pace.
Those sort of compromises are to be expected with any off-road focused vehicle though, and the FJ does offer a nicer on-road experience than the Wrangler Unlimited, which is really the best reference point for a direct competitor. There's little question that, despite the off-roading chops offered by the aforementioned tires, Bilstein shock absorbers, and a locking rear diff, we'd rather have the Jeep for serious off-roading. With that said, at a price point that mimics the top-end Rubicon, the FJ has a more livable interior, is likely to be a lot more reliable, and will retain a lot more value over time (all that pesky Toyota stuff). FJ also gets a lot more power from its newer-tech motor. You have to be willing to live with the cartoonish looks and preternaturally bad rearward visibility, though. And the Wrangler can take its top off—clearly an advantage heading into the summer months.
Honestly, we went into our week with the FJ expecting to laugh the vehicle off as a weird-looking snooze-factory. But we came away feeling charmed by the beast. (So much so, in fact, that we're considering some kind of trail test with the Toyota and the Jeep this summer if we can squeeze it in.) It manages to be far more entertaining that the sum of its parts might suggest, and a deeper character than the retromobile styling that it's really known for. We love to be surprised; thanks Toyota.