The Mother of All Race Gear Bags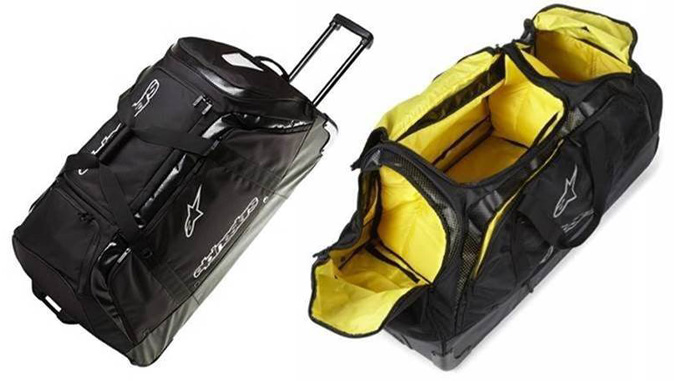 With its great functionality and size, we call the Alpinestars Transition XL gear bag the mother-of-all-bags. Watch the video below to learn why we love this great looking and high functioning bag:
Some of the features we love:
The waterproof padded bag is made from ballistic nylon and 600D polyester, making it extremely durable, no matter how you treat it.
The bag comes with a dedicated compartment for your helmet, plus removable compartment walls to make it even roomier.
Fully lined with hi-visibility lining, making it easier to find what you need.
Perforated panels for venting helps to air out your gear.
Bottom compartment for shoes plus a removable floor mat — helpful when you need to change on a dirty surface or ground.
Retractable, heavy duty handles and smooth roll wheels.
Tons of storage with both internal and external pockets.
Equipped with TSA-approved locks so you can travel and keep your gear safe.
Measuring 38" x 18" x 18", the bag can store all your race gear plus your off-track clothes, etc., negating the need to travel with multiple bags.
With its long list of features, and at a price point of $259, there's a lot to love about the Alpinestars Transition XL gear bag.