The Best Racing Suits Of 2019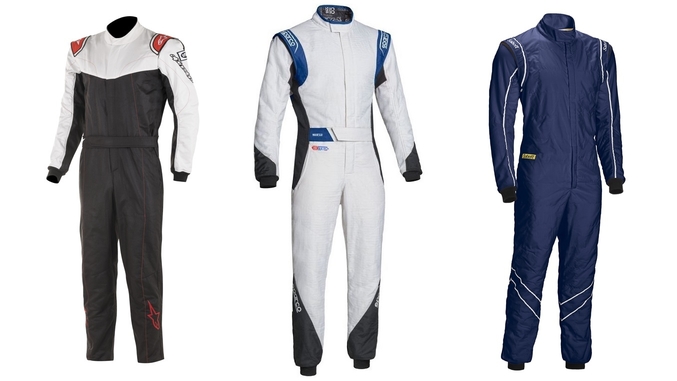 We've put together a list of the best suits available based on sales numbers, value for the money, quality of materials, breathability, and more. There's something for just about everyone here, ranging from excellent entry-level options to our favorite zero-compromise choice. Most of these suits come in multiple color choices. Sizing charts and advice are on the Winding Road Racing store site. Got questions? Contact us here and we'll be happy to help you find the racing suit that's right for you. You can see all of our auto racing suits in our store.
Best Entry Level: Alpinestars Knoxville
At $399 this suit is very comfortable for the price. Unlike some other entry-level suits, the fabric isn't overly thick, and we think it looks pretty sharp to boot. See all Alpinestars racing suits.
Best Affordable Suit: Alpinestars Stratos ($599.95)
This is a great suit that has a really nice design and comes in both standard and boot cuff. Plus, it's quite light for the price. See all Alpinestars racing suits.
Lightest, Most Comfortable Under $1k: Sparco Victory RS-7 Racing Suit ($899.00)
The Victory RS-7 uses a special fabric called Hocotex. That allows Sparco to build the RS-7 with just a single layer of fabric, greatly improving breathability while also improving fire resistance. Note: the RS-7 is certified FIA 8856 and SFI 3.2A/5 just like most other top suits; generally, you will not be required to wear Nomex underwear with the RS-7 (check your rules). See all Sparco racing suits.
Lightweight Mid-Range: Alpinestars GP Pro Comp Racing Suit ($849.95)
We really like this design. It offers interesting details, a modern look, and plenty of room for embroidery. Many customers say the anatomical fit works for them as well. See all Alpinestars racing suits.
Affordable Pro Suit: Sabelt Hero TS-9 Racing Suit ($1,695.00)
Simple design is good for embroidery, and the TS-9 is very lightweight. With its slim fit, pre-formed arms, and seamless inner layer the Hero TS-9 has everything you need in a classy, great looking racing suit. Worn by everyone from professional drifters to WEC champions. See all Sabelt racing suits.
Light Weight Premium, Zero Compromise: OMP One-S1 Racing Suit ($1,959.00)
This a super-lightweight FIA 8856 suit with excellent breathability. It features breathable and elastic inserts in new stretch Dry System fabric on limbs, crotch, chest, elbows and knees, and has superior venting. See all OMP racing suits.
Best All-Arounder: Sparco Eagle RS-8.2 Racing Suit ($1,599.00)
The Eagle is Sparco's FIA 8856 answer to having awesome breathability and fire protection for under $2,000. With it's single-layer HOCOTEX® construction, it is 3X more breathable than a standard suit. It utilizes relatively thinner fabric along with large side and back stretch panels and 360-degree arm gussets give the Eagle RS-8.2 ultimate flexibility and comfort. Check out all of Sparco's suits.
Best Custom Suit: OMP Custom-Tailored Racing Suit (Starting at $999.00)
You can have a made-to-measure, custom-embroidered, comfortable suit in 4-6 weeks! If you have sizing issues with off-the-rack suits, this is the suit for you. If you've always wanted to be a suit designer, this is the suit for you. If you have sponsors and value the professional look of factory embroidery, this is the suit for you. What are the downsides? None, really. See all OMP racing suits.