The Best Racing Helmet Bag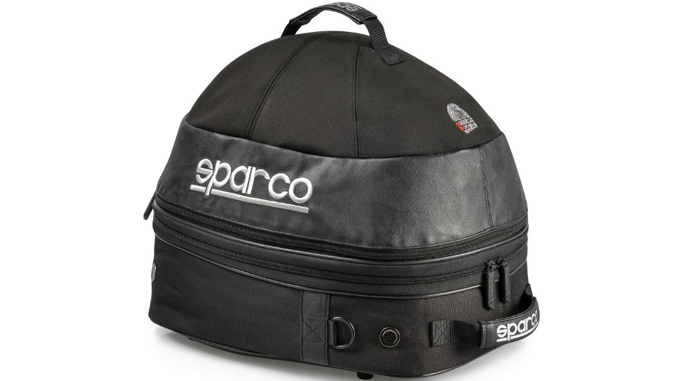 Many racers like to keep their helmet in a separate helmet bag. This adds an extra layer of protection, which is a comfort factor in a large gear bag. It can also be helpful at the track when you just don't want to risk a mechanic dropping a torque wrench or jack stand on your precious one-and-only custom-painted helmet. Then there's the situation where you fly, and check your gear bag (because it is too big to carry on). You certainly don't want to check your helmet, especially if you've seen this. When you carry on, you want to have something to protect it in the overhead bin.
We offer some basic bags from Bell, Oreca and Sparco, and a pretty one from Stilo. But the standout helmet bag in our collection is the Sparco Cosmo. It looks professional, is large enough to carry both helmet and HANS, and it has a fan. Let us repeat that: IT HAS A FAN.
Yup, Sparco had the smart idea to build a fan into the bag to speed the drying of your helmet, which prevents or reduces biological experiments. The fan runs off USB power, so you can even dry your helmet while you drive to the airport right after the podium ceremony.
We also recommend taking good care of the surfaces of that helmet, and Molecule makes a nifty Helmet Care kit for just that purpose. The kit includes refresher, cleaner, rain repellant and anti-fog sprays.
Shop our Gear Bag Store for a wide variety of helmet and gear bags from Alpinestars, Bell, Oreca, Simpson, Sparco and Stilo.