The 10 Best Auto Racing Helmets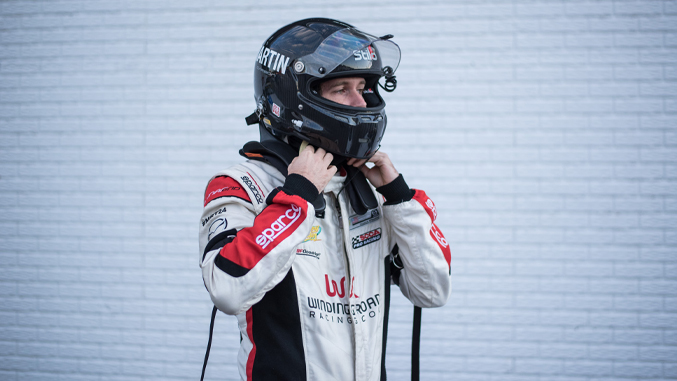 Note: This is our updated late-2020 buyer's guide.
Whether you are road racing, doing a track day, running autocross, driving circle track or participating in High-Performance Driver Education, you need a helmet. But it can be confusing when it comes to actually buying one. There are a lot of choices and sometimes the differences aren't obvious.
To give you some help, we recently reviewed 59 helmets from Bell, Simpson, Stilo, HJC, and Arai. That isn't every helmet on the market, but it is close.
We found when testing factors like features, style, weight, fit, and price that there were models that stood out. We've picked 10 helmets that cover a range of prices and are the ones we would start with when shopping. You may find that a given helmet doesn't have the ideal fit or is missing a feature that is critical for you, but at least you have a way to make your selection process more focused.
As a refresher in factors you need to consider when buying a helmet, you may want to read our Helmet Buyers Guide.
You can buy any of these auto racing helmets in our helmet superstore.
All the helmets in the top 10 list below are HANS compatible and Snell SA 2015 and 2020 rated.
And now, ladies and gentlemen, our 2020 Best Racing Helmets award winners:
$339.99
About 3.7 lb.
The HJC H10 is a nice follow-up to the AR-10 III, which was (and for a limited time still is) a very nicely finished helmet that is offered at an attractive price. The helmet shape and padding make it suitable for many people. The big thing is that many entry-level helmets seem to have odd shapes that make them uncomfortable for most drivers, but HJC has actually paid attention to real head shapes (they've targeted the mid-oval head shape, which covers a lot of ground). Available in white and matte black.
Shop all HJC helmets.
$399.95
About 3.45 lb.
The Bell tradition of building high-quality open-face helmets with classic styling inspired by the original Bell 500 TX. This lives on in the Sport Mag. Designed for racers who enjoy the feel of an open-face helmet, the Sport Mag delivers value and quality at an affordable price.
Shop all Bell helmets.
$799.95
About 3 lb.
The new SA 2020 GTX.3 features a lightweight carbon composite shell and sleek aero styling including, front chin bar gurney and integrated rear wing for enhanced aerodynamic performance at higher speeds. The GTX.3's integrated shield, double screen anti fog (DSAF) visor and rear facing vents allow air exchange and clear vision while preventing dust from entering the helmet (especially in dirt track or other demanding racing environments). The versatile GTX.3 provides industry-leading performance, professional features and is an ideal choice for racers competing in open wheel, open compartment, formula, karting and dirt track forms of racing.
$549.95
About 3.45 lb.
The M.8 is the next evolution in Bell's legendary M series design concept incorporating traditional styling, enhanced visibility and versatile features allowing the helmet to be used in all forms of racing. The M.8 provides outstanding comfort and features including a lightweight composite shell, Comfort-Plus interior, superior ventilation with manual lever air intake vents and a large eye opening. The M.8 is a great choice for racers who want a lightweight, multi-purpose helmet with a wider field of vision (especially for those who wear eye glasses) and updated Bell styling and performance.
Shop all Bell Racing helmets.
Starting at $1008.95
About 3.6 lb.
The Stilo ST5 offers the widest range of optional features in this price range or even higher prices (except for other Stilos). The ST5 can be configured with a built-in radio connector and mic (usable with earbuds or with built-in headphones), a hydration port and top air (side air is also possible but then you can't have both comms and hydration). There is an optional eject bladder for safety workers to use to remove the helmet. Most testers liked the distinctive shell shape which is wrapped in an attractive finish. And Stilo offers a wide range of full and half-visors, plus a peak visor. The ST5 is designed for closed cockpit cars and has a medium eyeport.
Shop all Stilo helmets.
$799.99
About 3.2 lb.
The HJC Motorsport H10 Carbon is the ideal helmet for all types of racing. From the dusty ovals of Tennessee to the starting line at Pomona, its comfortable Fire Resistant Moisture-wicking Comfort-Carbon interior and Advanced Ventilation System keeps you cool and comfortable. The H10 Carbon is an affordable alternative. With a revised carbon weave over the SA 2015 HX-10 III, it sure looks the part as a nice carbon helmet.
$1999.95
About 2.9 lb.
Stay tuned for the SA2020! If you want a carbon helmet that minimizes weight, Bell has an excellent choice in the RS7C LTWT. Designed in collaboration with Penske Racing, the RS7C LTWT was built for NASCAR with a goal of lower weight for long distances and improved airflow in a closed cockpit. Those needs apply to sports car racing as well, making this a great helmet for everyone pulling significant G's and running over 30 minutes at a time. Penske didn't need an FIA 8860 rating, so the price of the RS7C LTWT is notably lower than it is for similarly engineered helmets. Further demonstrating its flexible applications, the RS7C LTWT allows the addition of top air and aero aids. And, like most other Bell helmets, it features a "pajama soft" padding.
Shop all Bell Racing helmets.
Starting at $3603.95
About 3.1 lb.
The ST5 GT 8860 offers everything we love about the ST5 GT composite: optional comms port/mic, hydration port, forced air, and high comfort. It adds FIA 8860 certification and subtracts some weight. Plus the snazzy Stilo design looks especially cool in a carbon weave. That shape is one that almost all drivers find acceptably comfortable.
Shop all Stilo helmets.
$1099.95
About 3.2 lb.
Designed for closed cockpit forms of racing, the M8 Carbon is the next evolution in Bell's legendary M series design platform. The M8 Carbon incorporates traditional styling, enhanced visibility, with maximum versatility allowing the helmet to be used in all forms of racing. With an ultra-lightweight carbon shell, premium interior, superior ventilation, and large eye port for racers who require eyewear or prefer maximum visibility, the M8 Carbon provides next-level comfort for drivers who want Bell's iconic brand styling and industry-leading performance.
Starting at $5,766.95
About 2.9 lb.
If you want it all, this is probably the helmet to have. The feature list is impressive: Communications standard, with headphones optional; Optional hydration port; Optional forced air; Optional eject bladder; FIA 8860 rated and yet among the lightest helmets we've tested; Comfortable for many users; Wide array of visors and peaks; Wide eyeport.; Aerodynamics kit included.
Shop all Stilo helmets.
Stop in at one of our three locations to check these out! We're also on hand to answer your questions: give us a call at 512-994-0656, or shoot us an email at contact@windingroad.com