Tested: 2011 Mercedes-Benz E-Class Convertible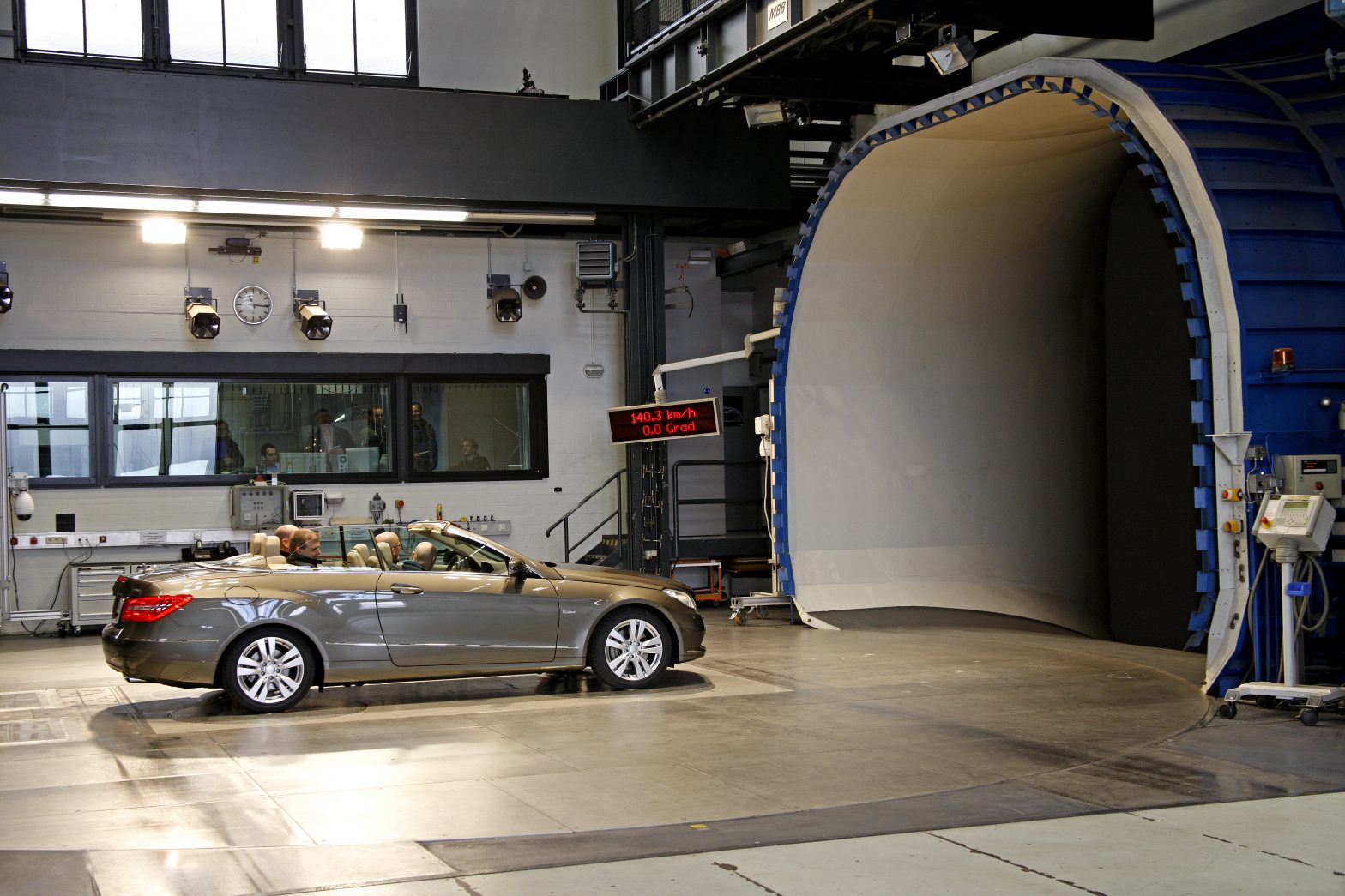 —Stuttgart, Germany
This is not a drive feature exclusive, no, but we were going 87 miles per hour while at the wheel of the new "A207" Mercedes E-Class convertible that lands in North America in June 2010 after a January 11 European launch. Driving "no hands", too. Beside us, riding shotgun, was a beautifully stoic and bald woman named Tanja. We exchanged no words, enjoying the ride of the open-top Merc at the dawn of a new winter.
We were actually in the old and venerated Großer Windkanal in the Untertürkheim section of Stuttgart where most Mercedes-Benz cars are still built. Thick cloth roof open, the wind tunnel experience was a unique ride as we experienced the E-Class convertible with and without the new AirCap technology, deployed at both 65 and 87 mph. In short, this is remarkable technology that builders of open-tops have been striving for for a very long time.
It's simple enough to work it, too. Flip open the leather-covered flap that rests in the driver's right hand and press the AirCap button which raises the mechanism on the header and also lifts the discreet draught guard and rear headrests into place. The 211-piece, 4-hinge moving cross-member assembly for AirCap adds only 3.3 pounds of weight over a standard member.
Whether at 65 or 87 mph, the new system is a revelation, especially for the rear seat folks, and especially especially for anyone back there with hair on their head. A normal draught guard up until now on this full four-seat body meant losing the two rear seats to the clumsy folding guard that detached when not in use, and hogged too much luggage room in back anyway. It also didn't work so well for all its size, we must add.
We could sit there and not wince through tiny eye openings and screaming whatever it is we had to say. The wind goes right over the heads of all four passengers and the noise from the AirCap front show piece is impressively low. The coefficient of drag for this body style, compared to the industry-best 0.24 of the coupe, is still just 0.29, growing naturally to 0.33 with the roof open.
Best news of all? AirCap is included as standard in North America on the E-Class convertible, while it's an option in Europe. So much for the home field advantage.
Pricing for the convertible fourth member of the E-Class family should be $4,000 to $5,000 more than the corresponding coupe model, meaning starting MSRPs of around $42K.