Terribly Brilliant: The Van Moof S3 e-bike Review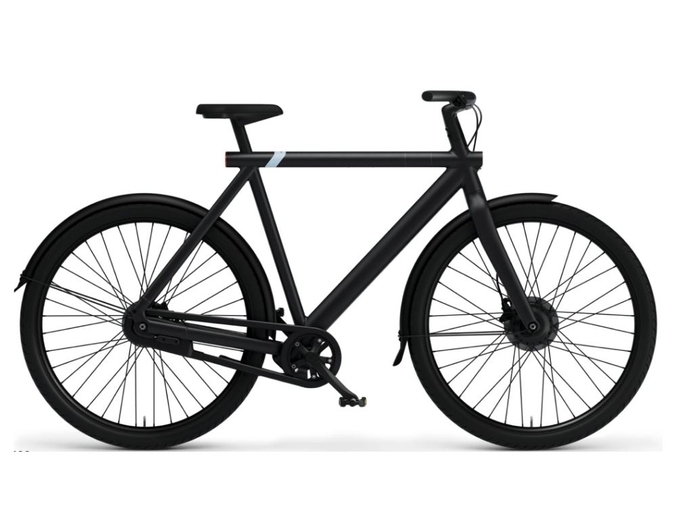 Before we get rolling with this review, we should say that we are solidly in the camp that thinks "e-bikes are phenomenal invention for about 80% of riders." We have a longer piece coming on why this is the case, but it pretty much comes down to the experience that e-bikes are fun in situations that mean you will ride more and ride harder. Your fitness will improve, and you'll fit in with more groups and certain rides will give you more joy. E-bikes are not cheater bikes if you pick the right one. They're just great bikes (fast bicycles).
At least some of them are. We've ridden e-bikes that are essentially mo-peds (a slow motorcycle that you can pedal). And we've ridden e-bikes that were just not well-engineered. We can see the point of the slow motorcycle for some situations, but we think most people will ultimately gravitate to either fast bikes or full electric motorcycles.
Perhaps you sense that it is early days in the e-bike world and, therefore, talking about e-bikes as a singular group is kind of ridiculous. You need to talk about your use case and what kind of e-bike you want before you have any hope of buying the right bike. Imagine that it is 1910 and you are buying your first car. Then imagine that you don't know the difference between a truck and an sedan and a sports car. You could easily make the wrong choice. More on that in a bit.
Now consider the Van Moof S3. It is categorized as an urban or city or commuter e-bike. The idea is that you want to ride on the streets for pleasure and to commute. Electric power should help you arrive less sweaty and make it easier to accelerate from a stop and give you the speed to blend better with traffic. And you should be able to ride on weekends for exercise and to see more of the world. But does it work?
Brilliant
The Van Moof has been greeted as something special because, well, it has special industrial design in a product category where normally tradition rules with an iron fist. Most bike "manufacturers" are really assembly shops and thus can't change the details very much. Van Moof defies this approach by building something sleek and carefully styled. Every part seems to have been designed in a studio by professionals who also work on Espresso makers and sunglasses and thermostats. Even the box is designed with attention to appearances.
And the Van Moof design ethic extends beyond looks to treating the bike as a consumer electronics product. There is an app that allows you to set up the shift points and power levels. There is a display integrated smoothly into the top tube to read out speeds and modes. There are integrated lights and horn. There is a built-in audio alarm system (and integrated
invisible lock). And the S3 works with Apple's "Find My" system so that you can locate the bike should you imbibe too much or find it stolen. In the latter case, it is also noteworth that the bike comes with theft insurance, including the option to have someone retrieve the bike.
There is more good stuff, like standard fenders and kick-stand. The wheel nuts being a custom shape and having basically all valuable components held on with tamper-resistant bolts is a nice touch.
The Van Moof S3 has a 250W motor and 504 Wh battery which add up to reasonable power, and a top assisted speed of 20 mph (the Euro standard of a 15.5 mph cutoff is just stupid and annoying). The quoted range is up to 93 miles, which about 8 hours of riding at a pretty good pace. The S3 costs $2298, which is toward the lower end of the e-bike range and below the entry level for major bike manufacturers like Specialized, Trek and Cannondale.
Terrible-ish
The riding experience of the S3 leaves something to be desired. Honestly, it leaves many things to be desired. 
The riding position is very upright as you might expect for a commuter bike. The handlebars are set low, but quite far back. This isn't a huge drawback, but the feeling is a bit odd if you are an experienced rider of traditional bikes. Still, the S3's handling is quite stable and yet not plodding. Ride quality, despite wide Schwalbe tires, is anything but plush, though it doesn't quite make it to what we would call harsh. So far, so...okay.
Power is ample, but very strangely modulated. You get a decent boost up to about 12 mph and then things tend to trail off. We couldn't figure out why you would want the power to diminish just as you really get cranking. There is a "Turbo" button to bring on quite a bit more power, but the overall sensation is that power waxes and wanes responding to the Van Moof's whims, not the rider's desires. If you put the S3 on level 3, some of the higher speed problems are reduced, but at the expense of rather too much low speed power if you want to ride smoothly.
Part of the sense of drunken-sailor power delivery is due to the gearbox. The S3 has a 4-speed automatic hub gearing system. It sounds great to not have to operate shift levers and such. But it isn't great. Van Moof (and gearbox maker Sturmey-Archer) program shifting based on speed. You can control these shift points via the app. But the problem is that you don't always want to go, say, from 2nd to 3rd at 14mph. If you are riding downhill, fine, but if you are on a 3% grade, this feels like riding into a vat of peanut butter. And remember, this is happening as the available power is declining. So, you could hit turbo mode, but accelerate/peanut butter/turbo is anything but fluid, natural or smooth. And it is distracting from either the joy of cycling or the Spotify playlist you have going. Realistically, we don't think automatic shifting works, nor are 4 gears enough.
Add up the lumpy power delivery, the abrupt gear changes and the upright riding position (which limits the rider's biomechanical power) and you have a bike that is at times difficult to ride. It could be that with more changes to the setup in the app, we would have found the magical combination of settings that make the Van Moof smooth and easy to ride. But we didn't, and it seems unlikely to us that the target buyer would spend much more time fiddling with the app than we did. We also wonder why, if the settings are the key to an enjoyable ride, Van Moof doesn't ship the bike with those settings well-adjusted as the default. Specialized does this with their widely-praised Turbo Creo and Turbo Vado. And those bikes get ridden in much more challenging conditions than the flat urban roads we tried with the Van Moof.