Review: Jaguar XKR-S GT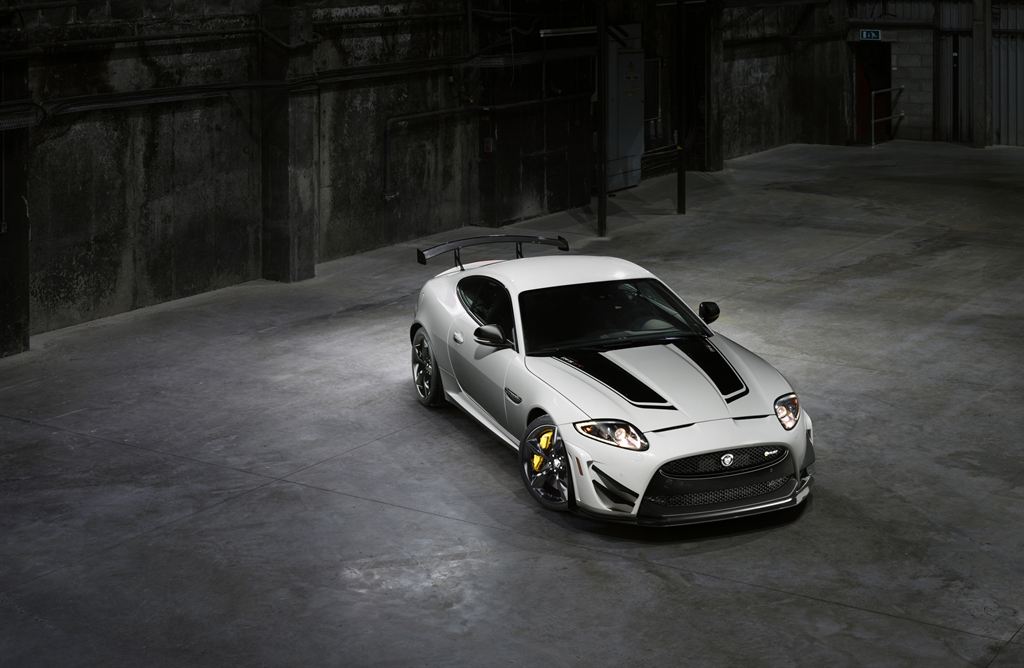 This is the Master Landing Page for the Jaguar XKR-S GT. From now on, as we further review this car, we will be updating this page with whatever fresh content we create. Future drive reviews, updated specifications, videos, and other relevant information will all be found right here, in one convenient spot.
SUMMARY
First Look: 2014 Jaguar XKR-S GT
Jaguar is borrowing a line from Porsche. Much like a Porsche 911 GT3 RS 4.0 is the hardcore version, of the hardcore version, of the hardcore version of the 911, the XKR-S GT is a more potent version of the XKR-S, which, well, you get the picture.
Limited to just a 30 car run, the XKR-S GT is capable of blitzing the Nurburgring in a seriously quick seven minutes, forty seconds, according to Jaguar. That puts it squarely in the wheelhouse of the Lamborghini Murcielago LP640, Ferrari 430 Scuderia, and Mercedes SLR McLaren. Those are older supercars, but it's still not bad company for a car that's based on a $79,000 grand tourer.
The XKR-S GT is motivated by the same 5.0-liter, supercharged V-8 that is found in almost all of our favorite Anglo-Indian toys. Despite its racing stripes, the GT makes do with the same 550 horsepower and 502 pound-feet of torque of the XKR-S, but the run to 60 is slightly faster, at 3.9 seconds The top speed remains at 186 miles per hour.
Where the GT departs from lesser XKs is in its aerodynamic and suspension enhancements. The new aero kit, complete with a rear wing that looks borrowed from a TVR Sagaris, generates up to 320 pounds of downforce when traveling at its 186-mph top speed.
The GT's 68-percent increase in front spring rates (and 25-percent increase in back) is thanks to a race-spec twin-spring, height-adjustable dampers. Jaguar promises an even better handling sportscar. Bigger than the tweaked suspension, though, is news of a revised steering rack with faster ratios. While we really enjoyed the XKR-S in both coupe and convertible form, we'd be lying if we said the steering didn't feel a little wooden. Hopefully, this will address that.
The other marquee item that distinguishes the GT is the carbon-ceramic braking system, complete with 15.7-inch front rotors and 15-inch rear rotors. Six- and four-piston calipers are found out front and back, respectively. This is the first time a CCB system has ever been fitted to a production Jag.
Of the 30 GTs being produced, 25 are destined for the US, while our friends in Canada will get the last five. At $174,000, the XKR-S GT is going to have a price that matches its exclusivity. Sales start in August.
Please scroll down for the official press release from Jaguar.
2014 Jaguar XKR-S GT Unveiled At The New York Auto Show
At A Glance
The 2014 Jaguar XKR-S GT is a track-ready and street legal version of the XK Coupe
Developed by the Jaguar ETO division, an in-house specialty vehicle group
Constructed on an all-aluminum body structure, assembled using aerospace derived aluminum bonding and riveting techniques
A limited production run of just 30 cars for North America; 25 for the US and 5 for Canada
The XKR-S GT features bespoke aerodynamic components to increase down force, and has new suspension and steering systems designed to maximize high-speed cornering ability2
Achieves a maximum down force of 320lbs (145kg) through the addition of aerodynamic aids including a carbon-fiber front splitter, dive planes, extended wheel arch spats, an elevated rear wing, rear diffuser and an aluminum undertray
The XKR-S GT reaches 60mph in 3.9 seconds with an electronically limited top speed of 186mph (300km/h)2
Powered by a 550hp, 502 lb/ft supercharged 5-liter V8 engine coupled to a six-speed ZF automatic transmission and active electronically controlled rear differential
Equipped with a carbon ceramic brake system which features 15.7-inches (398mm) and 15.0-inches (380mm) discs front/rear gripped respectively by six- and four-piston monoblock calipers. This is the first time such a brake system has been fitted to a production Jaguar vehicle
Suspension changes include: a wider front track, increased camber, revised bushings, a new steering system and faster steering ratio
Height-adjustable adaptive dampers feature a race-derived twin spring system, spring rates increased by 68% at the front and 25% at the rear
Active exhaust system for reduced backpressure and enhanced aural character
Wider 20-inch lightweight forged alloy wheels are designed to maximize brake cooling and are shod with 255/35-20 and 305/30-20 Pirelli Corsa tires
MSRP1 is $174,000 with cars arriving in August 2013
"The XKR-S GT is the most extreme iteration of the Jaguar R Brand's performance focus. Utilizing race-car derived technology, all-aluminum construction and an uncompromised approach to aerodynamic efficiency, the result is a car as capable on the track as it is exhilarating on the road."
Adrian Hallmark, Global Brand Director, Jaguar
(MAHWAH, N.J.) – March 26, 2013- The XKR-S GT is the ultimate track-ready and street legal version of the XK Coupe which was developed by the Jaguar ETO division, an in-house specialty vehicle group.
The XKR-S GT begins with the high-strength all-aluminum body structure featured on every Jaguar XK. This structure is assembled using aerospace derived aluminum bonding and riveting techniques. The addition of extensive aerodynamic enhancements, suspension changes, and carbon ceramic brakes, endow the XKR-S GT with track-ready performance. A limited production run will see just 30 cars built for North America, with 25 for the United States, and 5 for Canada.
A range of bespoke carbon fiber components all work to maximize the aerodynamic down force. These include an extended front splitter, dive-planes and an elevated rear wing.
Astonishing performance is provided by a supercharged 5 -liter V8 engine, producing 550hp and 502 lb/ft or torque, driving through a six-speed automatic transmission and active electronically controlled rear differential. Combined with the aerodynamic and suspension changes, plus revisions to the traction control system's calibration, the result is a 0-60mph time of 3.9 seconds.2 Electronically limited top speed is 186mph.2
The XKR-S GT will be offered exclusively in Polaris White with black racing stripes, and will feature a Jaguar R-S GT script on its louvered hood. The warm charcoal colored interior features red accents, and includes 16-way electrically adjustable performance seats finished in soft-grain leather and suede cloth with the Jaguar and R-S GT scripts integrated into the backrests. "Jet" black suede cloth is used for the headliner and steering wheel.
Steering wheel mounted paddle shifters are now finished in aluminum and are fitted as standard.
"The development of the XKR-S GT demanded an uncompromised approach to enhance aerodynamic down force, with complementary suspension changes to maximize high-speed cornering ability. In combination with the use of a carbon ceramic braking system, the result is the most focused 'R' model Jaguar has ever built."
Pete Simkin, Director, ETO Specialist Products, Jaguar
Aerodynamics and chassis
"The XKR-S GT has been designed purely by the laws of physics. It has been developed in the wind tunnel and on the racetrack with the sole aim of creating as much high-speed stability and down force as possible. Nothing has been styled for the sake of it. It's been an exercise in efficiency and the result is a car that's raw, focused and devastatingly quick."
Ian Callum, Director of Design, Jaguar
The XKR-S GT features a wrap-around carbon-fiber front splitter which extends forward 2.4-inches (60mm). This splitter initializes the management of airflow around, over and underneath the car. Aggressive carbon-fiber twin dive-planes and wheel arch extensions improve the efficiency of airflow around the car. Under the vehicle, the addition of an aluminum front undertray serves to smooth airflow under the car and enhance engine and brake cooling.
A rear carbon-fiber diffuser ensures the smooth exit of air from underneath the car, while the elevated carbon-fiber rear wing works in combination with the decklid mounted spoiler to maximize rear down force. At its electronically limited top speed of 186mph.2 The XKR-S GT produces 320lb (145kg) of down force. A completely newbonnet with specially cut louvers serve as an engine cooling aid, and help aerodynamic performance by improving the airflow through the front end of the car.
Allied to the extensive aerodynamic revisions are substantial suspension upgrades. The front and rear suspension arms, uprights, wheel bearings, bushings, and rear subframe are all-new. The overall set-up works to increase lateral suspension stiffness for greater precision and responsiveness.
Integral to the revised suspension system is a new spring and damper module design. The XKR-S GT has a motorsport-derived twin spring system mated to the Jaguar Adaptive Dynamics active damping system – the dampers are now also ride-height adjustable. Front and rear spring rates are 68% and 25% stiffer respectively than on the XKR-S, while the damper tune is much more track-focused, providing increased levels of body control and grip.
The Jaguar Adaptive Dynamics system has been tailored for the XKR-S GT so that the suspension parameters in the selectable "Dynamic Mode" delivers a higher level of body control with enhanced traction and grip.
The XKR-S GT has a front track which is two inches (52mm) wider than that of the XKR-S while the rear remains the same. The steering rack features a faster ratio and retuned steering valving. The result is an immediacy of turn-in and crisp response to steering inputs.
Gloss black 20" forged alloy wheels are shod with Pirelli Corsa performance tires (255/35-20 and 305/30-20 front/rear), giving the XKR-S GT a more muscular stance and greatly increasing its grip and stability.
"The XKR-S GT is an uncompromised car, but one that inspires confidence and encourages the driver to push it to its limits, fully exploring its handling abilities. It's a car that draws you in and is never intimidating, with performance that is both accessible and rewarding."
David Pook, Technical Specialist, Steering and Handling, Jaguar
Brakes
The XKR-S GT is the first production Jaguar to be fitted with a carbon ceramic braking system. The internally ventilated and cross-drilled lightweight brake discs measure 15.7-inches (398mm) and 15.0-inches (380mm) front/rear respectively. Combined with six-piston monoblock front calipers, and four piston rear units — the XKR-S GT delivers extraordinary stopping power and brake pedal feel. The lightweight nature of the carbon ceramic system means a reduction in unsprung weight of 46.3lbs (21kg). The XKR-S GT carbon ceramic braking system also has a longer life span than a standard system. The calipers are painted yellow, and are branded with a 'Jaguar Carbon Ceramic' script.
Enhanced braking feel comes courtesy of the electronic Pre-Fill system. Working in conjunction with the car's DSC system, Pre-Fill subtly pressurizes the brakes every time the driver comes off the throttle pedal, resulting in a very short and consistent level of travel on the brake pedal. This maximizes braking response, reduces the car's stopping distance and delivers increased levels of confidence during high performance driving.
"The disc and pad materials are specially tailored for Jaguar characteristics. Because the XKR-S GT is a road car as well as one suitable for customers to take on the track, we engineered it for race-car braking performance but with no compromise to cold or wet weather ability."
Edward Nixon, Group Leader, Brakes, Jaguar XKR-S GT
Performance
An all-aluminum 5-liter supercharged quad-cam V8 engine produces 550hp and 502 lb/ft of torque, and delivers exhilarating performance and efficiency thanks to the technologies such as spray-guided direct injection (SGDI) and dual independent variable cam timing (DIVCT).
The high-pressure die-cast lightweight aluminum block is stiffened with cast-iron liners and cross-bolted main bearing caps, providing refinement to match its power. The engine breathes through aluminum four-valve cylinder heads, with pressurized air supplied by a Roots-type twin vortex supercharger. Two air to liquid intercoolers, which feature their own water-cooling circuit, reduce the temperature of the intake charge to optimize power and efficiency.
The XKR-S GT features a fully active performance exhaust system with valves that open under load to enhance gas-flow, enunciate the car's aural character, and maximize power output.
XKR-S GT Technical Specifications*
XKR-S GT
Engine
5-liter supercharged V8
Capacity (cc)
5000
Bore/Stroke (mm)
92.5/93
Bore/Stroke (inches)
3.64/3.66
Peak Power (PS@rpm)
550@6500
Peak Power (kW@rpm)
405@6500
Peak Torque
(lb/ft @rpm)
502@2500-5500
Peak Torque (Nm@rpm)
680@2500-5500
Transmission
Six-speed automatic by ZF
0-60mph (secs)2
3.9 sec
Top Speed (mph | km/h)2
186 | 300 (electronically limited)
*Manufacturer's figures
Technical changes when compared to standard XKR-S
Carbon ceramic brake system with 15.7-inches/398mm and 15.0-inches/380mm discs front/rear, gripped respectively by six- and four-piston monoblock calipers
Electronic Braking Pre-Fill system subtly pressurizes braking system on throttle lift and maximizes braking performance
Addition of carbon-fiber front splitter, dive planes, extended wheel arch spats, an elevated rear wing, a rear diffuser, and an aluminum front undertray contribute to a maximum down force figure of 320lb (145kg) at the electronically limited top speed of 186mph (300km/h)2
The addition of race-derived, height-adjustable and retuned adaptive dampers with twin-spring system. Spring rates up by 68% at the front and 25% at the rear
Newly developed front and rear suspension
The fitment of faster ratio steering rack for enhanced agility
New, wider 20-inch forged alloy wheels shod with Pirelli Corsa 255/35 front and 305/30 rear
tires for maximized grip
New hood with louvers aid engine cooling and reduce under-hood air pressure
Revised active exhaust system