Review: Infiniti FX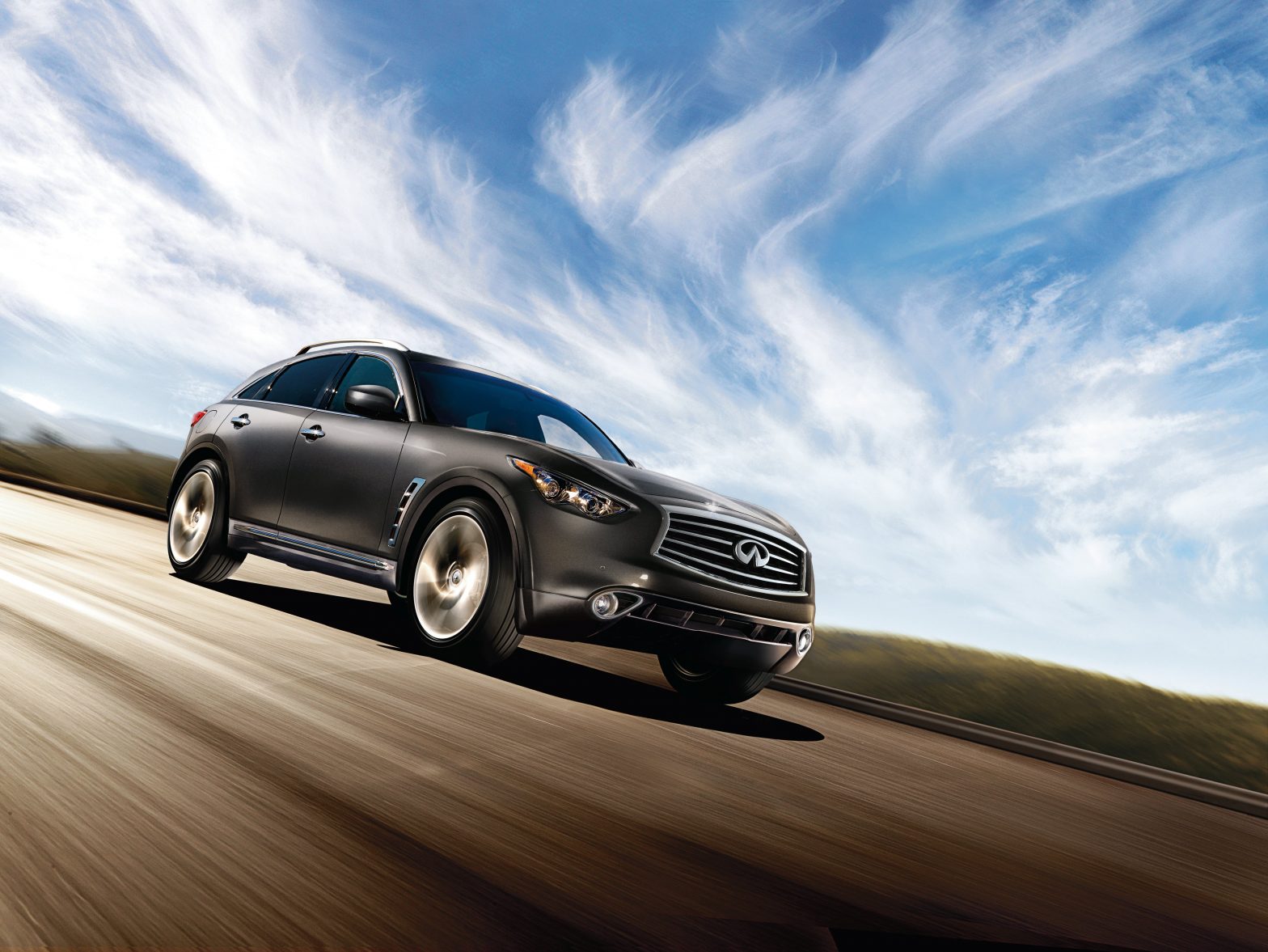 This is the Master Landing Page for the Infiniti FX. From now on, as we further review this car, we will be updating this page with whatever fresh content we create. Future drive reviews, updated specifications, videos, and other relevant information will all be found right here, in one convenient spot.
SUMMARY
Infiniti has given up details, photos, and pricing on the 2012 FX35 and FX50. Scheduled to reach dealers in early October, the new FX has an updated grille, fascia, wheels, and instrument cluster. The company also announced an FX35 Limited Edition for 2012.
The 2012 FX's grille takes on a slightly new shape, pinching inward from the sides at about the level of the lights. Also, the bars running the length of the grille no longer feature that wavy design of old, and now feature a clean, straight shape. The 20-inch wheels are redesigned for a new look. Inside, there is a slightly different display between the gauges.
The Limited Edition FX35 AWD features an Iridium Blue paint job, ten-spoke, twenty one-inch wheels, V-rated all-season tired, dark tinted headlights with adaptive lighting system aluminum pedals, and some technology, such as the hard-drive navigation system and Around View Monitor as standard. Only 550 units will be produced for the US.
The FX35 with the 3.5-liter V-6 will start at $43,450 for the rear-wheel-drive version, $44,900, for all-wheel drive, and $51,550 for the FX35 AWD Limited Edition. The 5.0-liter V-8-powered FX50 AWD will begin at $59,350.
Scroll down for more details in the press release from Infiniti.
08.03.2011 , FRANKLIN, Tenn.
2012 Infiniti FX Launches With Aggressive New Front End Design, New Limited Edition Model
– Infiniti Announces 2012 FX U.S. Pricing Prior to October On-Sale Date –
Infiniti today announced U.S. pricing for the refreshed 2012 Infiniti FX performance luxury crossover, which is scheduled to go on sale at Infiniti retailers nationwide beginning in early October. The iconic FX design has an aggressive new front grille and fascia for 2012 – featuring a heavy influence from the stunning Infiniti Essence Concept – as well as a new 20-inch wheel design and an updated instrument cluster.
Infiniti also announced that an FX35 Limited Edition will be available for 2012, featuring an exclusive Iridium Blue exterior color, unique 21-inch 10-spoke graphite- finish aluminum wheels with V-rated all-season tires, dark tinted headlights with Adaptive Front lighting System (AFS) and auto-leveling, and dark tinted side air vents and lower door trim. Other Limited Edition equipment includes aluminum roof rails and roof rail crossbars with graphite finish, aluminum pedals, and graphite floor mats with unique blue piping. The FX35 Limited Edition also features an Infiniti Hard Drive Navigation System, Around View® Monitor (AVM) and much more as standard equipment. Just 550 FX35 Limited Edition models, each with Infiniti's Intelligent All-Wheel Drive System, will be produced for the United States.
Pricing for the base FX35 and FX50 AWD increases slightly, while prices for the popularly equipped FX35 models remain unchanged. The popularly equipped FX50 AWD increases just $100 USD.
Manufacturer's Suggested Retail Prices (MSRP)* are:
Model Engine/Transmission MSRP
Infiniti FX35 RWD 3.5-liter V6 / 7-speed automatic $43,450 USD
Infiniti FX35 AWD 3.5-liter V6 / 7-speed automatic $44,900 USD
Infiniti FX35 AWD Limited Edition 3.5-liter V6 / 7-speed automatic $51,550 USD
Infiniti FX50 AWD 5.0-liter V8 / 7-speed automatic $59,350 USD
Every 2012 FX also comes with the new, complimentary Infiniti Personal Assistant benefit, which provides new Infiniti owners with unlimited 24-hour access to a live team of professional assistants. Accessible primarily through the owner's mobile phone, callers can ask for answers or assistance on a range of topics and tasks, including directory assistance and driving directions, weather forecasts, dining suggestions and reservations, travel arrangements, emergency assistance and much more. Infiniti is the first luxury automobile brand to offer this type of service nationally in the United States. The Infiniti Personal Assistant benefit is offered at no cost for the first four years of Infiniti ownership.
About the 2012 Infiniti FX
Continuing as one of the most aggressive expressions of sport and utility prowling the streets today, the 2012 Infiniti FX is available with a choice of a 390-horsepower 5.0-liter 32-valve DOHC V8 engine with VVEL (Variable Valve Event & Lift) or with a 303-horsepower 3.5-liter 24-valve DOHC V6 engine. Both engines are paired with a standard 7-speed automatic transmission featuring Adaptive Shift Control (ASC). Solid magnesium paddle shifters are available on the FX50.
The 2012 Infiniti FX is also offered with Intelligent All-Wheel Drive (standard on FX50), double-wishbone front/multi-link rear suspension and large 4-wheel disc brakes, along with available Continuous Damping Control (CDC®), Rear Active Steer, and Intelligent Brake Assist.
Inside, the FX interior provides a warm, inviting environment, highlighted by a driver-oriented cockpit with intuitive controls, available sport seating and advanced audio, navigation and technology – ranging from a Bose? 11-speaker Premium Audio system to the Infiniti Intelligent Key, Intelligent Cruise Control (Full-Speed Range) and Around View® Monitor system.
The FX again offers an array of available advanced technology systems, including Distance Control Assist (DCA), Lane Departure Warning LDW) and Lane Departure Prevention (LDP), and Intelligent Brake Assist (IBA) with Forward Collision Warning (FCW).
The 2012 FX is offered in four models: FX50 AWD with 5.0-liter V8, FX35 AWD with 3.5-liter V6, FX35 RWD with 3.5-liter V6, and FX Limited Edition with 3.5-liter V6. Also offered is a range of special equipment packages, Premium Package, Deluxe Touring Package, Technology Package and Sport Package.
About Infiniti
Infiniti offers a full-line of luxury performance automobiles that inspire at every turn, including the G Coupe, Sedan and Convertible, M sedan, EX and FX crossovers, and the QX full-size SUV. More information about Infiniti and its Total Ownership Experience can be found at www.InfinitiUSA.com.
Too often, special editions are just cosmetic upgrades. So you can forgive us for thinking that the Infiniti FX Sebastian Vettel was just that, a group of cosmetic upgrades with the Formula 1 World Champion's name on them. Oh how wrong we were.
Working in conjunction with the driver of Kinky Kiley, Infiniti has built a seriously quick FX. Starting with a standard FX50S Premium, Infiniti bumped the power of the 5.0-liter V-8 up from 385 to 414 thanks to a freer-flowing exhaust and revised ECU. The transmission features a longer final gear ratio, allowing it to hit a top speed of 186 miles per hour (as opposed to the electronically limited 155 of a standard FX50). The FX SV also features extensive use of carbon fiber, which served to cut 101 pounds of body fat. Finally, the suspension has been lowered three-quarters of an inch to increase aerodynamic efficiency and handling.
Impressively, Infiniti has also managed to increase downforce by 30 percent, while reducing drag five percent. Those improvements are thanks to the lower ride height, a revised grille, a front splitter, revised door mirrors, a rear diffuser, and a rather hefty rear spoiler.
Infiniti claims that Vettel uses his personal FX on a fairly regular basis. The only question we have now is, what will he name it?
Please scroll down for the official press release from Infiniti.
INFINITI FX SEBASTIAN VETTEL VERSION: THE CROSSOVER FIT FOR A CHAMPION
Just six months after the idea first surfaced, the Infiniti FX designed for reigning Formula One World Champion Sebastian Vettel is unveiled today at the Frankfurt International Motor Show. What began as a chat between the Red Bull Racing driver and Infiniti's Chief Creative Officer, Shiro Nakamura, at the Geneva Show in March is revealed, in concept form, as Infiniti's fastest car yet and, probably, the most exclusive crossover ever made.
With its sophisticated technology, lightweight components and features such as Rear Active Steering for maximum agility, the V8 FX50S Premium – Infiniti's flagship as well as its best-selling model in some markets – provides the ideal starting point for the FX Sebastian Vettel version. Changes including increased power, lower weight, derestricted top speed, longer gearing, increased downforce and lowered and stiffer suspension turn what is already a sports car among crossovers into a crossover supercar – the 300km/h reality of the World Champion's vision.
Infiniti's Corporate Vice President Toru Saito said: "The FX Sebastian Vettel version is unique and very much Sebastian's car. But at the same time it is a concept car for Infiniti globally."
Sebastian Vettel, 2010 Formula One World Champion and Infiniti Global Brand Ambassador
"I have been driving an FX all this year and it is a car I love. It fits my lifestyle perfectly and is great fun to drive. But of course, it could go a little faster…
"I drive a lot in Germany on motorways that have no speed limits and have enjoyed my FX around the Nürburgring Nordschleife. Driving at high speed where safe and legal is part of my life. As well as a higher top speed I wanted even better stability in my FX, and that meant work on the aerodynamics. It is a tribute to the excellence of the standard FX that achieving all my targets required so few changes.
"This is the first road car I have helped develop. Usually I have hundreds of engineers building one car just for me. So it is fantastic for me to contribute to the design of a car. The result is an Infiniti I am very proud to have my name on. It is all I hoped for: 300km/h, plenty of downforce – and I can still fit my mountain bike in the back. Plus it is totally exclusive – and as an Infiniti driver, that's important."
Design and aerodynamics
As Sebastian says, the first priority for his ultimate FX was to give it more performance. However, whether on the racetrack or the road, speed is just one part of the mix that goes to make a world-beater. All the car's systems, and in particular the aerodynamics, must be up to the task. In the FX Sebastian Vettel version they are.
The car's revised aerodynamics profile is the result of changes made by Infiniti designers and engineers after meetings involving Sebastian and Red Bull Racing personnel. A Red Bull Racing RB7 was even shipped to Japan to provide real life inspiration for the team bringing the World Champion's road car dream to life.
Riding 20mm lower than standard and featuring a more aerodynamic, as well as more distinctive, Essence-inspired grille, the most obvious change is the addition of a carbon rear wing. Tests show that it delivers everything that its looks promise – and Sebastian sought – in terms of increased downforce, and stability, at the 300km/h speeds of which the FX Sebastian Vettel version is capable.
As well as a 30 per cent improvement in the coefficient of lift (Cl), the special FX boasts a 5 per cent lower coefficient of drag (Cd). Boosting downforce while simultaneously cutting drag is one of the concept's major claims to fame. Even the door mirror housings have been shaped to increase downforce.
Carbon is used for the splitter, sills, front grille, mirror covers and rear diffuser, trimming the weight of what is already one of the lighter SUVs in its size class. Design of the splitter and diffuser is inspired by the F1 car, as is the central rear fog light – just like an F1 car's rain light.
The wheels are 21-inch black multispoke alloys with silver rims, designed exclusively for this car; they don't just look the part but also save weight over the standard 21-inch FX50 wheel. At 2049kg, the FX Sebastian Vettel version weighs 46kg less than a standard FX50S Premium.
Lower and even more distinctive with new LED daytime running lights set just below the front bumper section, the concept FX exudes dynamic power. The new look enhances the sports car-like proportions and makes the flowing profile even more seductive. Dark smoke lights back and front complete the look – along with Vettel logos on both sides and at the rear.
Shiro Nakamura, Infiniti Senior Vice President and Chief Creative Officer
"We are always keen to listen to what our customers have to say about our cars, whoever they are. Equally we are always keen to show how individual our cars are, and how personalization can subtly alter their character. Making the perfect FX for Sebastian was the ideal demonstration of this.
"It was at this year's Geneva Show that Sebastian first suggested to me that we collaborate on making his perfect FX. So we haven't had long, but with very clear objectives we have been able to realize his ideas in a very satisfying manner."
Mechanical changes
With an already potent 5.0-litre V8 under the bonnet, relatively little needed to be done to enable the world's most special FX to hit Sebastian Vettel's maximum speed target of 300km/h.
The first job was to free the car of its speed limiter which electronically restricts all other FXs to 250km/h. Even in standard form, with the VVEL V8 producing 390PS at 6500rpm, the car has plenty of performance beyond its artificial top speed, but even so more power had to be found to deliver 300km/h.
No radical engine reworking was necessary to gain the extra 30PS that takes the FX Vettel concept's power output to 420PS. A new exhaust system liberates some of the extra horsepower while a reprogrammed engine ECU takes care of the rest, with no discernible difference to the V8's response or efficiency. And it sounds better than ever.
In addition to the extra power is a longer final drive ratio to deliver 300km/h Autobahn speed without any detrimental effects on refinement. The longer overall gearing means the car is not as quick off the line as it could be – but at 5.6 seconds for 0-100km/h, two tenths of a second ahead of the standard car, no one is complaining. Least of all Sebastian Vettel.
Stiffer springs and re-rated dampers take the FX50's already highly focused sports chassis into a new area of precision control for the smooth-surface, high-speed driving for which the car exists. Essentially, however, making an FX to the World Champion's specification required no major changes. Like any FX in sporting S guise, the concept features dual-flow path (DFP) dampers with continuous damping control (CDC); the same wishbone front/multilink rear suspension, much of it constructed out of aluminium; opposed 4-piston (front), 2-piston (rear) calipers for the 355/350mm brake discs; and vehicle-speed variable rack and pinion steering.
Rear Active Steering, an important ingredient in any FX S's blend of agility with stability, plays a key role in ensuring handling fulfils the World Champion's requirements for a road car.
Interior
The bespoke carbon fibre exterior detailing is echoed in the FX's cabin by tailored panels of black carbon – real, not appliqué – on the doors and centre console. Highlights that would normally be silver chrome are treated to a special black chrome finish, while in true F1 style, Alcantara is used on the steering wheel and gearshift paddles. Special seats, with extra support, are covered in black quilted suede cloth finished with purple stitching and special "SV" logos. The material also features on the pillars, roof lining and sun visors.
A metal plate on the centre console featuring the World Champion's signature provides the unique finishing touch.
The luxury fittings, comprehensive features including Connectiviti+, one of the car world's most complete and easily understood infotainment systems, and the FX's award-winning range of safety technologies are all included. As standard of course. Infiniti believes that no one should be forced to pay for expensive extras.
Not even World Champions.
DRIVING IMPRESSIONS
Update: 2013 Infiniti FX37 AWD
—Lake Orion, Michigan
The Infinti FX is quite a favorite here in the Winding Road offices. It's the rare luxury crossover that is fun to drive, featuring responsive and engaging controls, a fair amount of feedback balanced between the steering and the chassis, and a cockpit that encourages the driver to focus on driving.
It used to be, though, that if you wanted a fun FX, you needed to opt for the FX50, as its 5.0-liter V-8 was a great fit for sporty CUV. With 390 horsepower and 369 pound-feet of torque, the 5.0 was a brute of an engine. But with a starting price north of $60,000 ($61,500 for a 2013 model), it was quite pricey.
The base V-6, meanwhile, was rather overlooked. It pumped out a respectable 303 horsepower and 262 pound-feet of torque. And with a redline that sat at 7500 rpm, it was a bit of a screamer. In practice, though, it just didn't deliver the satisfying grunt of the V-8.
For 2013, the 3.5-liter V-6 of the 2012 FX has been replaced by the same 3.7-liter that's populated the rest of the Nissan/Infiniti range. Power is up to 325 ponies while torque receives a more modest increase to 267 pound-feet of torque. The redline remains at 7500 rpm, while the seven-speed automatic is also a carryover from the 2012 FX.
While it could be merely the placebo effect, the FX's new engine sounded better, and was even more willing to rev than 3.5-liter. Really, this is a fun vehicle to run up to redline. We'd have liked a pair of paddles to snap off an upshift, but for reasons that are only obvious to Infiniti, only the FX50 can be had with Infiniti's excellent magnesium paddle shifters. Low- and mid-range thrust is slightly better, while high-end shove is still lacking. A faster-revving engine is something we can always get behind, as it really adds to the car's overall character.
Character is a big part of the FX experience. Where the FX50 seems to be straining against its leash, its 5.0-liter V-8 taunting you to dig the pedal into the carpet, the FX37 is more relaxed while still offering the ability to wind things out a bit. It's this combination of actual performance balanced with a relaxed character that elevates the V-6-powered FX from the budget option to a legitimate alternative to the V-8.
2013 Infiniti FX37 AWD
Engine: V-6, 3.7-liters, 24v
Output: 325 hp/267 lb-ft
0-60 MPH: 6.0 sec (est)
Weight: 4321 lb
Fuel Economy, City/Hwy: 16/22 mpg
Base Price: $45,750
As Tested: $57,250
—Lake Orion, Michigan
Imagine the shyest, most introverted person you know. What kind of car do they drive? Probably something low-key and discreet, right? Well, the Infiniti FX50S is the complete and total opposite of whatever you just thought of.
This is arguably one of the most extroverted vehicles on sale today, from its Predator front fascia, to its twenty-one-inch alloys, to the stonking 5.0-liter V-8 sitting under its curvaceous hood, there is nothing about the Infiniti FX50S that's not loud and in your face, all the time.
In some ways, this is great. In other ways, it's really rather annoying. As usual, we'll start with the good stuff.
This 5.0-liter V-8 is a really wonderful powerplant. From a standstill, it revs fast and free, delivering more than enough shove in the low and mid range, without feeling breathless when it strives for redline. Torque peaks at 303 pound-feet at 6800 rpm, while all 390 horsepower come out to play at an equally lofty 6500 rpm. Despite these high power figures, delivery is rather broad and predictable, with a high degree of usable power on offer. Stomp the throttle at speed, and the six-speed automatic (with a properly good manual mode) obediently swaps into the most effective cog, delivering more V-8 thrust and a ear-pleasing exhaust note that has no business on what is, for all intents and purposes, a refined, four-place SUV.
Notice how we say four-place. The FX is pretty strict on what goes in it. While it has five seatbelts, this is realistically a four-passenger vehicle. Because of the way the transmission tunnel cuts through the second row, any middle seat passengers would be stuck sitting either spread-eagled or with their knees at their chest. Neither solution is ideal, so it's best to only invite three friends along for the fun.
Four passengers securely belted in, the Infiniti FX50 belies its 4500-plus-pound curb weight with a striking level of agility. Push hard and it'll understeer, but driven with control, it comes across as balanced and poised. Body roll is progressive and predictable, and is part of what gives the FX such great feedback for an SUV. Squat and dive are present, but aren't at the disruptive levels we expect from bigger vehicles.
The steering is fast and well weighted, allowing for a rather sharp, pointed turn in. Directional changes can and do happen quickly, which is part of what makes the FX feel like such a solid dancer. No doubt the low-profile rubber and twenty-one-inch tires play a role in this pointiness.
The downside to this combination of handling and big wheels is a ride that can honestly be described as "harsh" relative to the luxury SUV competitors of today. You'll be feeling each crease and ripple that the FX50 passes over as you are tossed left to right as the suspension tries to cope with the impacts.
That poor ride is the FX50s biggest comfort demerit. If you happen to live in a world where the roads are smoother than velvet, then you'll likely dig the FX. There's truly a fair bit to recommend on the comfort scale, with supportive, nicely bolstered seats, and a well-sorted interior that still looks good despite the current FX's advanced age. Available tech in the Infiniti is quite good, with advanced features like adaptive cruise control, lane departure warning, and a killer air-conditioned seat setup (sidebar: the temperatures in southeastern Michigan during our loan hovered somewhere between Satan's sitting room and center of the Sun, so these things were lifesavers).
All told, if you've got $59,000 ($66,000 for our Sport- and Tech-packaged tester) laying around and are in the market for an SUV that puts a lot more emphasis on "sport" than "utility," the FX might be the vehicle for you.
2012 Infiniti FX50S AWD
Engine: V-8, 5.0 liters, 32v
Output: 390 hp/303 lb-ft
Weight: 4557 lb
Fuel Economy, City/Hwy: 14/20 mpg
0-60 MPH: 5.2 sec (est)
Base Price: $59,350
Before our long holiday weekend full of driving and eating, we put up an Ask It post for readers to ask about the cars we'd each be taking for Thanksgiving. Understandably, people were busy catching up with relatives, eating delicious meals, watching football, and hopefully relaxing instead of asking us what we think of the vehicles' seats or audio systems. So, while we're digesting all the information we've gathered over the weekend, we're putting together our notes into these small reviews. You can still feel free to ask us more questions at the original Ask It post, and we'll answer while the recent drives are still fresh in our minds.
I had a busy weekend with the Infiniti FX, first with shuttling my wife and myself from Ann Arbor to Detroit, then from Detroit to East Lansing, then from there back to Ann Arbor. Picking up leftovers at each stop along the way. Later in the weekend, the FX served to run errands, particularly bringing boxes of Christmas decorations between my home and my wife's store, as we got it ready for holiday shoppers. I even had some time to myself to drive the car as I pleased, though mostly in the dark, sloppy weather we typically enjoy this time of year.
Power delivery in the FX35 was strong enough, but there was a lag between hitting the gas pedal and anything happening, especially when there's downshifting involved. It was a little better in manual mode, but I could still count a beat or two before the engine responded. It was a little frustrating when trying to make quick maneuvers to pass or merge. Otherwise, acceleration was smooth, and the engine pulls fairly hard (honestly could use a bit more shove) without being jerky. Having the power going to all four wheels helped it feel confident in its grip and stance when surging forward, too.
On the highway, the FX35 cruised happily along at high speeds, tracking straight and true for the many straight, fast miles we traversed. It stayed pretty quiet while going fast, too.
I really liked the ride in this car. It's not as plush as you'd expect, and my wife even got a little carsick, because this thing traces the undulations in the road really well. As a driver, it felt communicative and planted—not floaty or wobbly. If you're looking for something high-lux and isolated, this is not going to be the crossover for you. There's simply too much movement transferred into the cabin. It's helpful, though, for someone who is going to be driving the car more enthusiastically, as the driver has a better sense of every move the FX is making.
There really is a lot of room in this car. I was able to fit several large boxes in the back without having to put the rear seats down. This would be a great car for going Up North with the wife, dogs, and a week's worth of luggage. The power liftgate got a lot of use, too, with my arms full of cargo at various times throughout the weekend.
And, beyond simply having room for people and things, passengers will find a really nicely appointed cabin. Materials are really good quality, and the seats are supportive and comfortable. Everything is laid out attractively, with a fairly simple design—nothing too bold. The touchscreen and its buttons do seem a bit hard to reach from the driver's seat, but that also helps to make them available to the passenger, which is nice when you don't want to be distracted while driving. Still I'd rather have the buttons come to hand more easily. Other controls, though, were easy to spot and use. In all, the interior experience is very rich, like eating dark chocolate in the hot tub.
Finally, the FX got a lot of looks. I know it looks good and all, but I was shocked with the frequency of heads turning, even when it was just parked on the side of the street. Despite all the rubbernecking, though, no strangers came up to talk about it, which is fine with me.
—John Beltz Snyder, Production Editor
GALLERIES
VIDEOS