Review: 2021 Jaguar F-Type R — Jag's Wildest Creation Yet?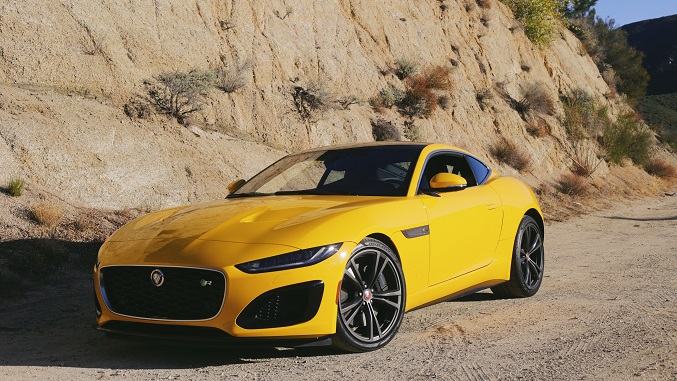 All photos by Peter Nelson
The Jaguar F-Type has only been on North American dealership lots since 2014, but it's already made an impression of being a fast, capable, and beautiful British sports/GT car. Following the legendary E-Type in nomenclature, it sure better. We've driven the F-Type in various forms since its debut, and the positive impression has always remained. One of this author's favorite previous experiences was piloting a base-spec supercharged V6 with a 6-speed manual transmission back in 2017; it was a driver's car through and through.
But what about Jaguar's latest 2021 incarnation of the F-Type, which includes some styling, power, and drivetrain upgrades? It's not a new generation, but rather considered a facelift, which is a good thing because why mess with all of its beautiful, muscular exterior?
Jaguar USA gave us the chance to get acquainted with their latest R trim, which is the most powerful and, well, bonkers F-Type on sale today; huge thanks to them for throwing us the keys. Our tester's price came out to $115,110 after delivery, which included Jag's bright yellow SVO paint, panoramic roof, Climate Pack, and Bind Spot Assist Pack. Base price is a bit lower at $103,200.
Engine and Transmission
Positives: Beautiful noise, excellent power
Negatives: Nothing
We thought the 2017 F-Type's 340 horsepower was quite ample, especially when bolted up to a glorious, manual ZF gearbox. This meant our minds were blown at this latest 2021 R model's supercharged 5.0-liter V8: it put out 575 horsepower that's put through a quick-shifting, eight-speed ZF auto and then dispensed to all four wheels.
The way this Jag's angry, snarling V8 came to life from just above idle and pulled like a train all the way to its 7,200-or-so RPM redline was an absolute riot. Along the way at 3,500 RPM, its active exhaust fully opened up and all 516 lb-ft of torque became available, adding the overall sensation immensely. This is one loud, glorious-sounding V8 higher up in the revs.
Unlike the pre-facelift, pre-overall-refresh F-Types, the 2021 R's active exhaust is only wide-open starting around 3,500 RPM, which is a bit of a bummer. All the chortling, gurgling, and growling that the old F-Type was notorious for is now mostly gone. We wish it wasn't. All it took was a small toggle switch to quiet down the old Jag (and if you're a grown manchild like us, you'd never bother doing so). It's probably better this way for maintaining a friendly relationship with one's neighbors, but who needs friendly neighbor relations when you've got one of the best-sounding and exciting modern V8s at your right foot's disposal?
The F-Type's all-wheel drive system matched this glorious, screaming V8 well, and made it all the more riotous. Though, we don't mean riotous in the sense of it being a handful to keep in a straight line, having to fight it to keep it on the road, etc. Despite the tired comparison, launching the 3,843 lb. Jag from a stop with its all-wheel drive was reminiscent of a scene in a Star Wars film when they jump to hyperspace: no drama, just longitudinal G-force, grip, beautiful noise, and the 60 MPH mark in a scant 3.5 seconds. This sensation never got old while consistently doing pulls up and down our favorite test route; the AWD dug its claws in and lunged forth. Its eight-speed ZF auto was a pleasure to up- and downshift, and had its own way of improving the aural experience with some beautiful exhaust snaps between gears. Its shifting was fast and smooth, no real qualms to report. We even saw decent gas mileage after a tank-and-a-half of twisty road and city street hijinkery: 17.4 MPG.
Suspension, Handling, Steering, and Brakes
Positives: athletic handling, excellent grip
Negatives: no real qualms
As wild as the F-Type R's engine was, it was equally precise and grippy. The best characteristics of all-wheel drive shone through; brutal cornering grip, excellent corner-exit grip, and a lack of overall drama. We were shocked at the speeds we were able to maintain through our favorite canyon road test circuit. With active dampers, double wishbone suspension at all four corners, and massive 265/35/20 front / 305/30/20 rear tires, we had all the grip in the world and no body roll to speak of while rocketing along in Dynamic Mode. Easy-going street driving outside of Dynamic Mode was well-damped and had an excellent ride quality.
We heard Jag made all F-Type Rs all-wheel drive because the old RWD models were just too rowdy and downright dangerous; probably a wise move. Though even with traction control off the rowdiness was still a bit present.
Scratch that, even with traction control on it still communicated its rowdiness quite clearly. While driving it "wrong," such as taking a city street right-turn with an abrupt/sharp late apex followed by a firm stomp of the right foot, even its electronic nannies couldn't keep it from stepping out. Or, the nannies were programmed to allow a little fun, in which case good marks for Jaguar. Regardless, we never forgot how wild this engine could be. Then with every piece of electronic restriction turned off, we were able to really kick the rear end out. Thanks to AWD, as long as we kept our foot in it, the front wheels would grab a hold after a few feet and help rocket us out of opposite-lock. On the other hand, when driven with poise, precision, and mindfulness, the Jag was happy to get through corners as such.
The Jag's steering was good: generally light and easy around town when not in Dynamic Mode, then when toggled to Dynamic mode, it had good weight and loaded up nicely. Feel was pretty good; what wasn't translated through the wheel came through the chassis for sure. The ratio was quite good; it felt athletic and quick to change direction at all speeds.
Reigning in nearly 3900 lbs and 575 horsepower is no small task, but the brakes were up to it. Around town they had a nice progressive feel; not too grabby, and they felt solid and strong. While carving through fast, wide-open canyon roads, they maintained their strength just fine and never faded (though, it was a chilly afternoon in the mountains during our testing).
Interior and Exterior
Positives: Great interior materials and visibility, good looks
Negatives: Some awkward exterior features, lots of road noise
Inside the Jag was a very comfortable, well-appointed interior that was tall-guy friendly, and had great quality of materials. Besides the cheapish feeling shifter paddles behind the steering wheel, everything had a nice, solid feel. In addition to most surfaces being covered in ebony leather, there was also a good amount of Alcantara throughout, with a nice patch right on top of the dash in front of the driver. This helped reduce glare, and gave us an instant impression of high-end when we plopped down in its comfortable, sporty driver seat. The seat itself was firm and quite adjustable; like the pre-revision F-Type, Jag seems to have gone with the German method of seat comfort: firm seats that spread the weight out for overall comfort and less chance of pressure points.
Infotainment tech was good, though it took its time connecting to an iphone and moving between apps. Convenience-wise, heated and cooled seats, as well as a big, bright digital dash increased its overall upscale feel. Seeing out of the Jag was never an issue; we were a little concerned with a lack of visibility beyond the B pillar, though considering we sat so far back that there wasn't much bodywork beyond it, it was easy to get used to its sporty proportions while weaving through highway traffic.
Helping to give the F-Type less of a cavernous feel was a massive panoramic glass roof that let in a lot of light and actually increased tall-guy friendliness due to its size. We actually enjoy a cavernous interior, though; the taller the door sills and more hunkered-down deep within the car, the better, which this one had in spades with the glass roof covered up. Adding to the Jag's cavernous feeling was a very small interior; besides two seats and a narrow middle arm rest and dash, the seats backed right up to trunk and sat almost right on the rear wheels; classic British sports car design for sure.
Like the pre-refresh F-Type, this muscular Jag's exterior design was great and had all the features of classic, British sports car styling. The rear third was especially pleasing to look at straight on, thanks to its short trunk. The jury's still out regarding the front-end refresh; it looks more modern and sharp, though it seems to stretch out forward and droop down a tad too far. We still dig the overall look of the F-Type, but the old front-end looked more balanced with the rest of the body. Its LED headlights and front grille are reminiscent of a Maserati GT, which is a good thing. We just wish they looked more balanced with the rest of its shape.
We experiences quite a bit of road noise while rolling around Southern California streets in the F-Type. This big little angry British GT car is their most hardcore model, meant for those who are more concerned with grip and acceleration than posh comfort. Still, if it weren't for its great stereo system, it would tough to live with for day-to-day type driving, or putting in the miles for longer trips to and from the track.
Nice Upgrades Over the Old Model
Despite some mild downsides in regards to its looks and road noise, the 2021 Jaguar F-Type R is an overall excellent package for $115,110. It continues the F-Type tradition of being a sort of mini-Aston Martin; sharp British sports car looks, great handling, and a raucous engine living under the hood. We say mini because it isn't a poor man's version; $115,110 is still a lot of money. Overall, we really enjoyed its power, precision handling, and interior comfort. It's been a few weeks afer we gave it back, and we sure wish we could get back behind the wheel for more corner-exit rocket launches.