Review: 2020 Toyota 86 Hakone Edition — Still A Fun, RWD Bargain For Enthusiasts?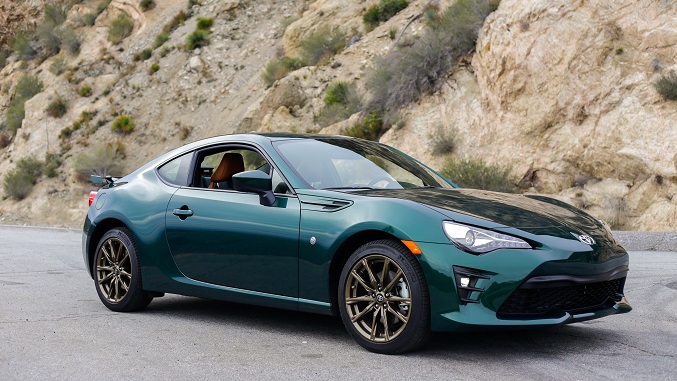 Be sure to scroll down below for our POV video!
In this era of manufacturers one-upping each other with power figures and mounting up the widest 200-or-so-treadwear tires in the name of laptimes and bragging rights, it's quite easy to get burned out by the hype and skyrocketing stats. Power figures, 0-60 times, Nürburgring laptimes, lateral Gs; it's daunting, as is the thought of being able to afford and maintain one of these beasts. Progress is progress, and we by all means get a kick out of these times of high horsepower sports cars, hot hatches, exotics, etc., but we also breath a deep sigh of relief when we get behind the wheel of car that is substantially more basic, yet just as thrilling in its own way.
One car that gives us a deep feeling of relief is the 2020 Toyota 86.
The FR-S/BRZ/86 Toyobaru hasn't changed too significantly over the past seven years, because why spoil a great thing? When Toyota and Subaru gave it a refresh in 2017 that included some interior and exterior changes, as well as gearing, suspension, and power upgrades, they didn't really add on much else. They didn't need to. They followed the gospel of fun-to-drive, naturally-aspirated, sub-$35K sports cars while addressing some minor gripes.
The 2020 Toyota 86 Hakone Edition is one of the best versions of the Toyobaru yet, and proves that adhering to the basics of what makes a sports car fun is very welcome in 2020. Add in the stunning Hakone (named after the Hakone Shindō, a famously fun mountain road in Japan) green paint, dark bronze wheels, and good amenities for a $30,000-or-so sports car, and its high elevation on the modern sports car hierarchy is firmly maintained. We had the magnificently green, RWD coupe for a week thanks to Toyota USA, and this is what we have to say about it.
Powertrain: Don't Believe The Critics
The naturally-aspirated, 2.0 liter Toyota D4-S boxer engine (otherwise known as the FA20 under the hood of a BRZ) has had its share of critics since the Toyobaru chassis debuted in North America in 2013. Its criticisms being a nasty torque dip around 4,000 RPM, some annoying mechanical noises, and unimpressive power. Despite some remedies in 2017, there are enthusiasts who still maintain these grievances.
We would say there's a mild torque dip, though, with its relatively-high 4.3 final drive out back (more on that later) and short gearing, acceleration is quite ample for getting out of the way, getting around Priuses who brake thirty yards before they enter the turn lane, as well as any highway merge. We really enjoyed our 86's power band, and coming from slower-yet-spirited vehicles in our own fleet, we didn't find the dip deserving of peoples' lambasting. Power is also quite ample at 205 horsepower and 156 lb. feet of torque; it's a naturally aspirated engine making over 100 horsepower-per-liter, in a 2800 lb. car – what's not to like? The 86's redline is at 7500 RPM as well, giving folks a lot of real estate between the alleged torque dip and the next gear. This all adds up to a regularly-achievable 0-60 time of around 6.5 seconds (when we tested a base 86 in 2017, we were able to drop it down to just 6 seconds). Fuel economy is rated at 21 MPG city, 28 highway, and 24 combined, which isn't bad for a sports car with short gearing and a higher-than-average final drive ratio.
The soundtrack that accompanies the D4-S's climbing tach needle is quite glorious as well: it's an aggressive baritone growl that's nicely tuned for a car from the factory without a performance exhaust optioned on. The little boxer is so fun to rev out. It also makes all the entertaining noises that anyone who's ever installed a short ram intake on their car would recognize, i.e. hearing the throttle take in air with every dab of the gas pedal. This is quite commendable for a factory car!
Shifter, Gearbox, And Differential: Brilliant
We won't go into too much detail about the 86's shifter and pedals, because they're just simply brilliant. The pedal feel and spacing is excellent, making for easy to heel-toe footwork, and the shifter's feel and action is precise and quite satisfying. Enthusiasts won't mind having to shift so much due to the short gearing because it's always so nice to operate. The clutch take-up was not tricky to figure out, although the gas pedal was quite sensitive, which made for some awkward moments at stoplights. Perhaps this was due to a lighter-than-average flywheel or some other performance-oriented engineering which one shouldn't chalk up as a negative. Once the tricky throttle is figured out, even a novice manual driver would feel like they're rev matching like Keiichi Tsuchiya himself.
The driveline is buttoned up with a Torsen limited-slip differential, which makes for tons of grip and control. Corner exit acceleration and grip was excellent on twisty canyon roads in the San Gabriel Mountains; we absolutely did not want our test drive to end.
Suspension, Handling, Steering, And Brakes: Sharp Yet Compliant
The Toyota 86 is a composed, quick-turning, planted, low-body-roll driving experience, not just on twisty canyon roads, but also city streets filled with 90-degree flat turns. It's really quite good from the factory, and our Hakone Edition didn't even come equipped with optional upgraded Sachs dampers. One must also chalk this up to the boxer engine's low, flat, and further-back placement under the hood. Flowing through sections of esses and turning in for tight corners was a rewarding experience, and the rear end never gave any hint of kicking out unless it was requested with some quick steering motion and a stab of the throttle. The 86 comes with just two driving modes: normal and Track Mode. Track Mode doesn't seem to chase away the ABS, traction, and stability control nannies entirely, but it does allow the driver to kick the rear end out sans the threat of looping it in a busy intersection, or impersonating a Mustang exiting a Hooters parking lot.
The dampers and springs were what one would expect for factory sports car comfort: not overly stiff by any stretch, but the chassis did transmit bumps and cracks to the seat and steering wheel. A bit of wobble was exhibited on the highway with some shaky steering movement, creating more body roll than we're used to; this could be easily remedied with a set of TRD or aftermarket sway bars.
For a factory, 240TW, civilian tire, the 215/45/17 Michelin Primacy HPs were surprisingly capable on twisty roads: a testament to the 86's chassis, suspension, and differential. Track work would be a different story, but as a daily fun tire these worked well, didn't really create any rolling noise, and were quite predictable.
Steering feel and weight were excellent and not overpowered, and the wheel transmitted a surprising amount of street topography; a solid trait in our book. The wheel itself is nicely shaped and comfortable; t's quite apparent that Toyota paid a lot of attention to inputs when they engineered the 86.
The brakes are pretty large for a 2800 lb. car, with 11.6-inch rotors up front and 11.4-inch rotors out back. They fill out the wheels for great aesthetics, and would surely be up to the task of track work with some good pads and fluid. Though, stopping power wasn't quite what we were expecting. Pedal feel was good, but the brakes felt a tad mushy and didn't have the stopping power one would expect from such large rotors and calipers attached to the 86's svelte chassis. Our test vehicle could've been put through the ringer before us, though, and if that's not the culprit, mild street performance pads (such as Toyota's optional TRD Brake Pads) and good fluid would easily solve this.
Lots of Alcantara for the 86's price point
Interior And Ergonomics
In addition to the 86's brilliant pedal feel, shifter, and steering wheel, the interior was very nicely appointed in our 86 Hakone Edition. The seats were quite comfortable with headrests that could be adjusted quite high, and the design, layout, and materials were above-par for its price point. The infotainment system was par for the course for 2020 and had plenty of physical buttons to please our luddite sensibilities. We were pleasantly surprised by the quality of the sound system. We've ridden in our fair share of older Subaru BRZs and Scion FR-Ss, both of which had shoddy-yet-forgivable-because-price-point interior materials and sound quality. The 2020 86, particularly the Hakone Edition, takes it up a notch and even includes a surprisingly amount of Alcantara. The heated seats were a nice bonus as well, even though our track-minded preferences usually include as light of a seat as possible.
Rear seat room was hilariously small, which we suspect is to help insurance rates rather than have some form of mild flexibility. We didn't mind though; extra storage is extra storage, and we aren't keen on carting around more than one passenger on the regular anyway.
The 86's visibility was generally good, though the rear three-quarter view was pretty obstructed due to its classic sports car design that adheres to modern rollover standards. The low slung, classic sports car seating position was great and felt nice and cavernous, on par with our previous experience in a Jaguar F-Type. The seats had great bolstering, though we weren't able to drop it down as much as we would've preferred. The 86 is pretty tall-guy-friendly, though had we taken it on track we probably would've needed to recline a bit to accommodate a helmet. Anyone over 6'3" and being inconveniently blessed with a long torso would have some issues if they weren't planning on pursuing aftermarket seat options.
The 2020 Toyota 86 Hakone Edition is a solid buy in 2020. Like previous editions and versions, is Toyobaru is still an enthusiast-targeted, fun-to-drive, inexpensive sports car that will guarantee many miles of grins, especially if it's higher-strung 2.0-liter, D4-S boxer engine is revved out on the regular. The jaw-droppingly-gorgeous paint and wheel color will ensure a gaze back every time its parked as well. If enthusiasts are inclined to take it up a notch with track work, all signs point to great on-track reliability as well, with the burden of proof shared between time attack challenges like 86 Cup, club racing's ever-competitive Touring 5 class in SCCA road racing, and ST5 under NASA's rulebook. We hope more people buy the 86 and let Toyota know that this modern gem should not go away… though word on the street is a new generation is coming soon.
Check out our POV video on YouTube of our experience driving the 2020 Toyota 86 Hakone Edition. Thanks again to Toyota USA for throwing us the keys to a very memorable week.