Review: 2020 Lexus RC F — Underrated All-Around Performer?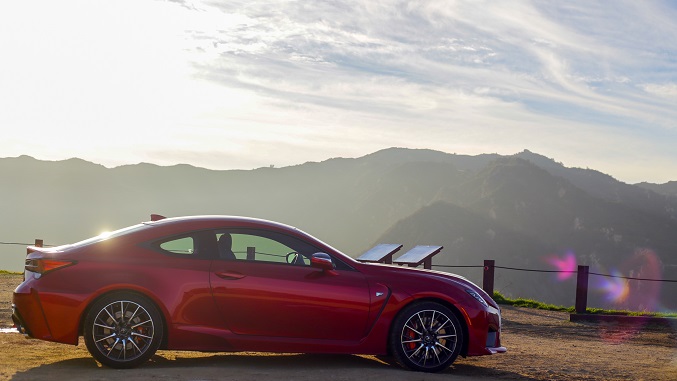 Lexus' F Division is quite new compared to BMW's M and Mercedes' AMG. They've only had 14 years to make the case that they're capable of producing refined-yet-thrilling coupes and sedans, that check all the boxes for what consumers look for in a performance all-rounder. Since its inception, F Division's aim has been to build comparable chassis to their Teutonic rivals for either less money, or provide more value to enthusiasts with better luxury, safety, and convenience equipment.
The "F" in F Division stands for Flagship, as well as the legendary Fuji Speedway, their test facility for all performance vehicles. Because they have this awesome resource at their disposal, it shouldn't be surprising that they're capable of producing cars that provide a thrilling driving experience with great power and excellent handling.
Though, it kind of is a surprise. Lexus is still burned into most consumers' judgement as a brand of luxury, value, a smooth ride, and generally not being engineered for fun. They're more known for small SUVs and big sedans engineered for, well, normies. The 2020 Lexus RC F on the other hand, we're happy to report, marches to the beat of a different, more performance-oriented drum.
Big thanks to Lexus/Toyota USA for giving us the keys to a fresh 2020 RC F for a week; we found ourselves pleasantly surprised more than a few times and had a really fun time reviewing it.
Our tester came equipped with a bunch of options, such as the Premium Package with a host of luxury items, Premium Infotainment System, Torque Vectoring Differential, Premium Triple-Beam LED Headlamps, Orange Metallic Painted Brembo Brake Calipers, Premium Paint, and Intuitive Parking Assist, totaling $78,280, a bit higher than the $64,900 base price. Here's how it went.
Engine: Glorious V8 Power When Everyone Else Is Going Turbo
The engine under the hood of the RC F is a massive (by today's Japanese car standards) 5.0-liter V8, making 472 horsepower and 395 lb.-feet of torque at the crank. Similar to the power bands possessed by vehicles elsewhere in Toyota's massive lineup, the power band lights up a tad later than engines produced by American and European OEMs. Though, thanks to its 12.3:1 compression ratio, 32 valves, and dual overhead cams with Toyota's Variable Valve Timing with intelligence, it gets there quickly, and screams all the way to its 7300 RPM redline with ease.
This engine is truly a work of art above 3500 RPM; it revs up incredibly quick for a non-flat-plane-crank V-8 of its stature, and the factory exhaust broadcasts its beautiful, angry symphony all over the rev band. Power is progressive and predictable, though when VVTi kicks in and traction control is conveniently turned off (easily defeatable with a button right next to the mode button), the rear end wiggles as if under the hood lives a turbo engine coming on boost. This is with massive 255/35/19 front and 275/35/19 rear Pirelli Pilot Sport 4 S tires and a curb weight of 3,902 lbs. keeping the 2-door behemoth secured to the ground. With the right launch (launch control is standard on the RC F), Lexus states a 4.2 0-60 time is achievable, and our low-tech testing was not far off hovering around the high 4s.
Naturally, as is par for the course with modern performance cars, the engine's character changed noticeably depending on which mode the car was in. We avoided Eco mode like the plague, as it felt like cruising around in a mid-90's Toyota Avalon; throttle was significantly more lethargic, and the 8-speed automatic transmission shifted as soon as the tach needle left idle. Sport S and Sport + were where we spent the most miles. Not only because this is Winding Road, but the exhaust was opened up for a very nice, refined rumble all over the rev range. The engine was way more awake in these modes as well, and while it held the revs a bit higher, it was still quite easy to live with day-to-day. Normal mode was a bit more pedestrian, requiring a bit more throttle to move the 3900 lb. coupe around, shifting maybe 750 RPM higher than in Eco mode.
We tip our caps to Lexus for sticking with a naturally aspirated, 5.0-liter V8 when pretty much everyone else in the segment is going with smaller displacement and turbochargers. The engine has a lot of character, and genuinely surprised us by knocking down some preconceptions about the brand's performance engineering. Though, it didn't surprise us as much as the RC F's handling.
Suspension, Tires, Steering, and Brakes
We were pleasantly shocked over how well the RC F handled itself when tasked with hustling through a tight canyon road in Malibu. We specifically chose a road that is known for having uneven, rough stretches of tarmac, as well as many tight hairpins with significant elevation changes: Piuma Road. How ironic that we sailed the 3900 lb. beast through a road which bears the name of the Spanish translation of feather; this road does indeed usually favor agile, feather-light chassis like Miatas and Lotuses. Usually.
When cruising along in Sport +, the RC F was able to hustle and brake hard into tighter sections, and then power right out without any drama thanks to its excellent power and Torsen limited slip differential. Body roll was virtually non-existent, and the chassis felt remarkably composed. Even in this stiffest suspension setting, uneven pavement and bumps were ironed out very well. Imperfections could be felt through the seat, but they never jostled us to the point of needing back surgery, as we've experienced in smaller, lighter cars with 200TW tires and aftermarket coilovers.
The RC F comes out of the factory with suspension design that is the stuff of race cars (perhaps one of the reasons why the RC F ran very well in IMSA GT Daytona last year, more on that later), with double-wishbone front and multilink rear, combined Sachs dampers and their own F-Adaptive Variable Suspension, which adjusts noticeably between modes, though it never reaches crazy-stiff-race-car level, at least by our standards.
The Pirelli Pilot Sport 4 S tires never made a peep unless we wanted them to, and never gave any hint of giving out unless we went out of our way to drive like morons (but that's what very intuitive traction and stability control are for). As did the brakes: the absolutely-massive, 14.9-inch front, 13.5-inch rear slotted-and-vented discs were finished off with Brembo 6-piston front and 4-piston rear calipers, and assured us that reigning in the large-and-in-charge coupe's 472 horsepower would never be a concern. Besides dumping so much brake dust on the 19-inch BBS wheels that they looked like they'd been in a storage unit in the desert for 30 years, the brakes never exhibited any fade and offered nothing but confidence. Track work would probably push their limits, though when treated to better pads and fluid they'd most likely hold up very well.
We can't help but think about what a set of 18" wheels with 140-or-so-treadwear tires, aftermarket brake pads, Castrol SRF brake fluid, and a day at Buttonwillow Raceway Park would be like. It would be quite easy to haul a second set of wheels and tires, plus all the supplies needed to and from the track with just trunk and backseat space alone, too.
Steering feel was very numb, which is fine when the wheel can be turned with a pinky finger around town in Comfort mode, but when an enthusiastic driving experience is supplemented with a turn of the knob into the Sport modes, the steering really only tightens up and becomes heavier, there isn't much in terms of feel. Though, the materials of the wheel itself are some of the best we've ever laid our hands on.
Drivetrain
The 8-speed automatic transmission had a host of different personalities. The manual paddle shifter action on the wheel feels positively great; a great place to start. However, the shifts are only quick and crisp when the car is driven hard.
During 80% of any day-to-day, commute-type driving, shifts are very slow and mildly clunky (no actual clunking sounds, all good there) by today's standards that have been set by the competition, who utilize either dual clutches or intuitive 8-speed autos from southern Germany. The other 20% (or, maybe 10% depending upon how many open on-ramps one encounters) comprised of blitzing ahead of other drivers at stoplights, turning right onto large, open streets, and downshifting while trail braking into the final milliseconds of left-turn arrows, is pretty good, but only in the Sport modes when a lot of throttle is applied, or the paddle shifters are utilized for downshifts.
When one factors in the RC F undercutting the competition and providing solid build quality, great interior amenities, an awesome engine, and surprisingly capable handling, it makes sense that the transmission is where development and production costs got the chop. Though, we thoroughly believe that if a dual clutch were an option, many enthusiasts would gladly tack it on over various convenience, styling, and safety options that are available.
Interior, Dimensions, and Seating Position

One would be hard-pressed to find a performance coupe with this level of comfort and convenience for the RC F's $65,000 base price. The amount of suede in the interior is quite high, which is cleverly designated to areas that occupants would have the most interaction with. These include the door and center arm rests, and directly in the driver's line of sight on top of the dash. In our test vehicle with the comfort and convenience package, there was a surprising amount of what Lexus calls "Silver Fiber" throughout the cabin, which looks like a carbon-Kevlar composite weave and is quite visually pleasing. It kind of reminds us of early 90's prototype racecar bodywork; if this is Lexus throwing in performance visual cue deep-cuts, we dig it. The interior materials all come together quite nicely.

All leather surfaces are soft to the touch, and any surface that isn't leather, suede, or Silver Fiber is a substantial-feeling plastic. The seats not only look great, but are incredibly comfortable, with tons of adjustability and provide both heating and cooling. The steering wheel is also heated, a nice touch (no pun intended) when we wanted to cruise with the window down in cooler weather. Overall interior quality is excellent and very well put together; the $5,350 premium package is a solid ad-on.
The low-slung, sports car driving position is nicely exemplified in the RC F, as we felt nice and low and well surrounded by the high door sills, yet could see over and past the front bumper without issue. Figuring out the coupe's dimensions while making lane changes and parallel parking wasn't too bad, as its blind spots were significantly smaller than coupes we've tested in the past. The 35-series tires leave no room for error when parking; luckily the backup camera and mirrors (that tilt when reverse is selected) did a great job of summarizing our surroundings.
Perhaps it was the light grey, blue, and carbon fiber interior, but the greenhouse was exceptionally airy for a 2-door, adding to it's potential as being a coupe that one could tick off hundreds of miles quite easily in a day with.
The infotainment system is mildly dated. Lexus still utilizes their touch pad system which some folks love, and some seem to absolutely despise. We didn't mind it after changing the sensitivity per a colleague's recommendation, and got used to it after a day of commuting. To nobody's surprise, the system is quite thorough with all kinds of driver preference settings, Bluetooth, a brilliant sound system (Mark Levinson-branded), and other luxury features that are commonplace and required for cars of this caliber. There were a respectable number of physical buttons in the cabin as well, not just entirely touch screen or touch pad. We're relieved to report that the touch pad was impervious to various kinds of caffeinated beverage spills. Whether they were black coffee, espresso, or iced coffee, no concoction messed with the system's usability.
The RC F's backseat is… barely existent, not unlike the Toyota 86 we tested a few weeks back. Again, like the 86, this is possibly for insurance purposes, and it's a big coupe that we wouldn't be inclined to drive around with more than one passenger anyway. Though, credit where credit is due, Lexus maintained the same beautiful and quality interior elements in the backseat as the front area, despite the slim likelihood of anyone ever sitting back there. Slimmer than the stature of anyone who could fit back there.
Trunk space is absolutely massive and adds to the Japanese brute's potential for being a long-road-trip-worthy grand tourer.
Styling
The RC F has been around for a few years, with 2020 marking the beginning of a much-needed refresh. We think the front end looks significantly better than it did before, with revised headlights that complement the shape and size of the massive, signature Lexus grille exceptionally well. The body is quite defined and muscular; not as understated as its European competition, but not excessive either. Its wide fenders, defined rear bumper, and taillights coming together quite well. The RC F is a great example of modern, muscular, Japanese grand tourer styling. The fender vents are actually functional, too.
We might receive some flak for the following statement, but here goes: the RC F looks more like its racecar cousins than most other street cars and their racecar cousins. Seriously: pull out the RC F's wide fenders a tad more, add a more substantial splitter and diffuser, give the tires more sidewall, and throw on a carbon fiber wing, and it's not terribly far off. Our measurement: Aim Vasser Sullivan, the official Lexus factory effort this year in the IMSA GT Daytona class, who are currently racing two chassis in 2020. Not only are they plastered up with gorgeous liveries, but they don't look a ton different than an OEM, street-legal RC F. Though, they are around half a ton lighter, make a bit more horsepower, etc.
To Sum It Up
We really enjoyed our week with the RC F, and big thanks to Lexus once again for throwing us the key fob for a week. It might make the athletic, chiseled, 3,650 lb. BMW M4 look like a featherweight, but the character of the RC F's engine and base interior are hard to beat at around $5,000 less when comparing base trim prices. The RC F and M4 have pretty close 0-60 times as well, though we bet occupants would arrive at 60 MPH with significantly larger pupils thanks to RC F's glorious exhaust note.
We must admit that we weren't entirely sure what to expect from the big, brooding Lexus. We were prepared to experience a little hardship figuring this one out. Instead, it was pretty easy to figure out that Lexus did an excellent job with the RC F. While it undoubtedly had its downsides, they are largely over-shadowed by its plush, comfortable interior, excellent handling, strong brakes, and briliant engine.
Check out our POV video!