Review: 2020 Land Rover Defender 110 SE — A Legend Is Reborn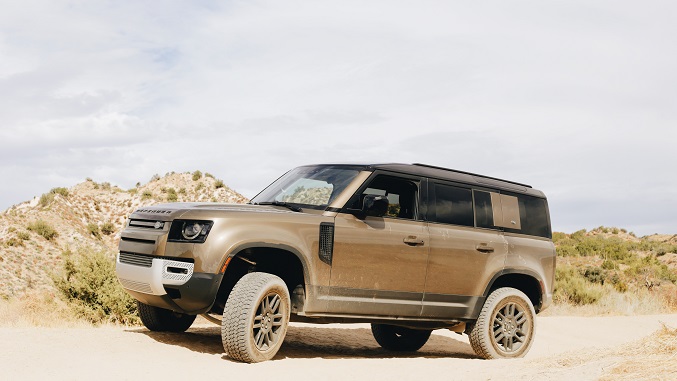 All photos by Peter Nelson
After last week's review of an enthusiast platform from across the pond, this week we've got yet another, though this one's meant for a different kind of enthusiasm. Where the 2020 Aston Martin Vantage was quite capable on-road, this one's capability was more off-road… though also a lot of fun on the road thanks to some impressive power figures and suspension engineering.
The 2020 Land Rover Defender 110 is the newest Defender to debut after a short, four-year hiatus; previously it had been in production and, at least on the outside, largely unchanged since 1983. This is also the first time we've received the Defender as a brand-new, mass-market vehicle in the USA; previously LR brought them over in very small quantities and performed a lot of DOT modifications to pass US government muster.
For those not in the know, the Defender has always been regarded as Land Rover's most capable, tough, and bare-bones model, meant to see action in muddy fields, sandy dunes, rocky mountain roads, and other 4X4-demanding environments. Like the Humvee in the USA, it was also Great Britain's choice as a rugged military vehicle for decades.
My how times change. Because of the modern SUV market's requirements, this latest Defender maintains its capability, but it's a far cry from bare-bones or military-ready. Is this a good thing? Let us discuss!
Thanks very much to Jaguar Land Rover USA for lending us a 2020 Land Rover Defender 110 SE P400 for this review. Our tester's base price came in at $62,250, and after equipping the Driver Assist Pack, Cold Climate Pack, Advanced Off-Road Capability Pack, and Off-Road Pack, then delivery, its all-day price bumped up to $72,780.
Interior
Positives: very nice design, sturdy materials, easy to clean, excellent visibility
Negatives: None
Opening the Defender 110's big, heavy driver's door revealed an interior that was always great to climb into. We loved its no-nonsense, clean design, simple center console, large 10-inch infotainment screen, immensely comfortable, leather-and-woven-material seats that didn't show any remnants of coffee spills (ask us how we know), and great upright seating position. Plus, there was tons of storage throughout for stashing water bottles, our phone, coffee cups, gear bags, and even a shelf along the front of the dash that we referred to as the mask shelf during these COVID times.
Our tester also came with substantial all-weather floor mats that covered almost every inch of the floor. Defender purists have complained about this latest generation not having an interior that one can hose-out. This stems from the Defender historically being the workhorse of the brand; folks in England who were employed in mud and dirt, such as farmers, could hose out the interior after returning from a muddy field that required the Defender's rugged, 4X4 prowess. It's rare that modern-day new Defender buyers will feel compelled, or need, to do this, but these mats would definitely make cleaning out mud, dirt, and sand much easier than other capable modern off-roaders.
Elsewhere in interior material sturdiness, everything had a substantial, quality feel. The padded material covering the dash's grab handles felt very nice and grippy and was easy to clean up, and the buttons and various push-surfaces on the center console felt substantial and quite satisfying to toggle. So much so that we had to firmly push them to change settings; we imagine this is to prevent accidentally changing drivetrain settings while trying to turn down one's heated seat intensity. The center of the steering wheel and parts of the door cards felt like a Pelican case, and even the cup holders were outlined in a thick, rubberized material that gripped coffee cups a little too well (hence the aforementioned coffee spillage). The Defender isn't as barebones, sturdy-interior'd-off-roader as a Wrangler, instead they created an interior that's tough, yet also quite comfortable.
Seating positions throughout were excellent. Our tall stature was comfortable in both the front and rear seats, with plenty of leg- and headroom throughout and tons of shoulder room. Like all great high-sitting off-roaders, the interior was airy and spacious, and visibility was quite good throughout. Rear-seat cushioning and height were comfortable, allowing easy ingress and egress and probably great comfort on a long roadtrip. Even with the front driver seat set to accomodate a tall, long-legged, out-of-shape man, there was plenty of legroom. Behind the rear seat was a brilliant design touch and throwback to older Land Rover design that we appreciated: safari windows!
Pretty neat!
The only impedance to our situational awareness was the full-size spare blocking almost half of our rear window; blind-spot monitoring helped on the highway, and Land Rover's 3D Surround Camera provided a fascinating 360-degree plan and 3D exterior perspective for knowing exactly what was going on outside of the Defender's dimensions.
Tech-wise, we didn't get a chance to test its driver assistance technology besides lane-keep assist, which was probably the least-annoying or impeding lane-keep assist we've ever used. It didn't bounce the Defender off of lane markers like other systems we've used, but rather felt like a more natural invisible force-field. 
Elsewhere in the tech department, its stereo system was excellent, Apple CarPlay and BlueTooth connectivity were quick and seamless, lots of plug-in spots meant we could keep all of our devices charged without issue, and the massive digital dash was pleasing to look at. The dash even integrated navigation on the right-side by default, which helped with quickly determining where off-road trails went.
Suspension, Handling, Tires, and Brakes
Positives: good ride, confident handling
Negatives: grabby brakes
Our fear before our week-long Defender 110 loan was that it would ride and handle very off-roader-like: wallowing about, exhibiting a lot of brake dive, and lacking any agility. The 2020 Toyota Land Cruiser Heritage Edition acted this way, but this was forgivable due to its massive size. The Defender actually surprised us.
Thanks to all trims coming equipped with air suspension with adaptive dampers, as well as double-wishbone front and integral link rear suspension design, the Defender felt agile for its size while maneuvering around city streets. Land Rover boasts that the Defender's lightweight, all-aluminum monocoque ensures solid chassis rigidity, great handling characteristics, and a good basis for independent suspension at all corners; this certainly helps with it not feeling like a massive, over-5,000 lb. SUV in the corners. We found the best way to get through a corner quickly was to utilize a bit of trail-braking, and then getting on the gas to let the 4X4 push-and-pull us out. It was no canyon carver, but its handling characteristics were athletic and confidence-inspiring. Steering feel was non-existent, but steering weight felt good; very light while off-roading, and tight in the twisty stuff.
The air suspension, in addition to being quite useful off-road (more on that later), was fun to play with in traffic on the highway as it quickly changed the ride height significantly. We definitely got some confused looks. Once traffic became less bumper-to-bumper however, the Defender automatically aired back down and stayed down, most likely to improve stability and fuel economy. Outside of messing around with it, it rode comfortably-solid, soaking up most bumps very well, though still giving us a good idea of the road's surface. Like the Land Cruiser we tested a few months back, the Defender did a great job defending our spines against terrible Southern California streets, brutal speed bumps, awkward drainage ditches, and extreme driveway angles.
Reigning in the big Defender was a cinch for its massive brakes – they were a little grabby, but pedal feel and travel were very good. Optioned onto our tester was the Advanced Off-Road Capability Pack ($1,345) which included big 32-inch off-road tires that most-likely were the cause of having barely any steering feel. However, we didn't mind the lack of feel due to their purpose of taking the Defender's off-road capability a substantial step further.
Off-Road Capability
Positives: it made everything easy
Negatives: there was a slight learning curve to configuring some off-road settings
Joy of joys we had the opportunity to hit some trails in the Defender 110, and it did not disappoint!
We ventured up to Hungry Valley State Vehicular Recreation Area with no substantial off-roading experience, which meant under-estimation of trail-difficulty signs. How hard can it be? was the consensus we came to as we turned onto one trail. We experienced a particular form of ignorance is bliss: we quickly found out that we'd underestimated the trail's difficulty (the ignorance part), but the bliss part was that the fully-aired-up Defender had our backs and performed quite well.
When we found ourselves staring down one hell of a gravelly descent, we set the Defender's Terrain Response 2 to Auto, turned on Hill Descent Control, and let it do the rest. Configuring these was generally easy, though we had to do a little fiddling in the menus to determine where they were. With the right steering inputs it crawled down without drama; the only drama was in the three passengers' pulses. Having permanent four-wheel drive made life easy as well; one less thing to think about.
Crawling up a frightening grade a little while later also exhibited no drama: we followed the gauge cluster's instructions of how to put it in 4WD Low and pressed the throttle. Its impressive 38-degree approach, 26-degree breakover, and 40-degree departure angles ensured that we never scuffed any bodywork or undertrays while crawling up and down hills, riding over washboard surfaces, or traversing through tricky sections. We took the opportunity to get out and take a photo of it tilted over along a gravel bank; suspension travel kept it well-planted, but it was quite difficult to climb back in (in a good, hilarious way, especially for any onlookers).
Examining its underbody closer, it was impressive to see how Land Rover achieved such approach, breakover, and departure angles. The muffler was mounted way up under the rear bumper with dual outlets that extended out two inches max, and everything up front was tucked up and away under massive skid plates. Drivetrain components were well-hidden under skid plates as well, and any hint of suspension-work sat as far out towards the wheels as possible.
We found ourselves in deep, sand-like dirt periodically, and thanks to its grippy tires, massive torque, and four-wheel drive, it lunged out of it with plenty of gusto.
Engine and Transmission
Positives: Great low-end torque and acceleration
Negatives: Transmission was a little laggy to downshift on the highway
Sitting under the hood of our 2020 Land Rover Defender 110 was a turbocharged and electric-supercharged 3.0-liter inline-6 producing 395 horsepower and 406 lb.-ft of torque. This engine is the P400 designation in our tester's badging. It's also a MHEV; it has an electric motor for an added bump in acceleration from a stop. Despite weighing in at 5,035 lbs., the 110 jumps to 60 MPH from a stand-still in just 5.8 seconds. All this power gives it a towing capacity of 8,201 lbs as well, which is impressive for a permanent 4WD, unibody SUV. City fuel economy is rated at 17 MPG, Highway comes in at 22 MPG – our average was 16.5 MPG over the course of 2 tanks, mostly due to it being so fun to rip around in.
The turbo inline-6 is around $12,000 more than the base 295 horsepower turbo four-cylinder, and it's very much worth it. Taking off at green lights and merging onto the highway was a lot of fun, and getting up steep grades in the mountains was no issue for its 5,000 lb. self. Low-end torque was great when we launched it from a stand-still; this beast really lunged. This was fun on-road and very useful off-road, contributing to its rugged, go-anywhere capabilities.
The 8-speed ZF automatic transmission shifted smoothly, though it lagged a bit when putting our foot down on the highway; its programming preferred to ride out the gear we were in rather than downshift.
Exterior
Positives: great design that serves as a great throwback and addition to LR's current lineup
Negatives: Not for everyone?
We really dig this latest Defender's design, so much so that we blabbered about it quite a bit when it was first announced. It's athletic, muscular, modern, and has some excellent design cues that pay homage to previous-gen Defenders, yet also match the company's current design language well. We especially dug the optional 20-inch wheels and off-road tires; they contributed to its overall toughness immensely. Whether aired up or down, it always looked like it was ready to take on some trails, and had a ton of presence. We seemed to get more looks riding around in it than we did in the Aston Martin Vantage. The entire color palette that Land Rover offers for the Defender is great, but we especially dug our tester's Gondwana Stone paint mixed with its black roof and black wheels.
The rear taillights and headlights might not be for everyone. We've read criticism of how the round headlights and concept-car-looking taillights look a tad awkward compared to the rest of its design language, we dig 'em however.
Solid All-Around Package
We had a great week with the 2020 Land Rover Defender 110 SE P400. Between its fun power, great ride, great looks, and off-road chops, it was tough to give it back to our local PR office. If the new Defender had a theme song, it'd probably be something up-beat and whimsical. Because its a Land Rover, this song would have to be quintessentially British as well, such as this little number.
The new 2020 Defender is way more all-rounder than its forefathers. It still has excellent capability, but now it's as comfortable and daily-able as Land Rover's other models, such as the Discovery Sport. It may not be the follow-up that purists were hoping for, but in terms of blending rugged with modern comfort and convenience, this beast checks all of the boxes. There's some solid competition in its segment: the Jeep Wrangler and Cherokee, Toyota 4Runner, Subaru Outback, and more; the Defender is certainly a contender.
Have a look at our POV video: