Review: 2020 Honda Civic Si HPT Coupe — Does It Live Up To The Si Badge?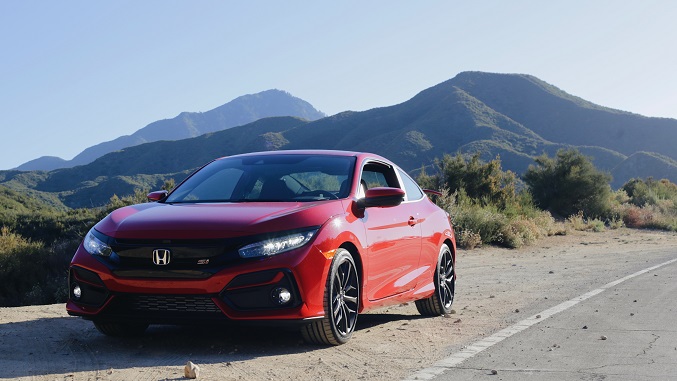 All photos by Peter Nelson
Finally, after a run of heavier luxury sedans and a muscular sports car, we had the opportunity to review something a bit more light on its feet: the 2020 Honda Civic Si HPT Coupe. We were anxious to find out what this current generation is all about, as it's got some massive shoes to fill; the Si badge has been around since 1984, and adored by enthusiasts during its entire run (well, the EP3 didn't get a ton of love, though we think it should've). This is because the Si's home has always been fun roads and tracks with a lot of turns… ya know, places where we at WR call our home, too (it's in our name after all). We've seen them prepped to all kinds of degrees on track, and for good reason, as they've always been great-handling cars.
Does this latest 10th generation Si live up to the name's legendary status? With modern safety requirements, tech and amenities that are required to be marketable in its segment, yet add weight, environmental standards to adhere to, and a new hot engine (literally, it's turbocharged) without Honda's famous VTEC, it has a lot stacked against it. You would think an Si would get an instant thumbs-up from us, but sometimes modern automotive developments can be a bit of hindrance to fun, especially for cars in its class.
Here's how our week with the Honda Civic Si HPT Coupe went. The 2020 Si is slightly-upgraded over the 2019, notably with revised wheels, re-styled bodywork, shorter gearing, and on our tester, the new HPT trim. Thanks very much to Honda for throwing us the keys for this review. The base price was $25,200, with an all-day total of $26,130 after options and $930 destination fee.
Engine
Positive: Nice and torquey in all gears, exceptional fuel economy
Negative: Can barely hear it
It was a little bizarre being behind the wheel of a Honda Civic Si that came turbocharged from the factory, but by the way the Si drove, one would think Honda's been turboing Civics from the factory for a long time. The L15B7 VTC's power band was very enjoyable and torquey, with a nice boost-building feeling that was never too laggy. All 192 lb.-feet of torque came on fairly early, and stayed strong until just about its 6500 RPM redline. While cruising on the highway in 6th gear at 75 MPH, there was enough power on tap to get around slower traffic with ease. Making 205 horsepower in addition to all this torque, the Si will jump up to 60 MPH in 6.8 seconds, and reach the quarter mile in just over 15 seconds. Perhaps it was because of the torque band, but we thought it felt faster than 6.8 seconds; perhaps closer to 6. Regardless, these are very respectable figures for a 2900 lb., FWD, $26,130 sport compact in 2020.
Fun fact: the L15B7 VTC's cylinder head has 16 sodium-filled valves to help pull the heat out – pretty impressive tech that's historically found in more exotic or highly-modified engines.
As a solid benefit of being only 2,900 pounds, the Si got excellent fuel mileage during our week with it. The rated 26 MPG city, 36 highway, and 30 combined seem a bit conservative, as the best we got was 32 combined, which included a good amount of canyon driving and fun between the lights during everyday commuting.
The tiny, fuel-sipping engine was so likable that we wish we could've heard it better. The synthesized engine sound was ok, albeit a tad too video game-like. The exhaust system was way too quiet. We aren't asking for crackles and pops when we let off the throttle, but a slightly-louder, aggressive, baritone, turbo-4-growl would've driven home the experience of revving out this otherwise engaging sport compact, and made carving through canyon roads a ton more fun.
Suspension, Handling, Steering, and Brakes
Positive: Excellent handling out of the box with great compliance
No real qualms
We had read a bit about this 10th generation Si's suspension engineering, especially after it started becoming a popular platform in World Challenge SRO's TCA class. The usual scenario, is cars that make great race cars also make fun street cars. Once we got behind the wheel, we quickly realized that the 2020 Honda Civic Si is no exception to this.
It's no surprise, really. Coming equipped from the factory with MacPherson front and multi-link rear suspension, adaptive dampers as standard, and bolted up in a car that weighs just about 2900 pounds all-in, this car is an absolute hoot to drive. We were a little concerned at first, as its ride was a bit more supple than we were expecting during our first 20 minutes driving it on Southern California's 405 freeway. Though, once we started putting it through its paces on various on- and off-ramps, as well as on some of the best roads in the San Gabriel Mountains, we instantly fell in love.
The ride was compliant, even in Sport mode, which tightened up the dampers a tad for a sportier, planted feeling. The handling felt very sharp and body roll was incredibly minimal, to the point of it probably not having much issue if we were to put it through its paces on track. The ride was more GTI than say, Civic Type R or Veloster N; solidly compliant, and never overly stiff. It's good, general-population-friendly stiff; if we were to pick one up for ourselves, we'd probably sharpen it up a touch with aftermarket springs and sway bars.
Weaving through fun sections of Angeles Forest Highway in the San Gabriel Mountains was a total blast. The lack of body roll, strong brakes, great steering feel, and torquey engine all came together to harmoniously attack and cleanly-exit out of some of this road's more technical corners with ease. Putting the power down sooner was a cinch for the diff, which was the cherry on top for instilling a good bit of confidence behind the wheel; we were pleasantly surprised by the cornering speeds we were able to maintain.
Making sure the Si stuck to the road were 235/40/18 Goodyear Eagle F1 Asymmetric 2 tires all around, which are the reason for the HPT, or High Performance Tire in this Si's nomenclature. These are very sticky tires for a fun, sub-3,000 lb., sub-$30,000 compact from the factory. We're used to seeing F1s as OEM on much higher-end cars; the $200 HPT upgrade was well worth it.
The Si's steering feel was among the best we've tested in 2020. We were amazed by how much feedback we got through the wheel, and steering weight was very good for daily driving, as well as twisty road fun. Brilliant steering feel, combined with three pedals and a stick made for an fun, engaging experience behind the wheel.
Transmission
Positive: Happy to be shifting a manual with a real helical limited-slip differential
Negative: Feel isn't the best, and rev-hang took some getting used to
It's very broken record to say we're happy to be operating three pedals in 2020, but it still rings true. We've also made the point in the past that cars that only come in manual are extra special (like the 2020 Ford Mustang Bullitt).
The Si only comes with a manual transaxle, and luckily it's a pretty good one at that. Shifter throw and spring were very good, though it felt too vague and joystick-like; similar to how modern VWs shift. Gearing was relatively short, which kind of helped celebrate the fact that this hot little coupe only comes in manual.
One characteristic that other reviewers have discussed and we instantly noticed was the Si's dreaded rev-hang. At first it was a bit annoying; the revs stay up in between shifts, making quick shifts harder to perfect. We eventually got used to it and found the right combo of clutch and gas to pull off some fairly-fast shifts, but only after quite a few miles of practice. We've heard that aftermarket tuning can remedy this.
The helical limited slip differential put in the work and really inspired confidence. We had very good grip while hustling through twisty canyon roads, especially pulling out of trickier corners. The differential was invaluable in building momentum; again, we'd love to see how it all comes together on track. We were able to put the power down sooner, and had great traction through weirdly-cambered and rough tarmac, similar to our experience in the 2020 BMW M235i xDrive Gran Coupe.
Interior, Technology, and Safety
Positive: Great tech, including luxury-brand-level driver aids
Negative: Poor dimensions for tall folks
Seating position and visibility were very good in the Si. Blind spots were minimal, and the greenhouse was nice and airy, which made it a great place to be during some longer drives on the highway. We liked being positioned right in the middle of the wheelbase for ingress/egress, performance, and overall visibility reasons. The seats were comfortable, sporty, and supportive, with nice bolstering for lateral g-force fun, as well as easy ingress and egress. Blind spot monitoring was intuitive, and indicative of the Si's price-point: changing lanes to the left required a good ol' fashion look over the shoulder, while moving to the right brought up a camera on the infotainment screen with great visibility (though, we naturally look over our right shoulder, too).
The coupe shape was just a tad too short for taller occupants. Our 6'3", long-torso frame had trouble fitting, and required a bit of creativity to get the seating position just right without smacking the edge of the sunroof. This was a shame, as we fit in older-gen Civic coupes just fine, and the current non-Si Civic hatchback is significantly more tall-person-friendly. Getting in and out of the backseat was surprisingly easy for a small coupe. Headroom was worse than the front seating area, but otherwise the dimensions were very good, with good forward visibility and comfortable bolstering.
Trunk space was an ample 11.9 cubic feet, which is significantly smaller than the VW GTI's at 17.4, and the Hyundai Veloster Turbo's 19.9.
The Si's infotainment system was good, albeit a tad laggy; we'd say it was par for the course. Connecting to Bluetooth and Apple CarPlay was easy, and we enjoyed the screen's crisp definition and easy-to-use-and-navigate interface.
Honda Sensing, Honda's suite of driver-assistance, was some of the best driver aid tech we've ever tested. We can confidently state that it gives some luxury brands' tech, such as all the Assists found in the significantly-more expensive Mercedes Benz AMG CLA 35, a pants-pulling-down-level-embarassing run for their money. Sensing comes standard on the Si, and includes Adaptive Cruise Control, Collision Mitigation Braking Assistance, Lane Keeping Assist System, and Road Departure Mitigation.
We had the chance to test this during a 2.5-hour-one-way daytrip, and were awestruck by how well it functioned. The Lane Keeping Assist System made the drive significantly more relaxing, and did a great job maintaining position in the middle of the lane, as opposed to bouncing side to side like a lot of other systems we've used. It was occasionally confused by crappy tarmac markings, but that's a mulligan as we have yet to test driver aids that aren't.
Sensing's Adaptive Cruise Control was very intuitive. It had a good range of following distances, and braked/accelerated very well, without any jerkiness or potentially inconveniencing drivers behind us. It also allowed us to upshift and downshift when necessary without cancelling.
The Si coupe has been tested by the NHTSA, and received very good marks across the board. It achieved an overall five-star rating, with the Frontal Crash Passenger test and Side Crash Passenger test earning four stars.
Exterior
Positive: Slick coupe styling that's going away in 2021
Negative: A few slightly-awkward angles
This Civic Si HPT we drove was a sort of swan-song for the history of Si Coupes, as Honda are doing away with the coupe body style next year, and we have no clear word on whether they will offer a coupe with the new Civic coming out in 2022.
The coupe's exterior aesthetics are very good; from most angles it looks athletic and lean, with little overhang and some of the best-looking OEM wheels ever put on a sport compact. The LED headlights really give it an upscale look as well. The spoiler is nice from the factory; not ugly and huge, and just enough to balance the rear end's lines. Some of the Si's angles make it look a tad bloated, but we think the sporty black wheels help relieve that a tad.
A Lot of Value at $26,130
We really enjoyed our time reviewing the 2020 Honda Civic Si Coupe HPT. This svelte sport compact felt light on its feet, it was happy to rev out, and it handled brilliantly. It was a bit of a relief actually; our past couple of testers were fun, but not chuckable, lightweight fun like this.
The Si badge has grown up a tad, and offers more luxury and convenience than previous generations to keep up with the times and competition. This means more weight and more price. By 2020 standards it's a great value, and frankly it's surprising that Honda was able to still keep it under 3,000 lbs. The Si might be more of an all-rounder than ever; it's so fun to drive and has the minerals to be molded into a potent, track-capable chassis, but is also quite nice to live with day-to-day. It has a few downsides, notably for tall folks, but plenty of upsides to make us quickly overlook them.
The 2020 Honda Civic Si HPT does its sport compact, independent-rear-suspension lineage proud.
Check out our POV video!