Review: 2020 Aston Martin Vantage — Big Power, Small Wheelbase, Yes Please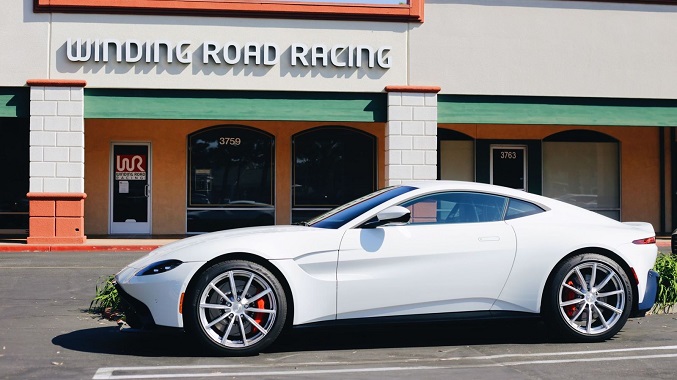 All photos by Peter Nelson
We were incredibly excited to take possession of this latest review: the 2020 Aston Martin Vantage. We loved the previous Vantage for its gorgeous appearance, and formula of stuffing a loud, powerful V8 (or V12) under the hood of a small, short-wheelbase sports/GT car, and having all of it hand-assembled with care in the UK. It was unapologetically sharp, and unapologetically rowdy. Though, it was around for thirteen years, and was due for a full-on, new generation update.
This latest Vantage has only been in production since mid-2018, and is significantly different than the previous gen. It's still mostly hand-assembled in the UK, though it has significantly different styling, its heart is a Mercedes AMG-sourced bi-turbo V8, and its automatic gearbox comes from ZF.
Does it still tick all the boxes as a small, short wheelbase sports/GT car, with a rowdy engine and sharp styling, that's mostly-hand-assembled with pride in Great Britain? Let us discuss!
Huge thanks to Aston Martin Lagonda for lending us this beautiful white 2020 Aston Martin Vantage for a whole week. It's base price was $152,995, then after various convenience, appearance, and luxury options, and delivery, its all-day price was $187,229.
Engine and Gearbox
Positives: Made all the best noises, had excellent power all over the rev band, revved up quickly
Negatives: Mechanical noise was amplified
We adored the handcrafted, biturbo 4.0-liter V8 under the hood of the Mercedes AMG C63 S. We were absolutely floored by how quickly it revved up, how it made all the right noises all the time, as well as the huge amount of horsepower and torque it produced. When this same engine is dropped under the hood of something that's around 200 lbs lighter than the Benz, it can only be better.
Thanks to the Aston's lighter overall package compared to the Benz (around 200 lbs.), the twin-turbo V8's 503 horsepower and 506 lb ft or torque make it hit 60 MPH from a standstill in a scant 3.6 seconds, blitz to the quarter-mile mark in 11.8 seconds, and top out at 195 MPH. Like the Benz, the Vantage had a set of driving modes to suit our mood, though far fewer as its more purpose-built sports car than muscular all-rounder: Sport, Sport+ and Track. We generally kept it in Sport+ as the gearbox didn't shift as harshly or keep the revs as in high as Track, but it kept the quad-exhaust pipes wide open.
This thing truly made all the right noises. It's quad-exhaust had a great tone, especially in Sport+ and Track Modes, and thanks to the engine sitting incredibly close to our feet, and the tailpipes sitting barely behind our shoulders, we were truly enveloped in sweet, beautiful V8 music at all times. Its bass-filled rumble from idle until about 2,000 RPM, reptilian-like growling in the midrange, and high-pitched scream up near the 7,000 RPM redline; we just couldn't get enough. Downshifts that brought the revs up to around redline produced some gloriously-loud crackles and pops, which normally get old after a while in most cars, but since they were only present higher up in the revs, and just mild burbles elsewhere, we found this to be a good balance.
No matter the gear we were in, or speed we were indicating, there was always enough torque available. We were surprised by how low it kept the revs in auto mode; while cruising around city streets, the needle mostly sat at a subdued 1200-or-so RPM. The engine alloted for plenty of power for easy-going, unenthused, daily driving. Elsewhere, we were surprised by how quickly it got up to speed utilizing just half-throttle and mid-tach shifts. We had to really keep an eye on the speedometer, as impoundable offenses were often just a millisecond away if we weren't paying close attention. The Vantage's great ride and very-low-slung driving position also had a hand in masking speed as well, but we'll get to those in a bit.
When we were well aware of the consequences of a heavy right foot, the surge of power with accompanying longitudinal-g-forces and ferocious noise was intoxicating. Even the laziest of launches yielded tunnel vision and a bead of sweat on our brow. Interrupting the wall of sound to pull a lightning-fast upshift via the 8-speed ZF transaxle sitting between the Vantage's rear wheels added to the experience as well.
The 8-speed ZF automatic transaxle sitting outback, no surprise to anyone, shifted quite quickly and was generally very smooth. Massive column-mounted paddles right behind the steering wheel made its operation quite easy and race-car-like as well. Regardless of mode, it shifted smoothly, though its gear changes were more aggressive in Track Mode so as to match everything else's aggression in this mode. Low-to-mid RPM shifts were razor sharp, and high-RPM shifts made that quintessential snap between gears, adding to the overall aural masterpiece beating against our eardrums.
Combining this brilliant powerplant and drivetrain with a short-wheelbase chassis is what the Vantage has always been about, and what's always made it such a blast to drive. For this new generation, we'd say the marriage of a potent AMG V8 and Aston Martin chassis dynamics work quite well and continue this tradition.
Suspension, Handling, Steering, and Brakes
Positives: Brilliant handling and grip, sharp steering, strong brakes
Negatives: loud brakes… though honestly, who cares?
There's a lot to discuss here, so let's start with some of the specs: independent double wishbones with coil springs, a thick anti-roll bar, and adaptive damping up front, multi-link with coil springs, a thick anti-roll bar, and adaptive damping in the rear. Plus, with the exception of what seems like around 20 lbs, everything on the entire car is nicely situated between the front and rear wheels, achieving 50/50 weight distribution. Heavier objects like the engine, gearbox, and this out-of-shape driver sat very close to the centerline running down the middle of the car, splitter-to-tailpipes. The Vantage's wheelbase is very short at 106.5 inches, and the width between the mirrors is 76.5 inches. While its overall length is short, it's a very wide car; this translated to lively-yet-stable, brilliant handling.
We thought we knew brilliant factory handling after testing some of the new car market's most thrilling offerings of 2020, but the Vantage was next-level. Carving through some of Malibu's most picturesque canyon roads, the Vantage was incredibly solid and compliant, without a hint of body roll; just turn-in, grip, and g-forces. Scenarios like barreling down a long straight, then braking and downshifting through a quick succession of tight turns, holding a bit of maintenance throttle through a long left-or-right-hander, then back on throttle to the next corner, were such a wonderful experience. Having ready-to-pounce acceleration at all times, lightning-fast shifts, razor-sharp steering that changed direction with the slightest of movements, and suspension that maintained optimal tire contact without sacrificing comfort felt so good. Carving through fun canyon roads in this Aston was probably the closest we'll ever get to racing in the Long Beach Grand Prix: pulling its huge shifter paddles, turning its square-like and grippy steering wheel, feeling its excellent handling, and experiencing brutal longitudinal and latitudinal g-forces (with accompanying angry V8 theatrics) while cutting through tight, technical corners and moderately-long straightaways.
We always had a good sense of what was going on between the contact patch and our own vertebrae, though not in an overly-stiff sense. In Sport, the dampers ironed out imperfections very well and made for a very daily-able ride, even while rolling around on the most punishing of SoCal streets. In Track Mode, the Vantage rode stiff but not bone-crunching stiff. Thanks to its bonded aluminum chassis and superb suspension design, it translated road surface and grip really well. In fact, with traction control fully turned off, we could even feel the rear differential putting in the work through corners, of both the low and fast variety.
We kept traction control fully-on for twisty-road fun to avoid setting Malibu on fire. When we wanted to know just how controllable the Vantage was, empty-business-park-street research revealed so much control; jab the throttle, turn, hold, correct, and power out. The steering wheel had excellent feel to help keep us in the right direction. Nothing wild and crazy, nothing scary, just all the evidence needed to say it rotated around the driver seat really well, and then give it a firm stamp of approval.
Ensuring the Vantage's immense power could be contained were excellent brakes: ventilated two-piece steel discs measuring a massive 16 inches in diameter up front, and 14 inches in the rear. We thought they were ceramics at first due to the particular noise they made when cold, but no, our tester just came from the factory with an aggressive pad compound, which we definitely enjoyed and appreciated. They were very grabby (we didn't mind due to them being so good), they never exhibited any fade after a long afternoon of twisty roads, and pedal feel was great. Sure, loud brakes aren't always the best choice for a luxury sports car, but considering everything else going on -its loud exhaust tone that doesn't have a quiet mode, sprightly powerband, firmer ride, etc- this isn't the car for someone who wants both subdued and high performance. The Vantage leans heavily towards high performance, though it still has a good level of comfort as well.
Interior
Positives: Everything is covered in either leather, alcantara, or quality plastic, easy ingress and egress for a small sports car
Negatives: A lot of road and mechanical noise
Opening the Aston Martin Vantage's wide, tilted doors (geniusly-designed to avoid curbs) revealed an interior covered in 95% leather and alcantara, and the rest was a couple of minor surfaces covered in substantial-feeling plastic. Our tester was equipped with nearly $4,000 in options to make it this way, and it was very much worth it. Even the massive amount of buttons in the center stack were covered in some form of leather. The contrasting leather was gorgeous, we wish we had spent more time rubbing our hand on the alcantara headliner, and every button had a pleasing, substantial push. What's truly impressive is this British sports car's interior was all hand-stitched and hand-fitted; there's no punchline there, the fit and finish was second to none, and something that the folks who assemble these in Gaydon, England should take a lot of pride in.
The seats were immensely comfortable, as was the steering wheel and driving position. The interior was very tall-person friendly, visibility was great despite the very low-slung driving position and high door cards, and ingress and egress was easier than we expected. Optioned into our tester were heated and cooled seats ($1,595), which made driving all over Southern California to hit up our favorite roads on a 90-degree day no inconvenience. It had a great stereo to overpower road and tire noise, and its only driver aids were conventional cruise control and excellent parking cameras and sensors. In fact, the sensors were a little too excellent; they were incredibly sensitive, though luckily could be easily turned off.
Comfort and luxury was excellent, though there were some downsides to this little beast having such a short wheelbase, powerful/loud engine, and being relatively light for its class: noise. Highway driving exhibited a lot of tire and road noise, and driving in general revealed a lot of mechanical noise of the engine and transmission variety. Because the engine and transmission were so close, and there wasn't much sound deadening or frame separating us from them, this noise was omnipresent at all times.
This has us a tad conflicted. On one hand, we discuss our point above about how the Vantage is more angry sports car than cozy, refined all-rounder. On the other hand, with a lot of luxury options tacked on, it reaches a sticker price of $187,225. It is considered a GT car, too, but grand touring in it might not be for everyone. Perhaps all of this isn't a negative, but rather something that can be filed under fast-as-hell, small hand-assembled sports car, deal with it. Other attributes in this folder include a tiny trunk and a hood release that's in the passenger footwell. We'll just conclude the following: it's for those who want a fast-as-hell sports car that's a comfortable place to be, and looks beautiful, though they have to be ok with it firmly asserting its status as an angry, loud sports car at all times.
Exterior
Positives: beautiful, aesthetically-pleasing, athletic shape
Negatives: not everyone's crazy about its tail lights and front grille
We really dig the look of this generation Aston Martin Vantage. The previous generation was beautiful as well, in fact it's one of the best-looking sports cars/grand tourers of the 21st century so far. But it was also around for a whopping thirteen years – a new design was due. This new generation is a nice step forward for the brand. It maintains enough body language to still be an Aston, but it's refreshingly new, and also a nice preview of what's to come from their design department, particularly in the headlights, front grille, and tail lights.
Not everyone's been on board with the look of the new front end, but we think it looks great, and its gigantic mouth means plenty of cooling for its AMG-sourced twin-turbo V8 (the two turbos sit inside the V; thing makes a lot of heat). The rear tail lights (or rather, tail light) is the stuff of concept cars – who doesn't enjoy it when production cars possess concept-car-like attributes? Overall, the body is very trim and athletic, and looks significantly smaller in person than in photos. We weren't crazy about the wheels; Aston Martin's available mesh-like wheels match its small, trim figure a tad better.
Brilliant, Though A Little Noisy
Our world was expanded quite a bit during our week with the 2020 Aston Martin Vantage. Never before were we so oblivious to being so close to felony-level driving offences; not only was it incredibly fast, but it did an excellent job masking how fast it was. It handled incredibly well, it made all the right exhaust noises all the time, we love its design, it was very comfortable, it was very daily-able, and we even got relatively-decent gas mileage during our two tanks with it (18/24, we ended up averaging 16). Though, the amount of non-fun noise it produced, whether by tire-on-road or of the mechanical variety, isn't for everyone. Anyone who wants a bit more serenity would probably sway more towards a 992 911, its direct competitor (we'll be sure to confirm this when we get our hands on one). But to anyone who doesn't mind (including us); this thing was brilliant, and one of the greatest lovechilds between two heavy-hitter performance brands. It's no surprise that Aston cleaned up at Le Mans this Summer.
Check out our POV video!