Review: 2013 Nissan Altima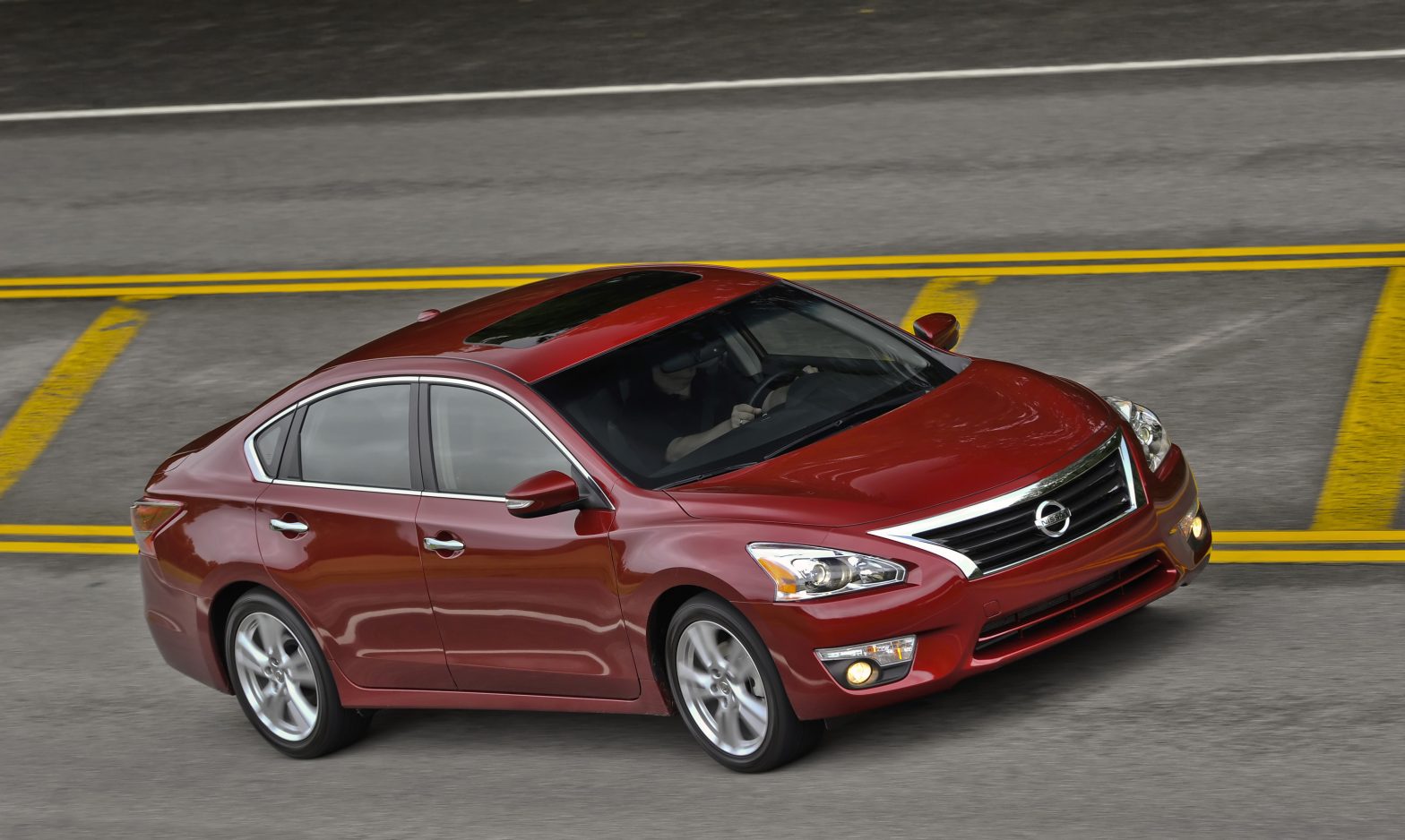 This is the Master Landing Page for the Nissan Altima. From now on, as we further review this car, we will be updating this page with whatever fresh content we create. Future drive reviews, updated specifications, videos, and other relevant information will all be found right here, in one convenient spot.
SUMMARY
Nissan has debuted the redesigned 2013 Altima at the New York International Auto Show.
The new Altima offers two engine options. The first is a redesigned 2.5-liter inline-four producing 182 horsepower. This engine is targeted to achieve an impressive 38 miles per gallon on the highway. The more powerful option is Nissan's 3.5-liter V-6, good for 270 horsepower. Both engines will be mated to a standard continuously variable transmission.
Bluetooth phone and audi connectivity is standard in the 2013 Altima. NissanConnectSM and NissanConnectSM Navigation are available, offering phone-connected Pandora radio, Google POI, and other features.
The Altima has a standard Advanced Drive-Assist Display between the gauges, integrating available navigation, text message notification, and audio data into the instrument panel.
Read on for more details in the press release from Nissan, below.
2013 Nissan Altima Sedan Makes World Debut at New York International Auto Show
– Innovative Nissan NV200 New York City Taxi Also on Public Display at Javits Center –
A big week in front of a big audience – that's one way to describe Nissan's major presence in New York City prior to the opening on Friday of the 2012 New York International Auto Show. Heading the slate of announcements is today's world debut of the next-generation of Nissan's totally redesigned 2013 Altima Sedan.
The reveal of the most innovative Nissan Altima ever follows the first public showing of the upcoming Nissan NV200 "Taxi of Tomorrow" at an event last evening hosted by Nissan President and CEO Carlos Ghosn and attended by New York City Major Michael Bloomberg and other city officials. Both vehicles will be on display throughout the run of the show, April 6th through April 15th, at New York City's Jacob Javits Convention Center. In addition, the Nissan Pathfinder Concept, a preview of the next-gen Nissan Pathfinder SUV, makes its New York debut at the show.
The new 2013 Altima and Pathfinder are the first of five all-new models Nissan is launching in the next 15 months. The 2011 calendar year was the sixth consecutive year of market share gains for Nissan in the U.S., with the Altima ranking as the second best-selling car in the U.S. The Altima goes on sale at Nissan dealers nationwide in July at a starting M.S.R.P. of $21,500. The new Pathfinder launches later this fall.
"The new Altima hits the consumer bulls-eye dead center by delivering a balance of style, performance and value that will continue to make it one of the most popular cars in America," said Ghosn.
The Nissan NV200 Taxi was selected, after a rigorous, two-year competitive bid selection process by the New York City Taxi and Limousine Commission (TLC), as the exclusive taxi of New York City beginning in late 2013.
"The Taxi of Tomorrow draws on Nissan's global experience in commercial vehicles, as well as insight from New York City taxi drivers and passengers, who helped identify important improvements over today's cabs. The Nissan taxi will deliver unprecedented levels of innovation and comfort to New York's 600,000 daily taxi riders," continued Ghosn.
About the 2013 Nissan Altima
With the arrival in summer 2012 of the all-new fifth generation design – the most innovative Altima yet – Nissan promises to shake up the mid-size sedan segment again with the most engaging, innovative and stylish vehicle in its class. Among the 2013 Altima's many attributes are a targeted best-in-segment* fuel economy of 38 mpg highway (2.5-liter engine), new premium exterior styling with a strong presence and excellent aerodynamics, an upscale interior with premium materials, and an outstanding balance of ride comfort, stability and a fun-to-drive demeanor with projected best-level acceleration.
Building on Nissan's "Innovation for All" philosophy, the new Altima offers standard Bluetooth® Hands-Free Phone System with Streaming Audio via Bluetooth®. Also available are NissanConnectSM and NissanConnectSM Navigation with a suite of Bluetooth® phone connectivity features, including hands-free text message integration, Pandora® playback, real-time Google® POI search and more; along with Easy Fill Tire Alert, and next-generation Safety Shield Technologies, including Blind Spot Warning (BSW), Lane Departure Warning (LDW) and Moving Object Detection (MOD) systems.
The premium interior design looks and feels a class above, with new NASA-inspired "zero-gravity" front seats, available leather appointments, and a new standard Advanced Drive-Assist™ Display in the center of the instrument cluster that integrates key information – including available navigation, text messaging notification and audio data – right in front of the driver.
Dynamic performance is provided by a choice of a redesigned 182-horsepower (est.) 2.5-liter DOHC inline 4-cylinder engine or a 270-horsepower (est.) 3.5-liter V6, with both engines matched with standard Xtronic CVT® (Continuously Variable Transmission).
Altima's next-generation CVT reflects Nissan's more than 20 years of engineering and development leadership with its smooth, fuel-efficient design. Altima's redesigned 4-wheel independent suspension features segment-first Active Understeer Control for refined feel and responsive handling.
The 2013 Nissan Altima is offered in seven well-equipped models to meet a range of customer needs and budgets. It is assembled in the United States.
About the Nissan NV200 New York City Taxi
The Nissan NV200 Taxi design reflects the input of hundreds of taxi owners and drivers, and thousands of passengers from all walks of life, who shared their ideas and priorities with Nissan designers and engineers. It also reflects ongoing collaboration with organizations long at the forefront of the "Taxi of Tomorrow" program, including the Design Trust for Public Space and the Smithsonian's Cooper-Hewitt, National Design Museum.
Interior features planned for the NV200 Taxi include:
· Spacious cargo area to accommodate luggage for four passengers
· A transparent roof panel to provide unique views of the city
· Sliding doors with entry step and grab handles for easy entry and exit
· USB charging access for passengers
· Independent, passenger controlled rear-seat heat/air conditioning with a grape phenol-coated air filter to improve cabin air quality
· Flat floor – with no hump
· Enhanced interior materials intended to help passenger cabin smell fresher
· Breathable, anti-microbial, easy-to-clean and environmentally friendly seat upholstery
About Nissan North America
In North America, Nissan's operations include automotive styling, design, engineering, consumer and corporate financing, sales and marketing, distribution and manufacturing. Nissan is dedicated to improving the environment under the Nissan Green Program 2010 and has been recognized as a 2010 and 2011 ENERGY STAR® Partner of the Year by the U.S Environmental Protection Agency.
About Nissan
Nissan Motor Co., Ltd., Japan's second largest Japanese automotive company by volume, is headquartered in Yokohama, Japan and is an integral pillar of the Renault-Nissan Alliance. Operating with more than 150,000 employees globally, Nissan provided customers with more than 4 million vehicles in 2010.
With a strong commitment to developing exciting and innovative products for all, Nissan delivers a comprehensive range of fuel-efficient and low-emissions vehicles under the Nissan and Infiniti brands. A pioneer in zero emission mobility, Nissan made history with the introduction of the Nissan LEAF, the first affordable, mass-market, pure-electric vehicle and winner of numerous international accolades including the prestigious 2011 European Car of the Year award.
# # #
*Fuel economy comparison against internal combustion gasoline engine-equipped mid-size sedans. Excludes hybrid and diesel models.
DRIVING IMPRESSIONS
—Nashville, Tennessee
Over the next 15 months, Nissan will be rolling out 5 all-new models. As the brand strives to take over 10 percent of the total market share in the next few years, it has got a lot riding on these new cars, which will make up the bulk of Nissan's sales. First up is the new 2013 Altima, which we were invited to drive in Nashville, where the company's North American headquarters are located. For us, this opportunity to drive the new sedan is like a small glimpse into the future, so we headed down to Music City to try out this automotive crystal ball.
Of course, the first thing one will notice is the Altima's new look. It's about an inch wider and an inch longer, with a lower roofline than before, giving it a more planted stance. The sheetmetal is much more evocative, with strong lines and creases. To us, it looks as though it has taken some cues from big brother Maxima, and it feels like the Altima has grown up a bit. We have some reservations about the use of chrome on the exterior, particularly the one line across the rear of the car, but it doesn't project the level of gaudiness sometimes seen on its American counterparts. We'll let prospective customers make judgments about the car's appearance, but we think most will find this to be a nice step forward for the Altima, with a useful infusion of some personality.
The fundamentals of the car have been updated as well, particularly in the powertrain. The Altima's 2.5-liter inline four-cylinder engine has been redesigned, and is lighter and more efficient than that of the outgoing vehicle. In driving, we were pleasantly surprised by the ample and smooth accelerative feel of the motor's 182 horsepower and 180 pound-feet of torque (up from 175/180). Especially considering the mileage this engine metes out (27/38 miles per gallon, estimated), it seems a quite capable and good fit for the new car.
This continuously variable transmission—the only offering in the Altima—is a huge improvement over the last generation, for several reasons. As Nissan points out, it helps with efficiency, and is in no small part responsible for the Altima's expected 38-mile-per-gallon highway figure. For us, though, the improvements were most noticeable in the character of the CVT. Gone is the buzzy, droning sound of the engine working hard at high revs under acceleration. This transmission keeps the engine under control, providing calmness as you dig into the accelerator. Revs don't reach spastic levels, and the sound from the motor is very soft, not grating or harsh. It's a level of refinement we really appreciate, and one we hope marks the beginning of a new era for CVTs.
The sonic experience is much improved in general in this new Altima, at least in terms of comfort. No, you won't be treated to a growling engine or tuneful exhaust, but you will be able to listen to the radio or carry on a conversation in the cabin without straining to hear. Wind noise is absent, and the tires don't produce much background noise, either. It's easy to tell that Nissan has put a lot of work into giving the Altima a premium-sounding interior space, and the results are impressive.
The materials, though, tell a slightly different story. General surface quality is average, but there is just too much going on. The cabin is a jumble of colors and textures. From the cloth seats to the medium-soft dash, to matte metallic-looking plastic trim, to glossy black plastic on the center stack, the design crams in too much. Rather than feeling classy and artistic, it feels thrown together and chaotic. Remove one or two of the different materials, and it would instantly seem less cluttered and more elegant.
That niggle aside, the interior is otherwise quite positive. There is a good amount of room for head and shoulders, and rear passengers will appreciate the amount of space allotted for their feet and legs. The seats are very comfortable, form-fitting, and cushy, and they distribute your weight nicely. We spent a long time behind the wheel, and never found ourselves losing feeling or circulation, or becoming particularly fatigued. Nissan would credit this to NASA research of zero-gravity posture being incorporated into the seat design. Whatever was done, it seems to have worked.
The layout of useful instruments, controls, and displays is done very well here. The big gauges in front of the driver surround a helpful color display. The infotainment system in our test vehicle was controlled by a large, easy-to-reach touchscreen on the center stack. The 7.0-inch display included in the $590 navigation system is, frankly, wonderful. It's bright, well placed, and very convenient to use. The NissanConnect technology also includes hands-free text messaging assistance, Pandora integration, Google POI search, and send-to-car capability.
The Altima also offers some nice assistance technologies that help navigate parking lots and highways alike. The backup camera on the rear of the car not only shows what's behind you in a very wide angle, it is also responsible for the Altima's blind spot warning, lane departure warning, and moving object detection. Being so important for these various functions, Nissan has even built the camera to wash and dry itself when it gets wet or dirty.
There's another bit of impressive tech that is included on the Altima. Tire pressure warning systems are an industry standard these days, but this car, as some other cars we've enjoyed have also done, has the ability to give pressure measurements for each individual tire. When it is time to add some air to a tire, the hazards will begin to flash as you begin to inflate. When it has reached the optimal pressure, the Altima's horn will beep to politely let you know that you are finished inflating, and may get back to driving.
The overall ride in the Altima is smooth, but not totally isolated. For this new generation, Nissan improved body rigidity and refined the suspension. The result is compliance over the road, with information from the surface of the pavement being transmitted to the seat of the pants. We didn't get the chance to try it on bad roads, so we're not sure if there's a possibility of too much interference making its way into the cabin, but from all the smoothness and polished tuning exemplified elsewhere in the ride, we'd guess that it would be difficult to make this Altima feel uncomfortable.
On our test drive, which consisted of a lot of long, sweeping curves, the turning behavior was well composed. It had this wonderful habit of planting itself nicely over its suspension and arcing through the turn, feeling locked down and planted, without rolling to the side much at all. Even in the tighter stuff, the Nissan felt completely under our control. Understeer is not a problem, and the Altima traces your intended line with ease. This is partially thanks to the car's Active Understeer Control, which gently brakes the inside front wheel to help the vehicle rotate—all done with exceptional smoothness.
It helps, too, that the steering wheel feels really good in hand. It offers a small amount of vibration corresponding to the road surface, and offering just a smidge of communication. It's not too talkative, though, as that would undermine the detached ease with which one can drive the Altima.
As we navigated the hilly roads between Nashville and Lynchburg (home of the Jack Daniel's distillery, where we stopped for lunch and iced tea), we got the chance to play with the CVT some more. Below the D on the gear selector is a Ds mode. In this setting, the CVT slightly mimics a traditional automatic transmission by climbing through the revs and "shifting" near the 6200-rpm redline. It didn't seem to affect acceleration or involvement much at all, especially lacking the paddle shifters available in the V-6 Altima.
The CVT did seem quite intelligent, though. On downhill grades, we noticed the transmission automatically adjusting the revs to keep the car from gathering too much speed without throttle input. It was as though the Altima knew when we would have downshifted, and took care of it for us. Clever, we think.
The new Altima is clearly not an involving sports car made for enthusiasts. A smart, efficient, roomy, and very comfortable sedan is what it is. It's also a marked improvement over the last generation, and is poised to gain further popularity among the car-buying public, who will likely see it as a great value for their hard-earned dollars.
and more minimalist, but the Nissan offers some great, inexpensive technology. The
Camry
is down slightly on power and on gas mileage compared to the Altima, which may just be the deciding factor for a lot of people.
2013 Nissan Altima 2.5
Engine: Inline-4, 2.5-liters, 16v
Output: 182 hp/180 lb-ft
0-60 MPH: 7.14 sec
Weight: 3108 lb
Fuel Economy, City/Hwy: 27/38 mpg (est)
Base Price: $21,500
Price As Tested: $27,490
On Sale: July 2013
It's an engine we're familiar with, powering a seemingly endless variety of
Nissans
and
Infinitis
. And while it may be mated to a CVT in this application, it's one of those few instances where we just don't care.
The issue with CVTs isn't even necessarily an issue with the transmission itself. When you get down to it, the one thing that makes a CVT really intolerable in daily life is when it's paired up with a noisy engine. For an example, see
our review of the Nissan Sentra
. That car was a prime example of a workable CVT mated to a buzzy, obnoxious, underpowered motor.
When teamed with the smoother, more refined V-6, though, life with a CVT isn't half bad. Mash the throttle, and you'll be treated to the sounds of the six-pot straining near redline and making an ear-pleasing racket. It's like dubstep; you probably hate it, but there's a tiny slice of you that is tapping along to the beat.
This engine's power is accessible enough, with few noticeable peaks and valleys. Mostly, the 258 pound-feet of torque is available across a broad swath, reaching its climax at 4400 rpm. All 270 horsepower arrive at 6000 rpm. While we'd normally be annoyed about these numbers, the transmission's tendency to hold the revvy six-pot at redline at four-tenths throttle and above means we spent a healthy amount of time flirting with the 3.5's peak power.
We've never been big fans of CVTs, but when connected to the right engine, the belt-driven trans is able to find a partner that can exploit its best qualities.