Review: 2013 Dodge Dart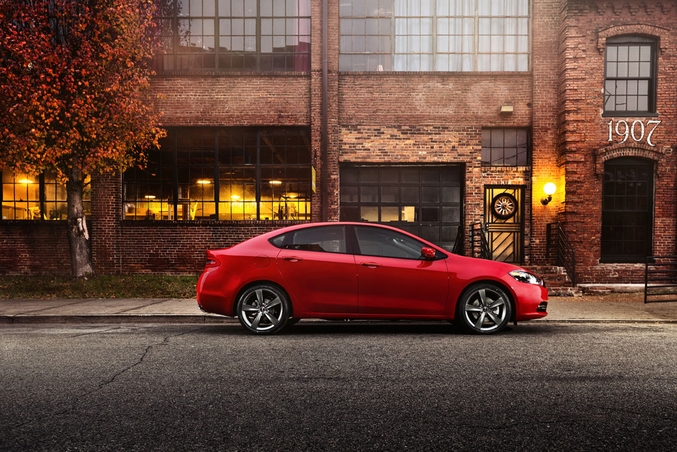 This is the Master Landing Page for the Dodge Dart. From now on, as we further review this car, we will be updating this page with whatever fresh content we create. Future drive reviews, updated specifications, videos, and other relevant information will all be found right here, in one convenient spot.
SUMMARY
Dodge has pulled the wrapper off of its all new 2013 Dart compact, revealing a car with truly interesting design language and interesting powertrain options.
Really the first fruit of the Chrysler/Fiat partnership, the Dart takes on a hefty dose of Alfa Romeo styling language, with crisp cut lines and a rather European feel overall. The Dart is a nice follow-up on the Chrysler trend of increasing the quality of its interior treatments, as the small car's cabin is rather bold for the segment.
Engine choices are all of the four-cylinder variety, with a 2.0-liter naturally aspirated unit and a 1.4-liter turbocharged MultiAir engine, both of which are good for 160 horsepower (no economy figures have been developed yet). A still larger, 2.4-liter four is also on the options list, that producing 184 horsepower. Spoiling us for choice, Dodge will also offer three different six-speed transmission options: a standard manual, a dual-clutch, and an automatic. The combinations are intriguing.
Overall, the Dart stands to wash away the memory of Dodge's not-so-great recent small car offerings, and provide the already tough compact segment with a hugely distinguished competitor.
Please scroll down to read the full Dodge press release.
Dodge Hits the Bull's Eye with an
All-new Compact Car – The Dodge Dart
The All-new 2013 Dodge Dart Blends Alfa Romeo DNA with Dodge's Passion for Performance and Style, Resulting in a Groundbreaking Compact Sedan
• All-new 2013 Dodge Dart is the first Chrysler Group vehicle built on Fiat Group architecture
• 2013 Dodge Dart breaks new ground with a savvy, modern, unmistakable Dodge design that evokes emotion, efficiency and fluidity of movement and delivers world-class aerodynamics
• Dodge Dart offers five well-equipped trim levels with class-leading safety features and breakthrough technology typically found in more expensive vehicle segments
• Three state-of-the art, fuel-efficient powertrains with available MultiAir® technology power the fun-to-drive 2013 Dodge Dart
The 2013 Dodge Dart redefines performance with Alfa Romeo DNA, fuel-efficient powertrains and Dodge's passion for performance. The all-new Dodge Dart is a thoroughly modern vehicle that's fuel-efficient, beautifully designed and crafted, agile and fun-to-drive.
Loaded with innovative technology, class-leading safety features and clever functionality, the 2013 Dodge Dart sets a new standard in the compact car segment by offering unmatched personalization, roominess, style, functionality and fun-to-drive dynamics.
"The all-new Dodge Dart is a groundbreaking car that will surprise and delight customers who want a no-compromise, fun-to-drive car that's a great value," said Reid Bigland, President and Chief Executive Officer — Dodge Brand, Chrysler Group LLC. "With 12 exterior colors, 14 interior color and trim options, three powerful, fuel-efficient engines, three transmission choices, unsurpassed safety features and world-class aerodynamics, the new Dodge Dart sets a new standard for the compact car class."
The 2013 Dodge Dart will be available in five trim levels: SE, SXT, Rallye, Limited and R/T. It will be built in the United States at Chrysler Group's Belvidere Assembly Plant in Belvidere, Ill. Production of the 2013 Dodge Dart will begin in the second quarter of 2012.
Performance-inspired design
Exterior
The all-new 2013 Dodge Dart boasts a timeless, stylish and distinctive exterior design. The car sports an athletic, sculpted, fluid and aesthetically agile appearance. The exterior design of the Dart conveys a level of visual drama and timeless surfaces that add excitement to the competitive compact sedan segment in the United States.
"The Dodge Dart was a dream to design," said Joe Dehner, Head of Dodge Design — Chrysler Group LLC. "The Alfa Romeo-based architecture allowed us to design an exterior with great proportions that say 'fun-to-drive' when you look at it. Add in the Charger-inspired 'racetrack' taillamps, a new, sleek crosshair grille and piano black accents, and it all adds up to a performance-inspired design with just the right amount of attitude."
The Fiat Group-based Compact U.S. Wide (CUS-wide) architecture's low, wide and long dimensions ensured a stable "body-in, wheels-out" stance and coupe-like silhouette. The CUS-wide platform allowed for accentuating the fender formations and pushing the wheels as far out to the corners as possible, creating a very stable look, which gave Dodge designers incredible opportunities for some very dramatic sculpturing. Designers visually stretched the skin of the car over the vehicle framework as if stretching nylon over a surface.
"When designing the all-new Dodge Dart, we were inspired by classic, beautifully designed vehicles throughout time," Dehner added. "Each car was beautiful, based on its surface work and presence alone; they didn't need unnecessary cladding, jewelry or lines that confuse the eye."
Once the basic design was in place, with dynamic lines and curves from every angle, designers inserted a little Dodge attitude into the mix. The face of the Dart was styled with the unmistakable Dodge split crosshair grille, but with a modern, sleek look that "floats" in the front fascia, giving the Dart a full-width mask that marks it as a Dodge.
The rear view of the all-new 2013 Dodge Dart features an available Charger-inspired "racetrack" full-width taillamp with 152 indirect glow LEDs, and class-exclusive dual exhausts mounted in the rear fascia.
The front of the 2013 Dodge Dart has been designed for smooth airflow around, above and below the car without compromising styling or engine cooling requirements. In addition, a lower radiator close-out panel is positioned below the front fascia. This not only contributes to the Dart's lower front-end appearance, but also reduces drag while still allowing for an 8-inch curb clearance.
Dodge designers made attention to detail and precision craftsmanship a priority, and it is noticeable from every angle. Standard laser-braised roof welds, high-quality metal Daylight Opening (DLO) moldings painted piano black and standard projector headlamps are just a few examples of well-crafted features typically found on much more expensive classes of vehicles.
Tasteful, detailed accents add to the design of the Dodge Dart. Style lines on the hood lead the eye to the floating crosshair grille, while chrome accent spears below the projector headlamps and inboard of available projector fog lamps highlight the attention to detail.
The result is a compact sedan that blends exceptional proportions, "aero-dramatic" surfacing, world-class craftsmanship, modern technology, an exceptionally quiet cabin and an upscale feel in a package that is undeniably a Dodge.
Interior
Dodge designers focused on creating a modern blend of precision craftsmanship, state-of-the-art technology, exciting bursts of color and hand-sculpted shapes when designing the Dart's interior, which is crafted with materials and technology typically found in more expensive vehicle segments. Starting with modern Dodge DNA and through the use of innovative ambient interior lighting, high-quality soft-touch materials and high-tech features, the 2013 Dodge Dart is loaded with cool amenities and unexpected delights for both drivers and passengers.
The Dart's "driver-centric" layout is designed to put all controls within easy reach of the driver. Customizable displays and comfort-tuned seats are packaged in an exceptionally spacious, pleasing interior. Packaged in the footprint of a compact car, the 2013 Dodge Dart features the interior spaciousness of a mid-size sedan, and it boasts best-in-class hip and shoulder room.
"The all-new Dodge Dart is the showpiece for Dodge's next generation philosophy of interior design," said Klaus Busse, Head of Interior Design — Chrysler Group LLC. "The Dart interior takes the beautiful, precision-crafted interiors we rolled out last year and adds a little bit of fun with surprises of color, eye-catching ambient lighting and some really cool technology."
Customization was key in the all-new Dodge Dart's development, and with 12 exterior colors, 14 interior color and trim combinations, seven wheel options, three engine options and three transmissions, each Dodge Dart can be personalized by every buyer to fit their individual style. And the combinations are multiplied exponentially, as Mopar® also will offer more than 150 customization options and themed packages specifically developed for the Dart.
The high-tech centerpiece of the all-new 2013 Dodge Dart is the class-exclusive floating island bezel, which houses the segment-exclusive available 7-inch Thin Film Transistor (TFT) customizable gauge cluster display with light pipe surround that also houses the available class-exclusive Uconnect® Touch 8.4-inch touchscreen Media Center – the largest touchscreen in its class.
Thoughtful storage options throughout fit today's technology. The glove box easily conceals a stowed iPad; the center console features auxiliary jacks to plug in a wide variety of electronic devices, and thoughtful, inventive storage solutions, such as center console side pockets, are perfect for storing mobile phones, receipts, or pens and paper.
Lighting in all the right places provides drivers and passengers a warm, comfortable cockpit. Available "racetrack" lighting surrounds the floating island bezel. Ambient lighting for the door handles, map pockets, foot wells, glove box, storage bin and illuminated cup holders is both useful and provides a warm atmosphere inside the vehicle.
Three sophisticated, fuel-efficient and powerful engines
The 2013 Dodge Dart will be powered by three fuel-efficient, powerful, state-of-the-art four-cylinder engines that add to Dart's fun-to-drive quotient.
Drivers can select from a new 160 horsepower Tigershark 16-valve 2.0-liter engine, a 160 horsepower 16-valve 1.4-liter MultiAir® Intercooled Turbo engine and a new 184 horsepower Tigershark 16-valve 2.4-liter MultiAir 2 four-cylinder engine. These three engines, combined with three transmission choices — six-speed manual, six-speed automatic or six-speed dual dry clutch (DDCT) transmission — redefine performance by providing the most diverse powertrain lineup in its class.
MultiAir technology delivers optimum combustion at any speed under all driving conditions by allowing direct and dynamic control of air intake and combustion. The result is up to a 15 percent increase in low engine rpm torque and a 7.5 percent improvement in fuel efficiency.
Engineered with passion
The all-new 2013 Dodge Dart was developed and engineered to exceed expectations for satisfaction, quality and reliability. From the world-class aerodynamic performance, to the agile, responsive driving experience, to items seemingly mundane like segment-leading heating and cooling performance that gives drivers and passengers the right temperatures in the right locations and a whisper-quiet interior, Dodge engineers kept the customer top of mind while developing every detail of the Dart.
"The all-new 2013 Dodge Dart has been engineered with a passion that demonstrates Dodge is back in the compact car segment in a big way," said Matt Liddane, Vehicle Line Executive — Chrysler Group LLC. "The Dart is well-crafted, agile, powered by world-class, fuel-efficient powertrains, loaded with high-tech features that are both clever and useful, and it's fun to drive."
Alfa Romeo DNA
The Dodge brand's re-entry into the U.S. compact sedan segment is based off of the award-winning Alfa Romeo Giulietta. The Giulietta is renowned for satisfying the most demanding customers in terms of road-holding agility and safety, with exceptional driving dynamics. The Giulietta platform was lengthened and widened, creating a spacious compact sedan that meets the wants and needs of North American consumers.
The proven modular architecture allows multiple models to be built using the same basic underpinnings, resulting in improvements in quality and reliability, as well as reducing cost, development timing and tooling. The body structure of the Dart is comprised of 68 percent high-strength steel – hot stamped, high-strength and ultra-high-strength – resulting in an architecture that is lightweight, modern and solid.
The 2013 Dodge Dart features the proven, lightweight MacPherson strut front suspension, specifically tuned to minimize camber loss, resulting in more responsive steering and handling characteristics, improved ride quality and a reduction in road noise – all qualities drivers will appreciate.
A bi-link independent rear suspension enables European handling capability for those drivers who love to lean into corners and the smooth ride North American drivers covet.
World-class aerodynamics
The all-new 2013 Dodge Dart compact sedan was designed and engineered for world-class aerodynamic performance. With more than 600 hours in the wind tunnel during the Dart's development and using technology typically found on more expensive vehicles, Dodge engineers and designers looked at every aspect from the ground up to optimize the aerodynamic performance of the Dart.
The all-new 2013 Dodge Dart is the first Dodge vehicle to use an active grille shutter system. The system automatically stops airflow through the lower intake at highway speeds when less engine cooling is required and aerodynamic drag is most significant. When closed, the shutter system enhances aerodynamic performance by redirecting airflow around the front of the vehicle and down the sides, rather than through it. The active grille shutter system will open or close automatically based upon engine coolant temperature and vehicle speed.
Underbody panels run stem to stern on the Dodge Dart, covering the majority of the lower vehicle from the front fascia to the rear fascia. Constructed of mold-in-color (MIC) black composite, the panels both enhance the aerodynamic performance and also block road noise.
Tire spats located forward of the front and rear tires were engineered to function as mini air dams and were optimized for shape and ground clearance, adding to the underbody efficiency in conjunction with the underbody panels.
In the design and engineering of the 2013 Dodge Dart, no aerodynamic detail was too small. Mirror design, the notch angle at the top of the header of the backlight to the trailing edge of the decklid and even the tail lamp applique shape and rear corners were all designed and engineered for optimal aero performance. An integrated decklid spoiler incorporates a trailing edge shape for cleaner airflow separation in the rear portion of the vehicle, which optimizes the air wake.
Class-leading Safety Features
The all-new 2013 Dodge Dart was engineered with 60 safety and security features to ensure driver's and passengers' peace of mind when traveling. The Dodge Dart starts with a strong foundation, a body that has a high-strength steel content of 68 percent, one of the highest in the industry, and then adds both active and passive safety features. Driver and passenger safety features include 10 standard airbags, which is unsurpassed in the segment and include: dual-stage adaptive venting front driver and passenger air bags, front-seat-mounted driver and passenger pelvic and thorax air bags, two rear-seat-mounted pelvic air bags, front driver and passenger knee air bags and all-row side-curtain air bags. The Dart also features a reactive head-restraint system; available Blind-spot Monitoring and Rear Cross Path Detection, three-point safety belts in all five seating positions; front driver and passenger dual seat belt pretensioners at the anchor and retractor positions and active load limiters. These features and more all work to protect passengers in the event of a crash. All three rear seat positions feature Lower Anchors and Tethers for CHildren (LATCH).
Additional standard safety features on the 2013 Dodge Dart include:
• Four-wheel, four-channel anti-lock disc brakes with electronic brake force distribution and traction control system on all models
• Brake Assist
• Brake-lock differential
• Ready Alert Braking
• Rainy Brake Support
• Hydraulic boost compensation
• Electronic stability control (four-channel active handling system ESC)
• Electronic Roll Mitigation
• Hill-start Assist
• Trailer-sway Control
• ParkView® rear backup camera
• ParkSense® rear park assist
State-of-the-art, Segment-exclusive Technology
The all-new 2013 Dodge Dart sports segment-leading technology and not-seen-in-the-segment features, enchanting and delighting drivers and passengers alike. Examples include the segment-exclusive floating island bezel, 8.4-inch Uconnect Touch Media Center, 7-inch Thin Film Transistor (TFT) customizable instrument cluster display and upscale ambient lighting.
The 2013 Dodge Dart is loaded with technology that improves driver and passenger comfort, as well as the performance of the car.
Customizable for the driver's own style
The 2013 Dodge Dart will be available in five trim levels: SE, SXT, Rallye, Limited and R/T. Each trim level has a style and value that will appeal to the diverse customer base interested in a compact sedan.
The all-new 2013 Dodge Dart will feature 12 exterior colors: Redline Red Pearl Coat, Header Orange Pearl Coat, Blue Streak Pearl Coat, True Blue Pearl Coat, Winter Chill Pearl Coat, Laguna Blue Clear Coat, Maximum Steel Metallic Clear Coat, Tungsten Metallic Clear Coat, Bright Silver Metallic Clear Coat, Citrus Peel Pearl Coat, Pitch Black Clear Coat and Bright White Clear Coat.
The Dart offers customers the choice of 14 interior color and trim combinations with seven interior color environments in cloth or leather fabric: Black denim, Black/Light Diesel Grey, Black/Light Frost Beige, Black/Ruby Red, Diesel Grey/Citrus Peel, Diesel Grey/Light Diesel Grey and Ceramic White/Light Diesel Grey.
In addition to the exterior color and interior trim options, the 2013 Dodge Dart offers seven wheel options, three engine options and three transmissions, as well as a slew of available exceptional or segment-leading features, including:
• World-class aerodynamics
• Class-exclusive integrated dual exhaust
• Class-exclusive "racetrack" LED taillamps
• Class-exclusive choice of either Hyper Black or polished wheels
• Class-exclusive 8.4-inch touchscreen Uconnect Touch Media Center with built-in radio, navigation, iPod control, climate controls, voice-activated blue tooth, SiriusXM Travel Link, weather updates and points of interest
• Class-exclusive 7-inch reconfigurable gauge cluster display that is easily customizable to the driver's taste. Choices include: digital and analog gauges, navigation turn-by-turn display, eco-meter, fuel economy, audio, phone, compass and temperature read outs
• Class-exclusive floating island bezel
• Class-exclusive heated steering wheel
• Class-exclusive in-seat storage
• Available 506-watt sound system
• Keyless Enter 'n Go with push-button start
• High-intensity discharge (HID) headlamps
• Dual-zone automatic temperature control with humidity sensor
• Unsurpassed 10 standard airbags
• ParkView® rear backup camera
• Blind-spot Monitoring
• Rear Cross Path Detection
• Best-in-class hip room and shoulder room
• The most diverse lineup of gasoline powertrains in the segment – three new engines and three transmissions:
• New Tigershark 16-valve 2.0-liter four-cylinder engine that generates an estimated 160 horsepower with the choice of a six-speed manual or six-speed automatic transmission
• The technologically advanced Fiat 1.4-liter MultiAir Intercooled Turbo producing an estimated 160 horsepower and an impressive 184 lb.-ft. of torque mated to either a six-speed manual or six-speed DDCT transmission.
• New powerful 2.4-liter Tigershark MultiAir 2 four-cylinder engine that produces an estimated 184 horsepower with the choice of a six-speed manual or six-speed automatic transmission.
Dodge also is giving drivers the opportunity to customize their vehicles, as Mopar will offer more than 150 customization options and themed packages specifically developed for the Dart.
 
2013 Dodge Dart
The all-new 2013 Dodge Dart will compete in the compact sedan segment, one of the largest segments in the automotive industry. The Dart is well-crafted and built with the features, technology and style today's compact car customers desire, positioning the Dart as a groundbreaking new car.
Dodge expects the Dart to appeal to a wide ranging group of new car buyers, from millenials to empty nesters. The millennial customer is a young professional most likely purchasing their first new car. They desire a car that is truly an expression of themselves, a car they can personalize and call their own. The millennial customer is connected with their friends, enjoys having a great time and is never without their phone. They grew up with technology and they indulge in the latest high-tech features.
The empty-nester customer is in the process of redefining their lifestyle, and they have more time for themselves than in their recent past. This customer typically knows what they like and purchases things and participates in activities that make them happy. The empty-nester appreciates what they have, leads an active lifestyle and is always up for a challenge. This customer knows a little bit about a lot of things and is interested in not only the way things work, but why. The empty-nester appreciates a good value, but doesn't want to sacrifice the level of quality and amenities they have worked hard to attain.
The all-new Dodge Dart has been engineered with great levels of refinement, craftsmanship and engaging driving dynamics. Consumers can get more information at www.Dodge.com/Dart.
About the Dodge Brand
For nearly 100 years, Dodge has defined passionate and innovative vehicles that stand apart in performance and in style. Building upon its rich heritage of muscle cars, racing technology and ingenious engineering, Dodge offers a full-line of cars, crossovers, minivans and SUVs built for top performance – from power off the line and handling in the corners, to high-quality vehicles that deliver unmatched versatility and excellent fuel efficiency. Only Dodge offers such innovative functionality combined with class-leading performance, exceptional value and distinctive design. With the all-new 2013 Dodge Dart, the all-new Dodge Charger paired with the ZF eight-speed transmission that achieves a class-leading 31 miles per gallon on the highway, the new Durango and the significantly revamped Grand Caravan – inventor of the minivan – Journey, Avenger and iconic Challenger, Dodge now has one of the youngest dealer showrooms in the United States.
2013 Mopar Dodge Dart
Dodge has announced a Mopar-tuned limited edition of its 2103 Dart small sedan, with performance upgrades, styling package, and wireless smartphone charging.
The car is instantly noticeable by its glossy black paint and pair of offset blue stripes running from front to rear. Its ground effect kit improves its sporty image, but also increases aerodynamics. Inside the car is a unique interior, including a custom Mopar Blue leather driver's seat, blue stitching on the leather-wrapped steering wheel and shift knob, sport pedals, and a floating island bezel with Mopar Blue paint and lighting.
The factory-tuned Dart will also receive a lowered suspension, revised steering calibration, sport-tuned exhaust, and premium brake kit with slotted rotors. This should mean to make the dart a snappier, more responsive handler, and improve its sonic profile. Only time and experience will tell how significant these improvements truly are, but its enough to keep our attention until we can get behind the wheel.
The Mopar Dart will use the 1.4-liter MultiAir intercooled turbo engine mated to a manual transmission. Production will be limited to 500 units.
Scroll down for more information in the press release.
Chrysler Group LLC Introduces New Mopar '13 Dodge Dart
Select Mopar parts and accessories outfit new Mopar '13 Dart
Performance upgrades include lowered sport suspension, revised steering calibration, sport-tuned exhaust, ground-effects kit, and premium brake kit with slotted rotors
Custom leather Mopar driver's seat
Industry-first wireless charging for smartphones
500 numbered units to be built at company's assembly plant in Belvidere, Ill.
Limited-edition vehicle to be displayed at Chicago Auto Show
Mopar '13 information to go live at Error! Hyperlink reference not valid. tomorrow, Friday, Feb. 1
January 31, 2013 , Auburn Hills, Mich. – Chrysler Group LLC today introduced the limited-edition Mopar '13 Dart, marking the fourth special-edition Mopar-badged vehicle created since the company partnered with Fiat S.p.A in 2009. The car will be shown at next week's Chicago Auto Show.
Building on the success of the Mopar '10 Challenger, Mopar '11 Charger and the Mopar '12 300, the limited-edition Mopar '13 Dart will be built and customized with Mopar performance parts and accessories. Production for a limited run of 500 units will begin this spring at the company's assembly plant in Belvidere, Ill.
"Our new Mopar '13 Dart will turn heads and stand out from the crowd," said Pietro Gorlier, President and CEO of Mopar, Chrysler Group's service, parts and customer-care brand. "For this special, limited-edition vehicle, we specifically kept the driver in mind as we added select Mopar parts and accessories."
Inspired by the tuner scene, the Mopar '13 Dart is designed for driving enthusiasts. Powered by a 1.4-liter MultiAir® intercooled turbo engine with a manual transmission, the Mopar '13 sports a gloss-black finish with a pair of car-length Mopar Blue stripes, which mirror each of the three previous Mopar-themed models.
For enhanced handling, upgrades include a performance steering-gear calibration, a 7 millimeter-lowered suspension and low-profile 40 aspect performance tires (225/40R18). From the racing scene, Mopar added a premium brake kit with slotted rotors. Engine breathing is enhanced with a performance-tuned exhaust and to further optimize aerodynamics and increase downforce, the custom Dart features Mopar's ground-effects kit, which includes a front-chin spoiler, one-piece deck-lid spoiler, as well as a unique and aggressively styled rear diffuser.
Unique exterior elements include a Mopar badge in the crosshair grille and gloss-black 18-inch wheels with a Mopar logo on the wheel center caps. The vehicle's unique interior, featuring a serialized plate, gives the driver a custom Mopar Blue leather seat with black accents. To keep the emphasis on the driver, the driver seat is Mopar Blue while all other seats are black with blue accent stitching. The centerpiece of the interior is a floating island bezel that is accented with Mopar Blue paint and lighting. The interior is further enhanced with rich details, including Mopar Blue accent thread, as well as light-black chrome and gloss-black elements.
Along with a Mopar serialized badge on the dash, the special-edition Mopar '13 includes industry-first wireless charging for smartphones, a blue-stitched leather-wrapped steering wheel with an identically garnished shifter knob, a bright sport-pedal kit, premium Mopar carpet floor mats, door-sill guards and an 8.4-inch navigation screen.
The limited-edition Mopar '13 Dart will be delivered to each customer with a personalized owner kit. Assembled in a custom-made black case, contents include a personalized plate with vehicle specifications, the date of manufacture and the unique identification number (of 500) of the vehicle. Along with a Mopar '13 brochure and other memorabilia, the kit will include a limited-edition sketch of the vehicle signed by Mark Trostle, Chrysler Group Chief Designer for the Mopar Brand.
Information on the Mopar '13 will be go live at http://www.dodge.com/en/2013//dart-mopar13/ tomorrow, Friday, Feb. 1
Mopar-first Features
Mopar has introduced numerous industry-first features including:
Vehicle-information apps: first to introduce smartphone vehicle-information applications, a new channel of communication with consumers
Electronic owner manuals: first to introduce traditional owner manuals in a DVD and brief user-guide format and first to offer complete vehicle-information kits in Spanish
Wi-Fi: first to offer customers the ability to make their vehicle a wireless hot spot
Wireless charging: first to introduce in-vehicle wireless charging for portable devices
Electronic Vehicle Tracking System (EVTS): first to market with a new interactive vehicle tracking device that sends owner a text when vehicle is driven too fast or too far based on pre-set parameters
2011 Mopar Challenger Drag Pak: first to introduce a 500-plus cubic-inch V-10 drag-race package car
Brand-specific customer care telephone lines: first to offer Sunday service hours for customers
WiTECH: first to support vehicle diagnosis and software updates leveraging off-the-shelf personal computers and a dedicated wireless tool network

About the Mopar Brand
Mopar is Chrysler Group LLC's service, parts and customer-care brand. With the creation of the Chrysler Group and Fiat S.p.A partnership, Mopar is extending its global reach, integrating service, parts and customer-care operations in order to enhance dealer and customer support worldwide. Combined with Fiat S.p.A, Mopar's global portfolio includes more than 500,000 parts and accessories that are distributed in more than 130 countries. Mopar is the source for all genuine parts and accessories for Chrysler Group and Fiat SpA brands.
Mopar parts are unique in that they are engineered with the same teams that create factory-authorized vehicle specifications for Chrysler Group and Fiat SpA vehicles — a direct connection that no other aftermarket parts company can provide. A complete list of Mopar accessories and performance parts is available at www.mopar.com.

More than 75 Years of Mopar
Mopar (a simple contraction of the words MOtor and PARts) was trademarked for antifreeze product in 1937. The Mopar brand made its mark in the 1960s — the muscle-car era. The Chrysler Corporation built race-ready Dodge and Plymouth "package cars" equipped with special high-performance parts. Mopar carried a line of "special parts" for super-stock drag racers and developed its racing parts division called Mopar Performance Parts to enhance speed and handling for both road and racing use. The brand has expanded to include technical service and customer support.
DRIVING IMPRESSIONS
—Austin, Texas
We recently recently completed a survey of the Winding Road readership, showing the following:
1. You guys actually buy cars. Year after year, statistics show that the average car buyer is fifty-something. That may not jibe with image presented by the throbbing-bicep-wielding, kayak toting, first-shavers that populate so many car commercials, but our advertisers dig it.
2. You generally remember how to drive cars equipped with manual transmissions. In fact, in many cases, you seem to actually prefer the experience to that of even the slickest auto/dual-clutch/CVT/other newness on the market.
3. Your attention spans are longer. You might, for instance, read an introduction to a new car review that doesn't even mention the car for the first 300 words or so.
4. You have years of buying/driving under your collective belt, have long memories, and therefore have a great deal of context with which to analyze new offerings in the car market. You probably also have some pretty strong opinions about the past, present, and future of small cars sold by Dodge, which brings us to our point.
Before the first sale is transacted, before the first set of tires roll off of a dealer's lot, and before we're finished writing and you're finished reading this review, Dodge has got an uphill battle ahead of it with its all-new Dart.
As you'll read, the fierceness of this battle doesn't really have anything to do with the Dart as a vehicle—the car is, in simple terms, as good as or better than just about everything in the compact car segment right now. But, it has everything to do with the sheer mass of bad small Dodges that come before it. Even if you've got positive memories of the original Dart, a list of motive names like Aspen, Aries, Omni, Shadow, Neon, and Caliber is likely to evoke more pathos than passion in you.
Now, we know this is hard, old dog, but forget about all of that.
Not only is the Dart better than the kinsmen that barely helped Dodge make it to 2013 as a still-going concern, but it's actually a fair bit better to drive than the sexy-as-hell Alfa Romeo on which it is broadly based. (Your author, who spent his honeymoon
rocking a Giulietta
around Spain and Portugal, is particularly well placed to make this observation, for the record.) Not good enough? The Dart is far more entertaining than the million-something cars that were sold last year with names like Civic, Sentra, Corolla, and Elantra on the decklid. We'd argue that it's better looking than most of those, too, but will leave it for you to make up your mind on that front.
Let's start—as is ever appropriate in Mopar products—with the powertrain. While we drove cars fitted with Dodge's new 2.0-liter "Tigershark" four-cylinder engine and six-speed automatic— and finding that combination generally pleasant—the clear gem for enthusiasts is the turbocharged 1.4-liter/six-speed manual combo that can be had with SE, SXT, and Rallye trim levels.
The 1.4 motor is familiar to us from its use in Fiat's 500 Abarth, though for Dart duty it gets an extra 14 pound-feet of torque, for a total of 184, to go with its 160 horsepower. Dart is obviously bigger and heavier than the razor-sharp Fiat, but the easily accessible turbocharged torque is still hearty enough to afford the car borderline exciting accelerative properties. Row through the nice six-speed manual transmission all you want—light, longish throws with good clutch feel—but you'll be hard pressed to find a spot on the torque band that will leave you flat when you need to move.
Dodge is giving its most overtly sporting Dart, the R/T, exclusive access to the 2.4-liter version of the Tigershark engine, and a subsequent hat-tip to that configuration as the "top" of the range. There were no R/T models available for us to test, but we want to believe that there's still a strong argument to be made for the tinier motor as the better of the two overall. Again, with the manual trans, we found the turbo Dart to far more exciting than, for instance, the blown Chevy Cruze, but less palpitating than the pocket-rocket class of turbos headlined by the Mini Cooper S (arguably). It's not a "fuel economy" application of turbocharging, per se, but it's not a complete performance play, either. In short: it's interesting.
This blending of the performance/mainstream message continues in the Dart cabin, where, depending on your tastes, you can find furniture that wouldn't look out of place in a Hyundai Elantra, or that which would make a typical Honda Civic Si feel dowdy. As a general rule, the dark-finish cabins were much more dramatic and showy than the lighter colors.
All models share some things that are uniquely pleasing: very sculptural seats (which provide remarkably good support in hard driving), a lovely instrument panel with a "floating" bezel that feels downright high-end, contrast stitching in whimsical colors (a sort of neon green for the tan seats—better than it sounds, we promise), and hidey-holes all over the place (a super-deep glovebox, storage bin under the passenger seat cushion, pockets on both sides of the center stack, etc.). Surface finishes and textures, overall fit, and perceived quality were pretty good, too. To be fair, after driving just about every car in this segment, at every trim level, the biggest difference for Dodge here is a styling one—nothing felt of wildly better quality than you'd find in any other compact competitor. Clearly the strong styling statement will draw a lot of customers in, though it's fair to speculate that it'll push just as many back into the herd.
Unlike the rather polarizing interior and exterior design, and fun turbo powertrain, the ride and handling profile of the Dart is pretty much "industry standard." There appeared to be roughly average levels for the following traits: body roll and grip in hard cornering, overall ride compliance over rough surfaces, quickness of steering response, overall feel and feedback from the steering wheel, nose-heavy balance over a complex of corners, braking power and feel, and quietness in the cabin.
That's a lot of "average" behavior in one fell swoop, we'll grant you, but if you consider that most similarly sized front-wheel-drive vehicles handle in roughly the same manner, you'll understand when we say that it's no bad thing that this Dart mostly just follows suit.
To add a bit more detail and context, we'd put the Dart in with the top of the class (Civic, Mazda3) in terms of steering response, with perhaps a bit more weight in the rack than either of those. The Dodge is slightly worse in terms of noise, vibration, and harshness than is the Hyundai Elantra, but makes up for it by feeling more lively in lively driving. The closest competitor, overall, is almost certainly Ford's new Focus, with the Dart being ever-so-much more involving to the driver, and the Focus feeling slightly more refined.
Fuel economy isn't much help for differentiation, either, as Dart's 39 miles per gallon highway figure (for the 1.4) is roughly in line with the high 30s/low 40s number that every new compact car now can boast of.
All this closeness with the rest of the competition, with respectful (gleeful) notice paid to the fun factor from the turbo engine, gets to the heart of the problem with this new Dart. With the small car pedigree from Dodge being so weak, and the competition so consistent, the biggest positive differentiator that the Dart can manage is one of styling. That's a good start, but is it enough to lure customers out of their next Civic? Are the looks good enough to garner conquest customers from brands and nameplates that they've been buying for decades? Is Dart's fashion sense the right flavor for the very important woman buyer in the compact segment? It's hard to say.
We can't predict the future. We can say that we like driving this car—as much or better than anything else in the same orbit in terms of size, performance, and price. If time bears out that Dodge has fixed and/or made great strides in terms of build quality, and that it doesn't ruin the long-term value of the car with a deluge of fleet sales, we'd say that this is a car worth owning. It might even be that this Dart marks the start of a turnaround for Dodge small cars. Those are pretty big ifs, we'll grant you, but from the bottom of our hearts we'll say that we hope that the American-Italian car makes good on the promise it showed over our test.
What's more, we predict that the Dart has got bigger and better things in store for the enthusiast driver of small cars. SRT will have its way with this one, and the results promise to be invigorating, to say the least.
VS: Ford Focus
The Focus is right on track with the Dart in terms of price, but it lags behind in interior volume, torque (down almost 40 pound-feet), and fuel economy if we're comparing manual-transmission cars. The Focus has it over Dart in terms of ride quality and in-cabin quiet, but only by a hair.
For the enthusiast driver, the new Dodge product is the obvious winner. A more exciting power plant with a far better-to-use transmission makes the Dart the better car to push on your favorite road.
Those seeking true versatility will probably opt for the Focus though, as it's available hatchback can't be had with the Dart platform.
VS: Chevrolet Cruze
At first blush, Cruze versus Dart seems like a naturally great comparison test. Both cars offer 1.4-liter turbocharged engines. Both have nice six-speed gearboxes. Both offer subtle and spunky handling. And, if we're honest, we're interested enough to want to drive these two back to back.
There are more than a few knocks on the Chevy when you really dive in, though. For starters, the Cruze's 1.4 only makes 138 horsepower and 148 pound-feet of torque, hugely shy of the Dart on both fronts. It doesn't gain much of an mpg boost for its lack of power either, as it's actually less efficient in both city and highway figures (26/38 mpg for the Cruze, 29/39 for the Dart). Cruze 1LT with the turbo motor is $400 less than the Dart Rallye to start, but has a lot less content for that price.
2013 Dodge Dart Rallye 1.4 6MT
Engine: Turbocharged inline-4, 1.4 liters, 16v
Output: 160 hp/184 lb-ft
Weight: 3191 lb
Fuel Economy, City/Hwy: 27/39 mpg
Base Price: $18,995
On Sale: June 2012
***
2013 Dodge Dart Limited 2.0
Seyth's experience with the Dart in 1.4-liter turbo manual form covers much of what is relevant for the 2.0-liter normally aspirated car. We'll spend our time on a few differences, but first let us reinforce key points about this car:
1. The styling is one big deal here, because the car drives pretty well (and we can't predict reliability with one or two samples) within the context that cars in this class are on the bland side dynamically.
2. We like the exterior look and so did many of our consumer panelists when they looked at it (the Dart isn't radical enough to be a head-turner).
3. Similarly, the interior design is better than that of many competitors. The materials aren't quite up to the level of the design, but it is still better than having the mediocre materials and design that many players in this price range offer.
4. The Dodge brand is not a strength, in the minds of some people, to put it mildly. That is too bad in a way, because the car is exactly what Dodge needs to change people's feelings.
Now, the 2.0-liter engine, which has the same 160 horsepower as the 1.4-liter turbo but 36 pound-feet less torque, is almost bound to deliver a less inspirational total package. You generally can't reduce power and make drivers happier, though it can happen. But with the Dart, the 2.0L is definitely on the tepid side. The automatic may not help either, but since it is the choice almost all buyers will opt for, it makes sense simply to view it as part of the deal. The Dart doesn't seem outright slow, but it isn't a sports sedan either. The bigger aspect from the perspective of the target market is that the low torque and the automatic gearbox add up to a car that whose throttle is a bit hard to modulate smoothly. Not a huge issue, but it is part of the character of the car you may want to assess on a test drive.
Fuel economy is perhaps the upside of this engine because it is pretty decent. We averaged a little over 30 mpg in a mix of city and suburban driving. The EPA rates the Dart Limited at 25/36/29 miles per gallon city/highway/combined at that seems very believable.
Finally, value is in the wallet of the beholder. Our loaded tester came in at $24,965 with delivery, which seems high until we remembered it had a slew of luxury features including leather, navigation, blind spot information, keyless start, heated seats, rearview camera, fancy wheels, SiriusXM. The most basic Dart rolls out of the showroom just under $17K, so there is some pricing flexibility based on configuration.
—Tom Martin
2013 Dodge Dart Limited 2.0 6AT
Engine: Inline-4, 2.0 liters, 16v
Output: 160 hp/148 lb-ft
Weight: 3242 lb
Fuel Economy, City/Hwy: 25/36 mpg
Base Price: $19,999
Price As Tested: $24,965
PHOTOS
VIDEO