Review: 2013 BMW Alpina B7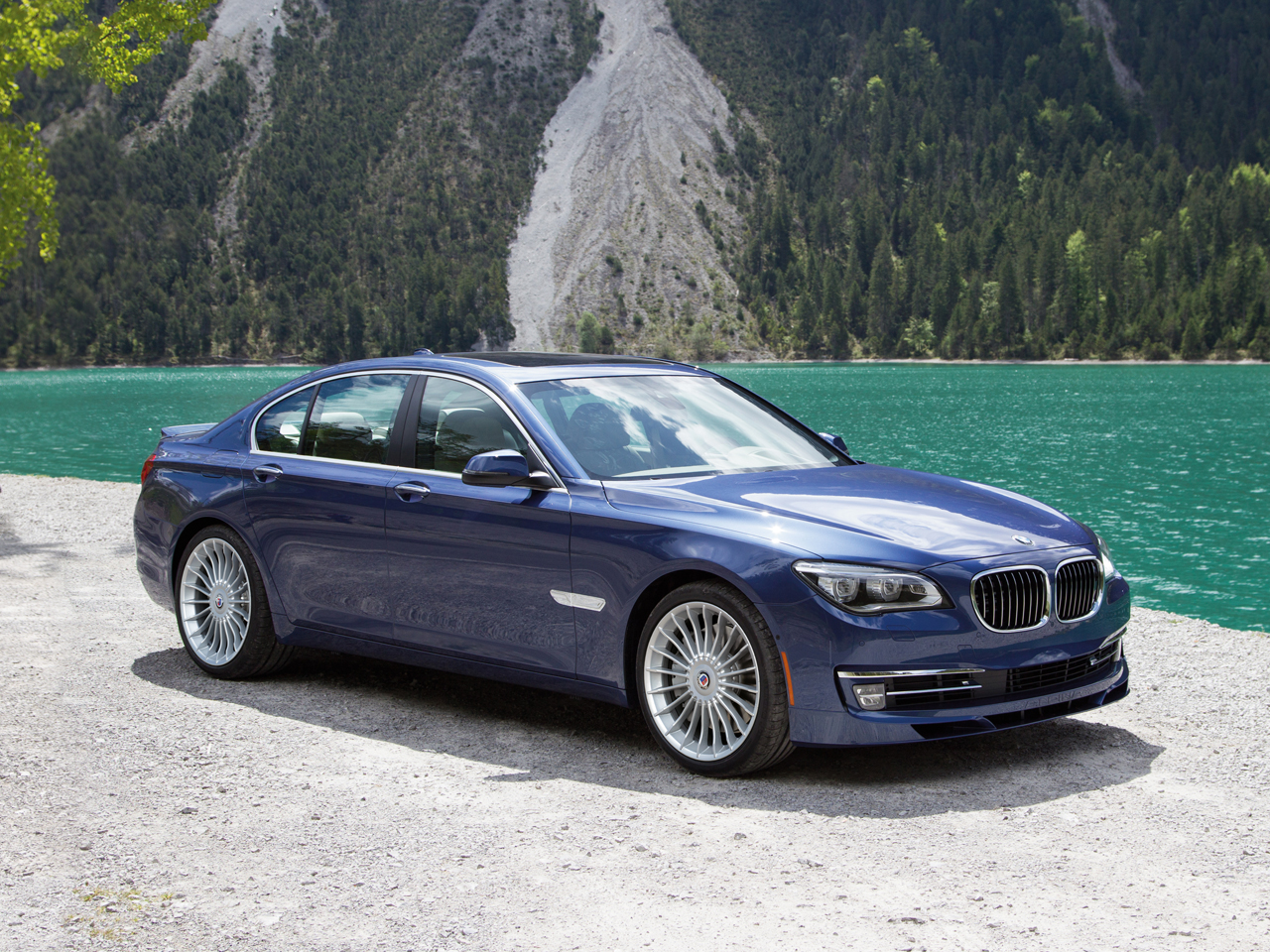 This is the Master Landing Page for the BMW Alpina B7. From now on, as we further review this car, we will be updating this page with whatever fresh content we create. Future drive reviews, updated specifications, videos, and other relevant information will all be found right here, in one convenient spot.
SUMMARY
Along with the mid-cycle refresh for the BMW 7-Series range, the German manufacturer has upgraded the sportier and much rarer Alpina B7. The B7 benefits from the same engine upgrades that the BMW 750i/Li received. Thanks to BMW's Valvetronic technology, power is up from 500 to 540 horsepower. Torque sees a healthy bump as well, going from 516 pound-feet to 538 pound-feet.
The result is a luxury sedan that will sprint to 60 miles per hour in 4.3 to 4.4 seconds (depending on wheelbase and whether the xDrive all-wheel-drive system is fitted). Top speed sits at a blistering 194 miles per hour, which represents a 19-mph improvement over the 2012 Alpina.
Prices start at $127,600 for a rear-drive, short-wheelbase B7. Adding xDrive will tack on a modest $3000, while the long-wheelbase model will add $3900 to the base price. A xDrive-equipped, LWB Alpina will start at $134,500.
Please scroll down for the official press release from BMW.
The 2013 BMW ALPINA B7 super-high performance luxury sedan with enhanced features, efficiency, and individuality for discriminating customers.
Woodcliff Lake, NJ – June 15, 2012…. Today, BMW announced updates to the second generation of the successful BMW ALPINA B7 super-high performance luxury sedan with more performance, fresh design features, and improved efficiency. The new B7 is slated for a North American debut at the historic Pebble Beach Concours d'Elegance in August and will go on-sale immediately thereafter. Pricing will be $127,600 (B7 Standard Wheelbase), $130,600 (B7 SWB with xDrive), $131,500 (B7 Long Wheelbase), and $134,500 (B7 LWB with xDrive).
The new BMW ALPINA B7 has been enhanced in-line with updates to the 2013 BMW 7 Series Sedans including more power, more performance, and more efficiency. The new B7 features 40 additional horsepower (now rated 540 hp) and 22 lb-ft more torque (up to 538 from 516 lb-ft) thanks to the addition of BMW's Valvetronic throttle-less intake technology and a new ALPINA 8- speed high performance transmission. Top speed is now a fierce 194 mph (drag-limited, 193 mph with xDrive), up from the previous 175 mph. Acceleration drops into the low-mid-4-second range for all variants (4.3-4.4 seconds). The BMW ALPINA B7 Sedan remains the benchmark in terms of luxurious performance, chassis technology, and hand-finished exclusivity.
Each variant of the updated BMW ALPINA B7 (including Standard Wheelbase, Long Wheelbase, sDrive, and xDrive) will arrive with over 30 new parts which enhance the design and frontal aerodynamics to more effectively channel the cooling air required to manage the increased power output. New BMW kidney grilles, updated Xenon Adaptive headlights, LED front fog lights, and updated tail lights are also included. Other now-standard features will include ceramic secondary controls, engine Automatic Start-Stop, and the Active protection system. Optionally, the B7 Sedan will offer Full LED Headlights, Bang & Olufsen Surround Sound System, new exterior colors and interior upholstery choices in-line with the 7 Series update. Renewed BMW individual color and trim offerings complete the package. The appearance remains unmistakable on signature 21" ALPINA Classic 20-spoke wheels and stunning ALPINA Blue Metallic paint.
The BMW ALPINA B7 is available as a special order vehicle with capacity-limited production underscoring its exclusivity. The B7's body is manufactured in the BMW 7 Series factory (Plant Dingolfing) and hand-finished with the remaining ALPINA components at the ALPINA factory in Buchloe, Germany. This production sequence increases the production schedule by approximately two weeks. European Delivery at the BMW Welt delivery center is available for the BMW ALPINA B7.
SPECIFICATIONS
2013 BMW Alpina B7
Engine: Biturbocharged V-8, 4.4 liters, 32v
Output: 540 hp/538 lb-ft
0-60 MPH: 4.4 sec
Top Speed: 194 mph
Weight: 4655 lb
Fuel Economy, City/Hwy: 16/24 mpg (est)
Base Price: $128, 495
On Sale: Now (special order only)
DRIVE IMPRESSIONS
(photo credit: Chris Tedesco)
(video credit: Chris Amos)
—Monterey, California
The refreshed, 2013 version of the BMW 7-Series is important news, to be sure. But the significant changes to the exterior and interior appearance, powertrain, and iDrive software are really only "exciting" for those people who've been holding their 7er purchase until the new model year—sort of an iPhone 4S announcement, if you take our meaning.
Of course, the newly advanced full-size BMW has brought along with it one piece of hotness, too. There's a new Alpina B7 for 2013 and it's a car that's worth getting excited about, no matter which version of infotainment software it comes calling with.
Alpina has been in the business of turning out hotted-up Bimmers for half of a century now. The tuning-house-cum-racing-outfit has maintained its independence throughout that time, though, never becoming a slightly different flavor of M car, for instance. That independence, and subsequent spirit, is as clear in this new B7 as it has been on Alpinas we've tested in the past. There is a character and feeling to this 7-Series that is, at once, different than what we'd expect from a theoretical M7, and far deeper than a set of cool wheels and blue gauges. (For the record—we do dig both of those things.)
To put it succinctly: the steering, handling, power delivery, and controls all set the B7 apart from other versions of the sedan, and help to create a car that is both exciting to drive and very refined.
One of the more remarkable features, given the size, presence, and market placement of this car, is the speed with which its engine spools up when one gives it the full boot. It may be true that the large-scale turbocharging of BMW's current lineup takes some of the uniqueness away from the Alpina's 4.4-liter biturbo V-8 mill, but the overall experience of the powertrain is still largely removed from that of other 7-Series. Power delivery is punchy from a standstill, but feels really exceptional when called up at around 3000 rpm. Just a toe-tap of throttle at those middle engine speeds will send the Alpina moving forward in a passable impression of a new M5, for instance.
The Alpina effort doesn't stoop to roaring for attention, however. The engine/exhaust note feels carefully tuned to offer just a moment of roar at the very top of the revs, while spending most of its time as a mere whisper of menace and potential. The B7 doesn't blat and howl in deep tones à la the M cars' more familiar song, instead offering a higher pitched tune of fast-spinning turbos and urgent exhaust that reminds us that its time to shift up. There's a little more to listen to than with your bog standard 7er, but Alpina stays fairly true to the mission of an executive car that just happens to be as fast as stink.
Even the operation of the car's eight-speed automatic transmission straddles the line between opulence and enthusiasm. Alpina has fitted the car with shift-buttons on the back of its thin-rimmed leather steering wheel—units that are about the size and shape of gumdrops, and offer a satisfying "click" when depressed. In just about any other application we'd complain about the relative difficulty in reaching/using these micro shift buttons, but their delicate size and mechanical feel are too iconoclastic for us to diss. Actual shift speed/response is decently quick, if a world removed from the action of BMW's seven-speed DCT.
Steering effort itself is light, and a bit thick, and only quick when compared with other cars of this size (which is fair). We'd put it up there with our favorites in this class (arguably a Jaguar XJ of one kind or another), though it's certainly not transcendent, nor does it redefine enthusiastic steering for the 7-Series community.
Driven in a normal manner, the B7 doesn't actually feel like a huge departure from a typical 750i. But up the pace, either on a wide-open stretch of bending back road, or on a track like Laguna Seca, and the added power and grip afforded by Alpina become quickly obvious. The wide rubber shod on those huge wheels offers a high level of stickiness at high speeds, and the car will change directions with a quickness that's atypical of this vehicle class. Those high-performance shoes, in concert with all 540 horsepower, will propel the B7 to a top-speed of 194 miles per hour, too. That speed is, well, that's damn impressive. We don't usually do a double take when maximum speeds are tossed out, but creeping up on 200 mph in an executive limo is pretty badass, we'll admit.
By the spec sheet, and in real life, this Alpina is one impressive machine. The car operates in an atmosphere that is quite rare, and arguably pretty desirable for the car guy that has one of everything already. Compared with BMW's own new M5 and M6, for instance, even this refreshed interior treatment and suite of technology don't feel completely cutting edge, though. Certainly every finger brush of leather and metal is met with a satisfying feeling of quality, but anyone who sits in a 2013 M5 before testing out the B7 will feel as though they're getting an older generation of vehicle (of course, they are).
The ultra-high performance, overall size, and $128,000 price tag put the B7 in competition with the likes of the Jaguar XJ Supersport, and Mercedes-Benz S63 AMG. The M-B offers similar overall power and speed, for an extra twelve grand or so, while Jag's ultimate supercharged XJ is just a bit lower of output, as well as being less expensive at around $113,000. We'd say that, while you won't make a misstep by buying any one of these beautiful and ultra-quick sedans, the Alpina does offer some level of exclusivity and mystique that the competition don't totally match. Maserati's Quattroporte might be a better comparison in terms of a high-character car, but it can hardly compete with the Alpina in the critical areas of fit, finish, quality, and overall performance.
Before this 2013 model year has run its course, Alpina will have found homes for just a few hundred examples of the B7 in North America. Those lucky enough to posses the combination of cash and car-geekery to appreciate what a tremendously capable and unique car the Alpina B7 is, will be part of a happy tribe, we're sure.
(photo credit: Chris Amos)
—Oakland, Michigan
Like a primitive mating ritual, a car displays status. Nowhere is that more true than in the world of executive limos. After all, what would arriving to a meeting in the back of a Rolls-Royce Phantom do for your confidence? Now replace the Phantom with a Hyundai Equus. How would you feel then?
So yes, cars equal status. But what factors in to a car's status? Of course, rarity. A Bentley Flying Spur equals a higher status than a Lexus LS. Performance and looks play a roll as well. And naturally there's luxury. It's this mystic blend of factors that make a Mercedes-Benz S65 AMG more desirable than a bog-standard S550.
BMW is uniquely situated with its 7-Series range. It's got the low end covered with the excellent, six-cylinder 7-Series. The mid-range is handled by the V-8 7, while the top end is managed by the 12-cylinder 760Li. In between, there are decisions to be made about rear- or all-wheel drive, and long or short wheelbase. Options are available, with everything from massaging rear seats to air-conditioned front seats to DVD players in the headrests.
Dare we say the only problem with the 7-Series is that it isn't rare enough? Enter, the Alpina B7.
We first drove the Alpina B7 on the legendary Mazda Raceway Laguna Seca. Former Editor-In-Chief Seyth Miersma gave it a solid test and video guru Chris Amos was there to get a video as the Alpina circled the track. That model, a rear-drive, short-wheelbase car, was a surprising track star. What wasn't mentioned, though, was that the Alpina treatment is available on any V-8-powered 7-Series.
The B7 is available with all the same accouterments, drivetrain choices, and wheelbase lengths as the 750i/Li, but offers up an extra helping of power. We'll talk about that in a second, but more importantly, the Alpina is exceedingly rare. BMW only brings in about 500 to North America each year, and it's the only vehicle on the continent sold under the Alpina name. If all your buddies are driving 750s, the Alpina is the vehicle for one-upmanship.
The exterior has been heavily revised, with sportier front and rear fascias. A set of four meaty exhaust pipes sticks out of the rear bodywork, making it clear that the Alpina means business. The wheels, 19-inchers, were rather polarizing. People either loved them or hated them. Inside, a new Alpina steering wheel features fine leather and beautiful stitching. It's really the one part of the cabin that feels decidedly bespoke.
If you're a chauffer and your boss wants an Alpina, be happy. It is stupendously fast, this. With 540 horsepower and 538 pound-feet of torque, the Alpina is every bit the sports sedan it purports to be. Power is up from 445 horsepower and 480 pound-feet of torque over the standard 750i/Li.
Torque is abundant in the lower part of the rev range, and we were pleased to see that the extra power didn't result in any increase in turbo lag from the 4.4-liter, biturbocharged V-8. The B7 was especially impressive on the freeway. It's very capable of getting its driver pulled over. Burying the throttle, you can watch the HUD-mounted speedometer quickly jump into the triple digits, and soar past 120 miles per hour by the time you jump on the brakes. There's no question that this is a vehicle that would be happiest on the unlimited sections of the autobahn.
The transmission on this big sedan is an eight-speed automatic, built by German manufacturer ZF. While it's the same trans found on the standard 7-Series, it features Alpina's Switch-Tronic manual mode, which uses a pair of buttons on the back of the steering wheel for upshifts and downshifts. Sure, upshifts feel slightly faster in Sport and Sport +, but it's not a transformative difference over standard 750s we've driven.
Unlike other sports sedans the ride is anything but punishing. It's planted, very nearly glued, to the road. Even with the drive mode set in Comfort +, there's very little vertical motion. Impacts are smoothed out and are rarely felt from the driver's seat. Road noise is a bit more noticeable than we'd predicted, but this could be down to the snow tires more than anything else.
Despite being so comfortable, a simple hit of a button can turn the Alpina into a sharp handling sports sedan. Sport and Sport + tighten up the ride considerably, generating more road feel. Steering feel is pretty nonexistent across the board, though. There's still a very strong bias towards the front, and this isn't helped by the addition of BMW's xDrive all-wheel-drive system. In fact, we'd argue the 7-Series loses a level of agility by optioning for the all-wheel-drive model. It's not meant to be an agile car in the first place, so any loss in maneuverability is more noticeable than normal.
Still, there are more than enough practical benefits to convince us to order xDrive. In the inclement weather we were testing in, the Alpina's power felt far more manageable. The extra security afforded by xDrive meant we weren't struggling to lay power down in snowy subdivisions and roads. It may take away from the overall driving experience, but it adds some serious peace of mind. Of course, the fact that adding xDrive cuts a tenth-of-a-second off the Alpina's time to 62 miles per hour certainly helps (4.5 seconds for xDrive and 4.6 for rear-drive).
In back, it's every bit as lavish as we'd expect. Our tester was fitted with the Luxury Rear Seating Package for an extra $3700, which added on vented rear seats (in addition to the standard heated jobs), as well as a massaging function. The leather seats feel of a high quality, but we aren't sure they match the softness of the Designo line from Mercedes-Benz. With the extra length afforded by the longer wheelbase, spending time in the back of the Alpina is certainly no bad thing.
There are problems, though. This car starts at $134,500, which puts it right in the crosshairs of a sportier competitor, the Mercedes-Benz S63 AMG.
The S63 starts at $140,000, or about $5500 more than our tester, yet its 5.5-liter, biturbocharged V-8 delivers 52 extra pound-feet of torque at the cost of just four horsepower. Moreover, if you spend an extra $7300 on the Mercedes (resulting in a price that just barely eclipses our as-tested price of $146,845), you can add the AMG Development package, which brings the power up to 563 ponies and 664 pound-feet of torque. Of course, you're still missing a fair few options (great options like the Bang & Olufsen stereo and heated steering wheel), but if having the fastest limo on the block is what's important then the S63 AMG can accommodate you for just a little bit more money.
We'd also have a hard time purchasing the Alpina over the excellent BMW 760Li. The V-12-powered 7er starts at $140,700, and can be optioned similarly for just a bit more money. We'd only really consider this as an option if you wanted the B7's performance but weren't crazy about the Alpina styling treatment.
Still, the thing the Alpina has going for it is exclusivity. You're extremely unlikely to come across another one in your travels. The S63 AMG might eclipse its performance, but purchasing an Alpina B7 puts you behind the wheel of an autobahn rocket that is as rare as new vehicles come. And in the world of executive limos, standing out is sometimes all that's necessary.
GALLERIES
VIDEOS
2013 BMW Alpina B7 xDrive (By Chris Amos)