Raced: Subaru AWD Put To The Test, Rally-Style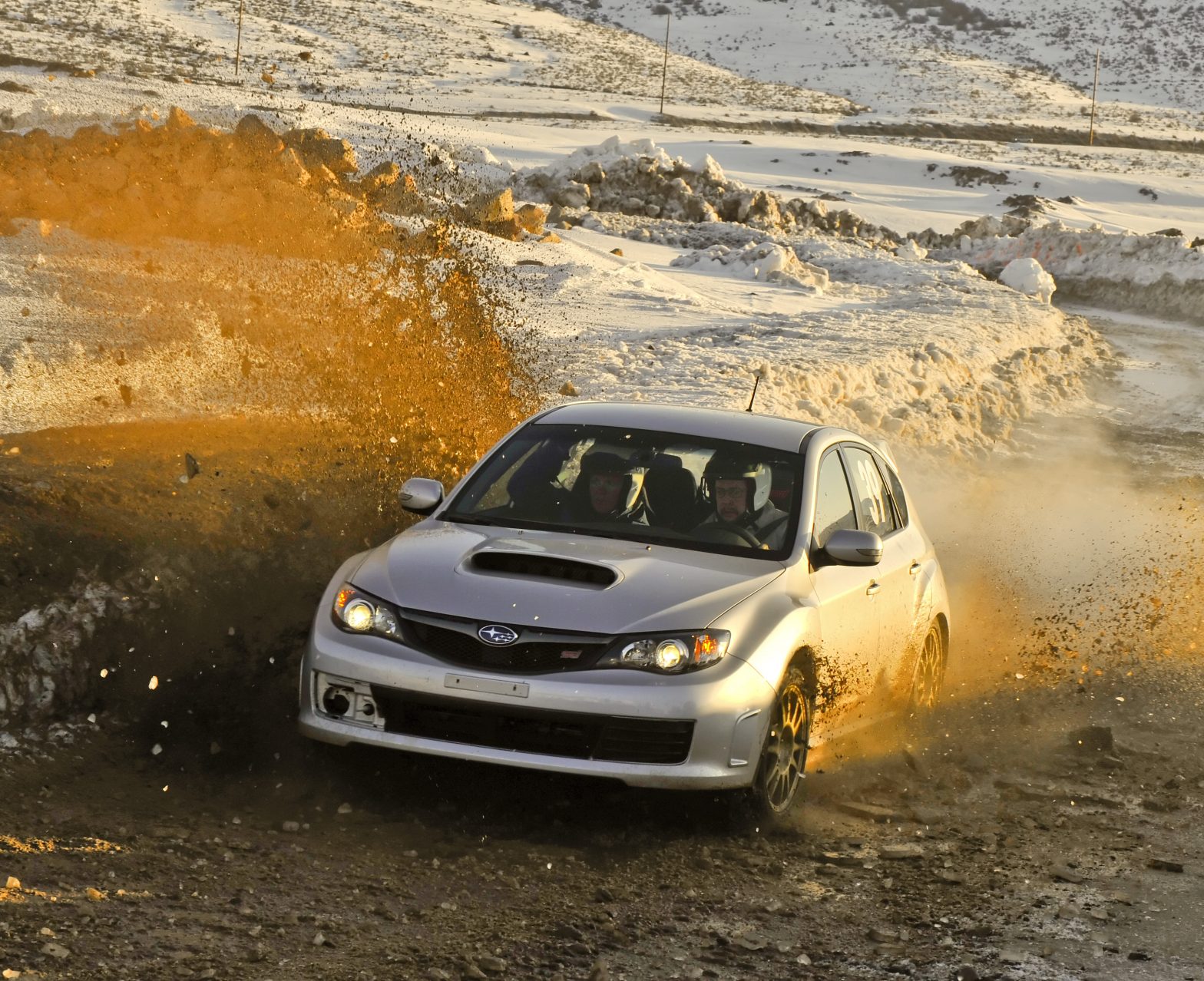 —Park City, Utah
Subaru invited us out to Utah for an in-depth, hands-on session with two of the company's all-wheel-drive systems. Not being the kind to turn down the chance to drive the Impreza WRX and Impreza WRX STi on a de facto rally stage, we politely accepted.
Subaru's family of Symmetrical All-Wheel Drive conveniently fit into the full-time AWD niche. Unlike so many vehicles with all-wheel drive, Subarus are engineered from the outset to be AWD. It's not an add on. (Get a whole lot more info about AWD systems in the current issue of Winding Road, here.)
Mainstream Subarus equipped with automatic gearboxes are the most conventional (tame). Their performance is biased toward on-road safety, not performance. The normal torque split percentage is 90/10 front to rear, but this varies with traction demands. However, given the performance edge of the Utah event, we didn't drive any two-pedal cars.
Our evaluation vehicles were WRX and WRX STi models with manual gearboxes. Subaru engineers peg these drivers as more gung-ho.
We were out first in the WRX. Its AWD system features a center differential with a limited slip viscous coupling. The starting torque split is 50/50.
On a 700-meter track Subaru prepared for the event, the WRX felt rock-solid, despite the driving surface comprised of snow, ice, gravel and much mud. Traction for acceleration wasn't the issue, slowing and rounding corners was.
To help journalists drive more quickly in these conditions, Norwegian World Rally Championship driver, John Haugland, was on hand to show us the proper racing line. The affable and almost always smiling Norseman suggested driving deeply into corners and being on the throttle whenever a change in direction needed to be accomplished. In tight corners, a dose of e-brake encouraged the car to rotate.
Practicing this technique ended up in nearly every test car suffering minor body damage. One journalist managed to misjudge a higher speed chicane and bounced laterally into a snow wall, setting off the side-curtain airbags.
Stepping up to the STi, the increase in available technology changed everything. The ultimate WRX includes a limited-slip center differential with a starting torque bias F/R of 41/49. To help ensure that the car's 305 horsepower actually results in acceleration, both axles also have limited-slip diffs.
In addition to manually locking the center differential at a 50/50 torque split, the STi's DCCD (Driver Controlled Center Differential) offers a multitude of alternatives for torque distribution.
Drivers with a deft touch can tune the STi to perform best on whatever surface they happen be on. With Haugland riding shotgun, he managed the DCCD for me on several laps. With the center differential locked, the STi felt like a stable WRX with another 40 horsepower. As he switched the SI-Drive selector into the Sport Intelligent mode, the car felt as if it were a bronco loosed from a pen. It immediately felt faster and more tossable.
After some more laps, Haugland recounted that you can feel the results of changing the DCCD on paved surfaces as well as on rally-like segments. He has his favorites settings for snow, mud, sand, gravel and paved surfaces. Anybody who owns an STi want to chime in with what works for you?