Quick Review: One Year Later With The Hyundai Veloster N — Still A Riot?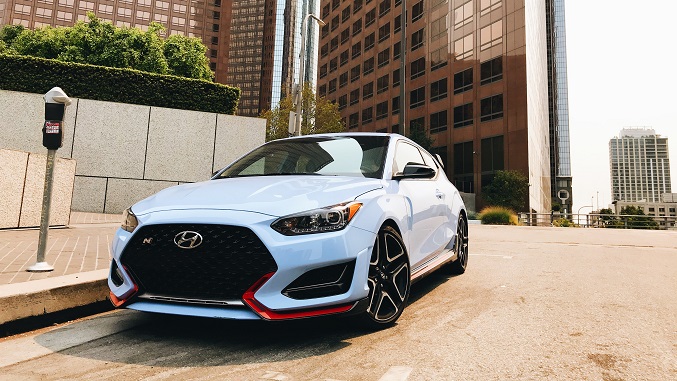 All photos by Peter Nelson
Continuing the theme of modern hot hatches that pack a ton of performance for the price, we recently had a go in a 2020 Hyundai Veloster N, about one year after we gave a 2019 model a thorough review.
Nothing's really changed within its clever four-door-hatch bodyshell over the 2019 model, we just happened to be offered it when we reached out to Hyundai PR for current press loan availability in Southern California. "Would you like the Veloster N… again?" How could we say no? Plus, we didn't get the chance to film it for our YouTube Channel during our first go around; check out our recently-posted video down below.
Again, nothing's changed, but we have some thoughts and reflections after driving a wide variety of different performance platforms during the bulk of 2020.
First and foremost: the steering, handling, and brakes were still great. When set to N and Sport modes, everything firmed up nicely and felt very sharp while cutting through twisty canyon roads. N Mode was especially sharp, in fact a tad too sharp at times; we quickly programmed N Custom mode to keep everything cranked up to eleven, but keep the suspension in Sport mode. Grip was excellent and very confidence-inspiring: off-camber corners weren't much of an issue, as even with traction control turned off, the differential and grippy, N-specific Pirelli P Zeroes kept everything nice and tidy, as long as we had the technical steering and throttle/brake inputs to match. Every benefit of a good FWD chassis was magnified: turn-in under braking was great, the rear-end wiggled a tad with a touch of throttle-lift, and it felt planted through both tight and long sweepers.
We still enjoyed its power curve as well, and swear it felt like it had more than 275 horsepower coming out of its big, dual exhaust tips. Hyundai N is largely staffed by former BMW M; perhaps they're continuing the old BMW trick of under-reporting horsepower, or reporting wheel-horsepower instead of crank-horsepower? Regardless, its wild power curve and high redline kept us giggling up until a few minutes before we gave the keys back. Revving it out and hearing its loud factory exhaust scream, crackle, and pop as we blasted through otherwise-boring Orange County streets really made us wish we had another week with it.
However, one big thing we instantly noticed that we didn't pick up on in 2019: the interior was so spacious and tall-person-friendly compared to pretty much every other performance car out there that isn't an F80 M3 or Civic Type R. Headroom passed the Arai helmet test with very little seat adjustment, which this 6'-3" author genuinely appreciated. Well, we still found the rear seat to be a bit cramped, but honestly who cares? Drop the 60/40 rear folding seat and fit in a set of track wheels, a jack, and a big bin of trackday supplies.
Elsewhere in the interior, we were a bit bummed that this high-output Hyundai didn't have any convenience or driver-aid tech like lane keeping assistance, blind spot monitoring, radar cruise control, etc. However, for its sub-$30,000 MSRP (we've seen deals for even less, including the optional Performance Package tacked on; word on the street its receiving a refresh in 2021) we aren't really complaining. It's still a bargain.
The Veloster N is still a riot and one of our top choices for a fun, do-almost-everything hot hatch. Its direct competitor on the street and track, the 2020 Honda Civic Type R, is sharper, more refined, faster, has more grip, and is therefore technically better, but it doesn't possess the same level of moxie or attitude as the N. We thoroughly understand after diving deep into the specs why the Type R is around $8,000 more, but is it truly worth it from a pure fun-to-drive standpoint? Picking the one we'd own is a super hard call; could we just have both?