Quick Review: 2020 Toyota C-HR — Scrappy Hatchback on Stilts?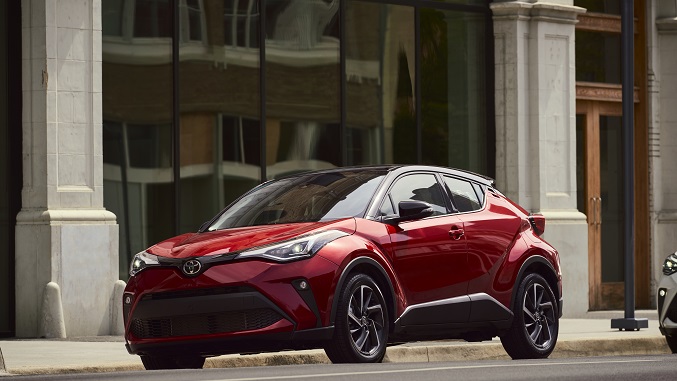 Toyota USA
To change things up a tad, we recently had a week with the 2020 Toyota C-HR Limited. It was quite different than other recent press loans, but we needed a bit of a palate cleanser. Since crossovers of all sizes are, and have been, here to stay for a while, we also wanted to answer the question: do naturally-aspirated compact crossovers essentially drive like hatchbacks on stilts?
Thanks very much to Toyota USA for lending us this 2020 Toyota C-HR Limited for our review. Its base price was $26,350, and after delivery, the Audio Plus package, and two-tone paint, its all-day price came out to $28,435.
How did it handle?
We were pleasantly surprised by the C-HR's handling characteristics; it didn't feel tight and grippy, but body roll was reasonably contained. Other review sources measured 0.81 Gs of cornering grip, which isn't bad for this thing's size and tires. Speaking of tires, they were absolute garbage for grip, feel, and road noise; they squealed and gave up while cornering at any speed over 20 MPH. If a potential buyer were to upgrade to a high performance all-season or even summer tire, the chassis' decent characteristics would definitely shine. Steering feel was good for being a normie-friendly-econo-crossover, and its turning circle was quite good, making it a great city street commuter.
Toyota USA
How was its performance?
Not great: it took about 11 seconds to reach 60 MPH. Though, looking at the specs this is certainly no surprise. The C-HR has just 144 horsepower to move its 3,300 lb.-self around, and its CVT transmission only made things worse. The CVT in our tester was shift-able, and most likely assisted with bumping up fuel economy numbers, but these types of transmissions are truly anti-enthusiasm. Passing on the highway during a road trip we took wasn't too bad, but we definitely had to carefully decide when to overtake slow-rolling semis. The 2.0-liter four cylinder under the hood was buzzy, though eager to rev, which was a relief as we found ourselves high in the revs a lot.
Fuel economy was good in spite of us consistently keeping the tach needle north of 4,000 RPMs; EPA fuel economy is rated at 27 MPG City and 31 MPG Highway, we consistently saw around 28 MPG.
How was tech connectivity?
Tech connectivity was very good; Bluetooth and Apple CarPlay connected quickly and effortlessly, and never got laggy while moving through menus, selecting podcasts, etc. The C-HR's 8-inch touchscreen infotainment screen was slightly laggy at times, but generally functioned well, and its Toyota Audio Plus sound system had great audio quality for the C-HR's price point.
How was interior visibility and comfort?
Despite the massive c-pillar being enlarged by the C-HRs rear door design, and small rear windshield, we found overall visibility to be good. A backup camera with good clarity ensured the tiny rear window was never an issue. The interior was comfortable, with a good driving position and spacious/airy feel up front, though the rear seat was a bit more cramped and cavern-like. The seats did well for road trip duty, and thanks to its overall ride height, ingress and egress were great.
Toyota USA
How about safety features?
The NHTSA gave the C-HR five out of five stars, and its safety features are extensive due to this crossover coming with Toyota's Safety Sense P suite of driver aids. Pre-collision alert was quite sensitive, and lane departure alert with steering assist kept it in-line reasonably well. Dynamic radar cruise control was quick and easy to toggle, and it maintained speed and distance from cars in front of us with reasonable smoothness. Though, we wouldn't want to be following behind us; it was a little too brake-light-happy while maintaining distance.
How does it look?
The C-HR's looks were part of our initial interest: it has a fun, sporty look… like a hatchback on stilts. Our tester's blue color was a very nice shade, and its black body-cladding contrasted nicely. The way the rear door handle integrated up high to make it look more like a 3-door hatch was a nice design touch, too. It looked eager to play and whip around city streets with gusto, which is what we did with it… much to its crappy eco-all-season-tires' dismay.
We also enjoyed its interior design. It was simple and refined, with a nice layout and some odd-yet-fun design elements. Material quality was ok; the fake stitched-leather dash was nice, but everything else had a generally chintzy feel.
Anything else noteworthy to mention?
When it came to the C-HR's 19.1 cubic feet of cargo space behind the rear seat, our initial impression was how could what is essentially a lifted hatchback have such poor cargo space? However, the rear seat dropped to a flat floor, expanded volume to 37 cubic feet, and the hatch opened nice and wide, which made cargo holding and loading very good. We tested this by transporting and loading/unloading a large Cannondale road bike with the front wheel removed.
So, to answer our initial question, do naturally-aspirated compact crossovers essentially drive like hatchbacks on stilts? In the case of the 2020 Toyota C-HR Limited: yes and no; again, handling was good, but it lacked that lightweight, eager-to-turn-in, quick-on-its-feet feel that every good naturally-aspirated hatchback has. If Toyota offered a sportier trim which unhooked the cursed CVT and put a true manual gearbox in its place, and mounted up some reasonably capable tires (like the Dunlops that come on the Corolla Apex Edition), it sure would drive a lot more like a tall, enthusiastic hatchback. As far as whether its worth its just-about-$30K price: it is for someone who wants Toyota dependability and fuel economy, all the infotainment and driver-aid tech they can cram into a new crossover these days, a spacious front cabin with a good upright driving position, and good city handling manners.
Check out our POV video: