Quick Drive: 2013 Toyota Venza XLE V-6 AWD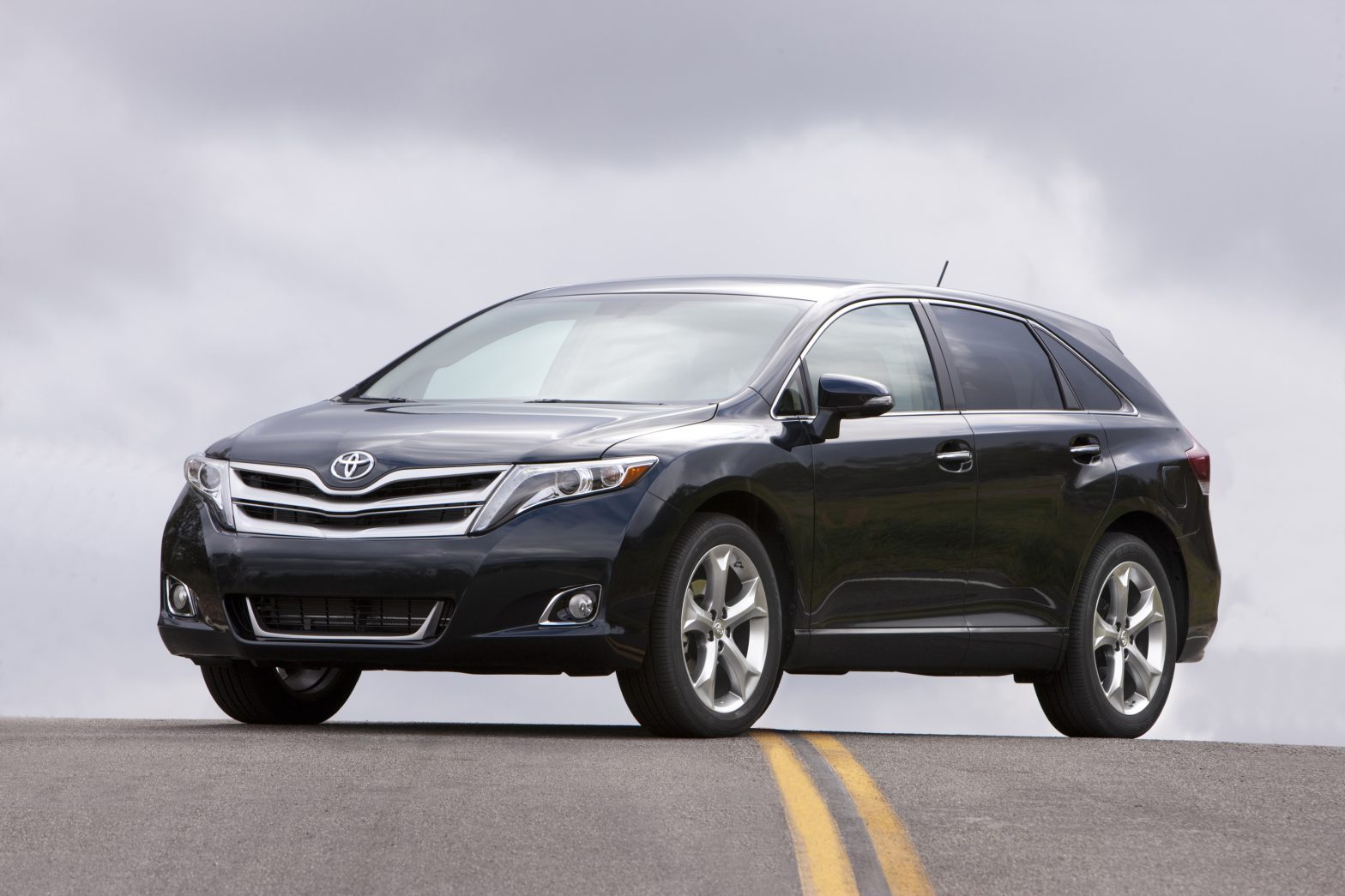 —Lake Orion, Michigan
The Venza, the Toyota's entry in the burgeoning crossover segment isn't a dynamic, or particularly fun vehicle. Being based on the
ho-hum Camry
, this should come as no surprise. Like its sedan cousin, though, the Venza is a remarkably competent vehicle in a very tough marketplace. It's been on sale for a few years now, and has just been given its very first refresh.
The exterior sees a slight styling tweak, with redone headlights, front grille, and taillights. Pretty standard mid-cycle stuff, really. There's plenty of design presence here, even if you aren't a fan of the electric-razor fascia. With twenty-inch wheels, even on our mid-level XLE trim, it certainly packs plenty of flash.
In the family crossover segment, interiors are the key area. Having to deal with kids, and equipment, and beleaguered parents just trying to get home after a long day, these cabins should be comfortable, versatile, well-appointed, and generally attractive. The Venza excels in all accounts. The cabin has seen a significant refresh for 2013, with fresh, attractive materials that fit our testers lofty, nearly $36K price of entry. The dash materials are attractive and soft to the touch, while the various driver interfaces look and feel good. The piping on the leather seats gives an added feeling of quality, as well.
Despite being a Toyota, the interior sports a rather bold layout. The two-tiered displays, with the
Entune
touchscreen on the bottom, and a smaller, secondary display that covers the trip computer and climate controls is difficult to adjust to at first, particularly as the upper screen just kind of blends in to the dash.
We still aren't crazy about the jigsaw puzzle center console, either. Featuring several different points of access to one huge storage area, it was rather difficult to decipher at first. Often, we'd reach in to grab a pair of sunglasses, only to find that we'd opened the wrong access point and that our shades had slid either forward or back away from our grasp. While we commend Toyota's bold styling here, the logic of this setup is just nonexistent. We'd happily have taken the center console from the Camry or
Avalon
over this silly setup.
The steering wheel shares some of the new features found on the redesigned Camry, including the twin five-way directional pads. It feels good in hand, and is well-sized and bolstered. The seats are largely comfortable, although overall support isn't great. We routinely had to hang on to the wheel during more aggressive turns. For a long freeway run, though, they proved cushy and easy to relax in.
The second-row seats slide fore and aft, making them ideal for situations that involve hauling kids and their assorted gear. We'd have no problem imagining fitting three hockey bags in the back while their owners rode in the second row. The 60/40 split seats can fold completely flat revealing a cavernous cargo area for bigger items. Overall, there's a lot of room to work with here, with 36.2 cubic feet of space behind the second row and 70.2 cubic feet when the second row is folded.
Now, to be clear, despite the punchy six-cylinder engine and all-wheel drive, there's nothing really exciting about the Venza driving experience. With 268 horsepower and 246 pound-feet of torque, acceleration is merely adequate. This Toyota will easily get out of its own way, and packs enough punch for quick passes on the highway. Credit this more to the clever six-speed automatic than the actual powerplant. This six-cog is willing to drop gears without much hunting about, while delivering brisker-than-expected upshifts. Acceleration from a standstill is brisk, but doesn't have the same kind of punch as some of the four-cylinder, turbocharged competition, largely due to the Venza's 6200-rpm horsepower peak and 4700-rpm torque peak.
Handling is decidedly oriented towards comfort. There's plenty of roll, squat, and dive, but it rarely gets to the point of feeling sloppy. Vertical motion could be better damped, with undulating roads giving this Toyota a waterbed effect. It does soak up impacts well though, and felt quite good on the war-torn roads outside of Detroit (despite the big, twenty-inch hoops). Impact noises are also managed well, giving the Venza a rather quiet ride to go along with its comfort.
The V-6 represents a strange area in the Venza family. It packs considerably more power than the 181-horsepower, 182-pound-foot, 2.7-liter four-cylinder, yet its combined fuel economy is only one mile per gallon lower, regardless of whether the front or all four wheels are driven. The all-wheel-drive V-6 actually nets identical highway mileage, while both V-6s lose two mpg in the city. In short, there isn't really an economy argument to be made against the six-cylinder. Whether this is because the six-pot is economical or the standard four is a gas-guzzler, we can't be certain (although we're leaning towards the latter, simply due to the its relatively large displacement).
Despite being the mid-level XLE, our Venza came very nicely equipped, packing a touchscreen entertainment system with Toyota's Entune connectivity setup, heated leather seats, and a few other goodies. All-told, with all-wheel drive and V-6 power, we'd be shelling over $35,887. That's no small sum of currency, especially considering that an all-wheel-drive, 2.0-liter, turbocharged Ford Escape Titanium can be had with navigation for $1200 less.
Bottom line, there are crossovers out there that are more engaging to drive, more affordable, more efficient, and with nearly as much cargo space and equipment (or some combination of the above). The aforementioned Ford Escape Titanium and Hyundai's upcoming Santa Fe Sport should both provide stiff competition for the Venza. Still, if this Toyota's funky styling and quirky interior are your game, then odds are you'll be happy with Toyota's crossover.
2013 Toyota Venza XLE V-6 AWD
Engine: V-6, 3.5 liter, 24v
Output: 268 hp/246 lb-ft
Weight: 4045 lb
Fuel Economy, City/Hwy: 18/25 mpg
Cargo Capacity: 36.2 cu ft
Base Price: $34,630