Quick Drive: 2013 GMC Sierra Denali 1500 4X2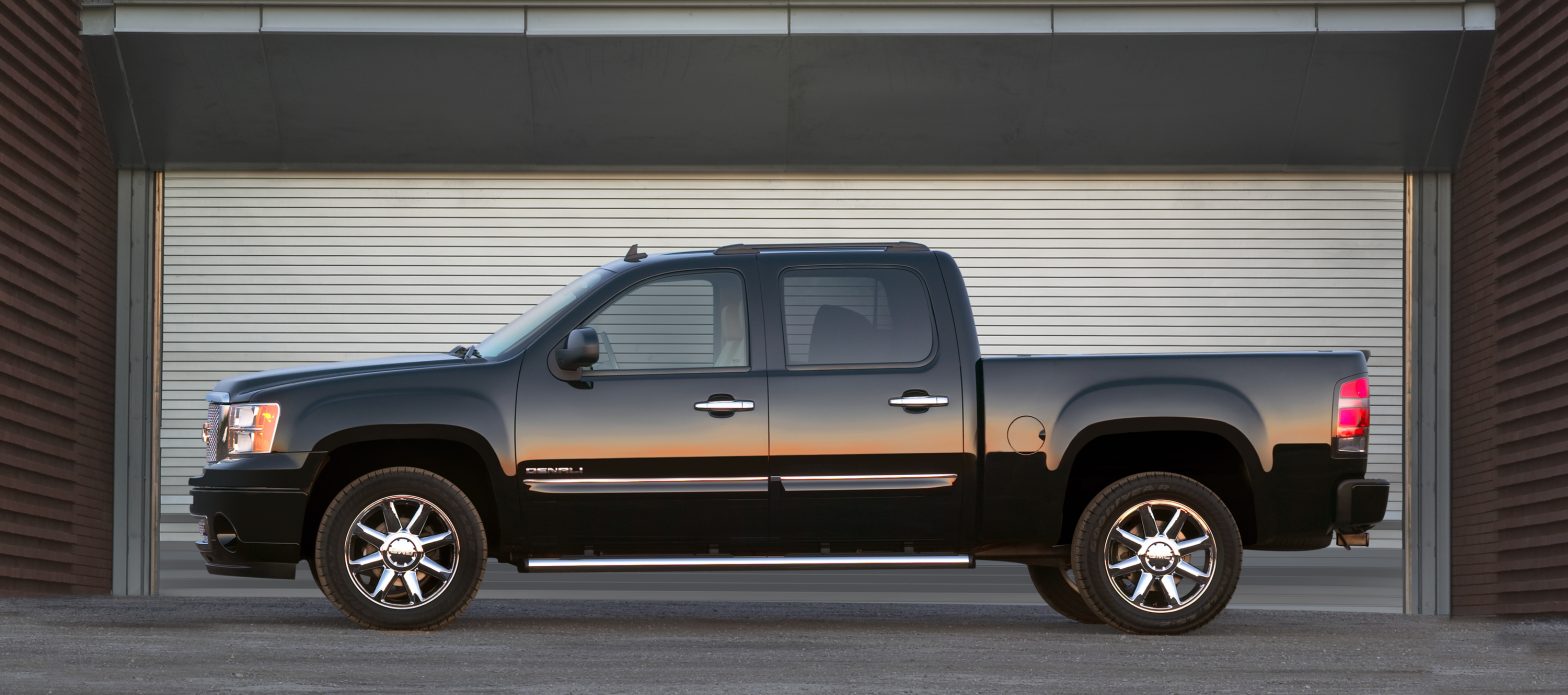 —Lake Orion, Michigan
Having been on sale since 2007, the current range of GM trucks is, to put it gently, old as hell. This is thrown into particularly stark contrast after driving the revised
Ram 1500
or any of the
trucks from Ford
. Unfortunately, for GM, that's exactly what we did barely a week before receiving our Sierra Denali. Even the areas where the Denali excels (interior trim, engines), it doesn't distance itself enough from the competition to earn our recommendation.
That engine, a brawny 6.2-liter V-8 with 403 horsepower and 417 pound-feet of torque, is a certified bruiser, outpunching the 390-horsepower, 407-pound-foot Ram 1500 Hemi. It falls slightly short against the 6.2-liter Ford engine, which packs 411 horsepower and 434 pound-feet of torque. With fuel economy of 13 miles per gallon in the city and 18 mpg on the highway, the Denali's 6.2 bests the Ford by one mpg in each rating, while tying the 5.7-liter Hemi V-8 (expect this to change once numbers come back on the Hemi V-8/eight-speed auto combo).
In practice, there's a lot to like about this engine on the road. It doesn't rev quite as quickly as the Hemi, but it delivers its power in big usable lumps. Off-the-line acceleration is strong, although the 4300-rpm torque peak results in a rather peaky engine that is very happy in middle part of the rev range, and not hugely cooperative when the revs go any higher. Still, we'd have no qualms towing with this beast.
Helping matters along is a quite decent six-speed automatic. It snaps off brisk upshifts and is tolerably responsive when it comes to dropping cogs. There is a bit of hunting about under sudden throttle, but really, for a big truck it's just fine.
We mentioned the interior being one of the strong points, and despite strides by both Ford and Ram in the "luxury" pickup truck market, GMC's Denali range still knows what's what. The soft leather on the seats is as luxurious as most trucks will ever get. These thrones were so comfortable, we're willing to forgive the fact that they're flat as a board, lacking any real support for cornering (it's a pickup, come on).
Perhaps the biggest issue for the Denali is one of ride. This just isn't a particularly comfortable pickup. While we recognize that pickups aren't necessarily meant to be comfortable, with the smoother F-150 and the downright velvety ride in the Ram, the Sierra Denali's lack of poise is particularly glaring. The secondary ride is quite poor, with larger road imperfections sending a nasty shudder through the body. The primary ride isn't terrible, though, and the GMC feels rather planted over smoother sections of pavement. Still, if overall ride comfort is a prerequisite for your truck, you'll want to look elsewhere.
Pricing for the Sierra Denali is actually rather appropriate for this class of luxury pickup. With a starting price of $46,480, it matches up nicely with the base price of Ford's F-150 Platinum ($47,395). Ram's top-spec Laramie Limited is a bit cheaper, at $44,275, and due to the smoother overall ride and general newness, it would be our choice.
We need to close this with the following: the Sierra Denali is a competent, comfortable truck. Its biggest issue is that it's just gotten old. While the competition has managed to stay fresh and new (both vehicles receiving significant refreshes for 2013), GM's full-size trucks have just been overtaken. We suspect we'll be revisiting this review with very different results when the new range of full-sizers from GM arrives.
2013 GMC Sierra Denali 1500 4X2
Engine: V-8, 6.2 liter, 16v
Output: 403 hp/417 lb-ft
Weight: 5211 lb
Fuel Economy, City/Hwy: 13/18 mpg
Towing Capacy: 9600 lb
Base Price: $46,480