Quick Drive: 2013 Ford Focus EcoBoost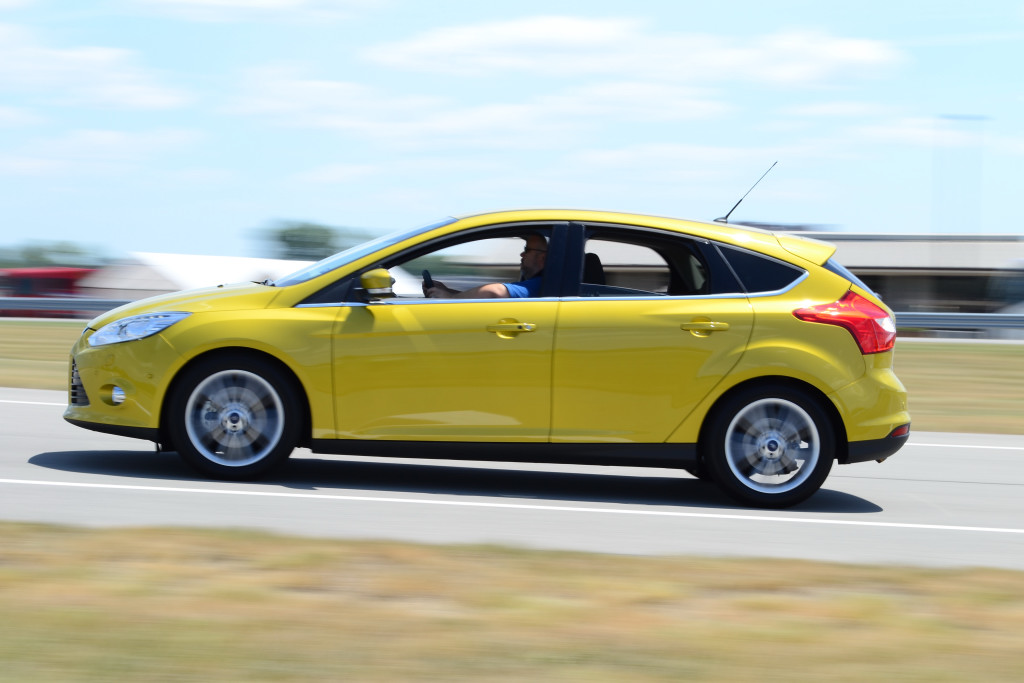 —Dearborn, Michigan
No, the winner was from Ford, and was part of the
EcoBoost family
of turbocharged engines. In this case, it was the tiniest engine available: yes, we're talking about the 1.0-liter, three-cylinder EcoBoost.
In its base form, it produces 98 horsepower. Speed demons can also elect to buy a 123-horsepower version. While the power figures are meager, the fuel economy is exceptional for a gas engine: 49 miles per gallon combined in the base and 47 mpg on the more powerful version. They are also extremely clean, with both models releasing less than 115 grams of carbon dioxide per kilometer driven (109 g/km in the base, and 114 g/km in the 123-pony version).
Why are we talking about an engine that's only sold in Europe, though? Well, because it won't be European-only for long. Ford has stated that the 1.0-liter EcoBoost will be sold in North America (and Asia, Oceania, and Africa) in 2013. The Dearborn-based OEM hasn't mentioned what vehicles it'll be available in, but based on the pair of lime green metallic
Focus
hatchbacks sitting in front of us at the Dearborn Proving Grounds, we think we have a good idea what the first American model to get the 1.0-liter will be.
Now, we need to establish that we did not get much time in these vehicles. That's why it says Quick Drive at the top of the page instead of Driven. Our time was limited to the track, where we were able to make a couple laps. This is by no means a comprehensive review of this new engine. Instead, think of it as a preview of what you can buy next year with a more comprehensive test in the works.
Our two testers were European-spec, 123-horsepower versions with six-speed manual transmissions (from some snooping around European configurators, the 1.0-liter looks to only be available with a manual gearbox, five-speed in the base, and six-speed in the top trim).
Upon firing it up, well, there was nothing. These engines were remarkably quiet, almost EV-like when crawling forward. The stop-start system was quick to kick in, and reactivated without drama as soon as the clutch was depressed. Slotting the longish six-speed shifter into first, the clutch caught in a progressive manner, although there was a fair amount of travel before we hit the broad catchpoint. With 125 pound-feet of torque in our tester, we were never wanting for power in first gear.
Once rolling, we were slightly taken aback by the severity of the first-second shift. The Focus readily chirped its tires when we got back on the power. This was not an isolated incident, as we heard it throughout our time at the track. Something about the throttle tip-in meant that it was difficult to execute a smooth shift, particularly from one to two. Still though, chirping tires in a three-cylinder is hard enough to do on purpose; when there's enough power to do it by accident, then it must be a pretty tough engine.
Overall, power was quite reasonable. Peak torque is available from 1400 to 4500 rpm, making this a remarkably usable engine, despite its small size. We'd be curious to get it on a proper freeway, as the track we were testing didn't allow us to get much above 50 mph before getting on the brakes. In terms of out-and-out acceleration and speed, we'd say the Focus EcoBoost was only slightly slower than a Fiesta.
While this was a quiet engine at low speeds, it sounded pretty decent under heavy throttle. There was a nice growl reminiscent of a Fiesta's four-pot, but with a character all its own. Overall, though, there wasn't much infiltration into the cabin. For those that have driven three-cylinders before, you'll be pleased to know that Ford has solved the vibration and harshness issues inherent in these engines. Unlike other three-pots, it's difficult to even discern that this car is missing a cylinder.
As we said, Ford will be offering this engine in North American in 2013. Besides the Focus, we'd wager this would be a great engine for the Fiesta, as it would trim some weight, add some torque, and up the fuel economy without sacrificing power. If Ford were to offer a non-hybrid/EV version of the C-Max, we could also expect to find this engine under that MPV's hood (Ford is already planning on this combination in Europe).
While it's by no means an enthusiast's engine, the 1.0-liter EcoBoost delivers reasonable performance along with excellent fuel economy for a gas-powered engine. If the price remains low, we could see this three-pot representing a very sensible alternative to a Toyota Prius C or even a Honda CR-Z. Only time will tell, though. Look for more on Ford's 1.0-liter EcoBoost in the coming months.
2013 Ford Focus EcoBoost
Engine: Turbocharged inline-3, 1.0-liter, 12v
Output: 123 hp/125 lb-ft
Fuel Economy, Combined: 47 mpg
0-60 MPH: 11.3 sec
Top Speed: 120 mph
Base Price: $19,500 (est)
On Sale: 2013